Israeli & Dayton women bond through interfaith dialogue
By Martha Moody Jacobs, Special To The Observer
Women who are activists in Dayton's interfaith community met their counterparts from Israel when the Jewish Federation hosted a delegation of 13 Israelis over four days in November as part of the Federation's Partnership2Gether program.
For almost a year before their arrival here, Women Leading a Dialogue — an all-female, all-Israeli friendship group of Jews and Muslim and Christian Arabs in the Western Galilee — met twice a month on Sunday evenings.
They began sharing food and cultural history, with bonding exercises to break the ice. Eventually, the women met as friends and began to share stories, joys, and worries.
"My husband knows that Sunday night is my time to go off and — ahhh," Israeli Jew Irit Cohen said of the sessions, relaxing her neck and shoulders.
A project of the Jewish Federation under the auspices of the Jewish Agency for Israel, Partnership2Gether connects 14 Jewish communities in the central United States and Budapest, Hungary to Israel's Western Galilee region. Its goal is to build relationships and strengthen global Jewish identity through a network of people who exchange ideas and programs.
Few Americans realize that 21 percent of Israel's population is Arab: of them, 85 percent are Muslim and the remainder are Christian, Druze, and other religions.
Dayton organizers for the Israelis' visit included Jewish, Christian, and African-American women, and the leaders of the Dayton Women's Interfaith Discussion group, Bushra Shahid (an Ahmadi Muslim), Phyllis Pavlofsky Allen (a Jew), and Sister Jeanette Buehler (a Catholic). The women also recruited hosts for the Israelis.
"My two guests had never left their husbands and children before, and they had family support and encouragement in coming here," local host Beth Schaeffer said.
Before arriving in Dayton, the 13 Israeli women visited Youngstown, Dallas, and Fort Worth; Jewish Federations in those cities are also members of the Partnership2Gether consortium with the Western Galilee.
Following a tour of Prejudice and Memory: A Holocaust Exhibit at the National Museum of the U.S. Air Force, the Israelis joined Trotwood Mayor Mary McDonald for lunch at the Trotwood Community Center.
Dalida Biromi, a Muslim Israeli, noted that seeing McDonald, a black woman "leading a professional staff of women and men, for me it's not a usual thing, and I have to say that it gives me hope, especially as a Muslim-Arabic woman."
Tiffany Taylor Smith, University of Dayton's director of diversity, hosted the Israelis for a discussion with a Native American about the Native American perspective of Thanksgiving, and for a session on women's empowerment with UD staff and faculty, and high school students from Dayton Early College Academy.
"Amazing to see and feel the woman power of Dayton," Biromi commented.
They met with members of the Dayton Women's Interfaith Discussion group for a tour of the local Ahmadiyya mosque, which Israeli Nofar Levy says was a memorable experience for her as a Jewish woman.
"Even the rabbi joined us on this tour," Israeli Christian Mariana Triandafillidis noted.
During a luncheon at the Boonshoft Center for Jewish Culture and Education, three of the visiting women talked about their dialogue experiences, and Dayton Mayor Nan Whaley shared reflections from her May trip to Israel.
The group's visit also included a dinner at El Meson and a fused-glass workshop in which the women made coasters as personal souvenirs.
"The one thing we do this trip, just for us!" one visitor exclaimed at that class. Jewish Israeli Tali Shalev Weisz said it was her favorite activity in Dayton.
Hosts and guests also snuck in shopping, a college basketball game, and home meals prepared by hosts and visitors.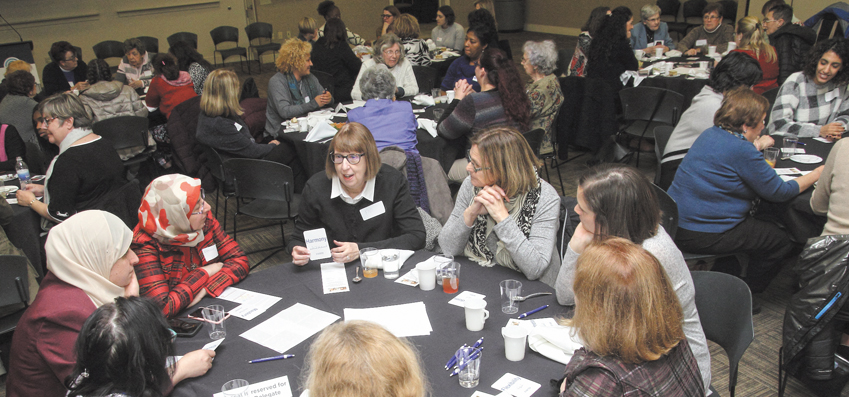 The highlight for many of the Israeli women — and for the Dayton women who attended — was the celebration dinner at the CJCE on the group's last night in Dayton.
The all-female crowd was diverse in religion, race, and age, yet cohesive in spirit. Sixty-six Daytonians attended. Women were asked to sit at tables with those they didn't know.
"I felt amazing in the last evening," Jewish Israeli Nofar Levy said, "being in a women's environment and having an interesting discussion."
After the meal, the Israeli women introduced themselves and spoke about their personal experiences.
They explained how the group had become so close that they could share sensitive issues such as the discomfort a non-Jewish Israeli may feel when she is asked to join in the Israeli national anthem, with its mention of "Jewish souls."
After a group dialogue activity at the tables, all the dinner participants joined in a "love circle" (Israeli Jew Eynat Barzilay's words) and sang John Lennon's Imagine. Jewish Israeli Yael Haimovich said it gave her "hope and belief that the world is a good place to live."
"Never before did I witness how much (an event) impressed everyone who participated," said Jodi Phares, the Federation's project manager for the visit. "We all want a better world. Getting to know each other better is a good first step. This makes me want to do more."
"I was hosted by a religious Muslim family of Pakistani origin," Haimovich said. "With me was a Christian woman from our group…(I)t teaches us that we are all human beings and all of us need to live in dignity, peace, and love."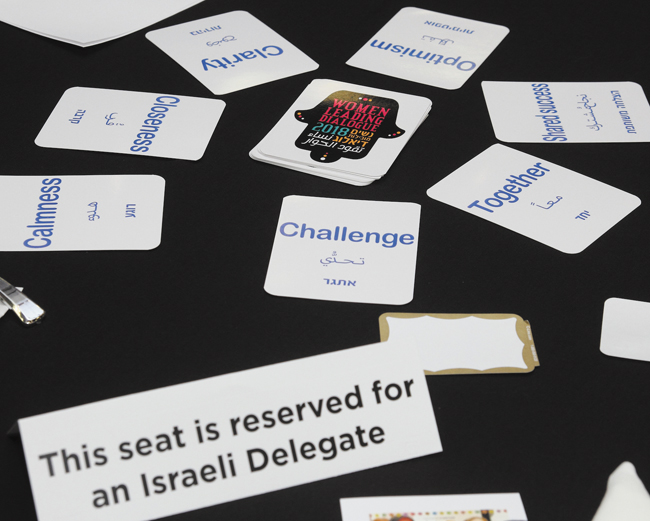 Bestselling novelist Martha Moody Jacobs chairs the Dayton Jewish Community Relations Council. In 2007, she co-founded the Dayton-Deir al Assad Project, a summer camp English workshop for Arab Israeli middle-school students in Israel's Lower Galilee.
To read the complete January 2019 Dayton Jewish Observer, click here.