Honeymoon in Krakow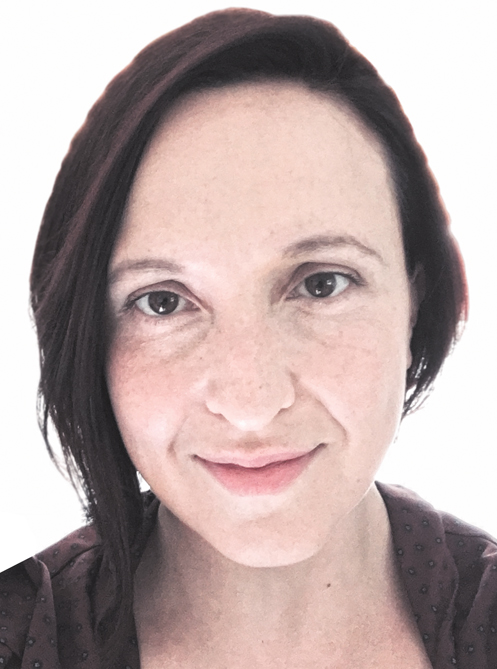 New Column: A Bisel Kisel with Masha Kisel, The Dayton Jewish Observer
We decided to spend part of our honeymoon in Krakow because I wanted to share with my new husband "a magical city" that I knew and loved well. I fell in love with Polish language and literature in graduate school, but over my many summers of studying in Krakow, I never thought much about being Jewish.
I didn't hide my Jewishness, but as crazy as that sounds to me now, it didn't feel relevant. I was too deeply buried in my studies, in existential worries, to consider the seemingly prosaic question of an external Jewish identity.
Although I struggled with loneliness and depression in my early 20s, at my best, I felt nearly fearless when I traveled. The outside world wasn't quite real to me. I moved through it with the ease of a shadow, shape-shifting linguistically and culturally from America to Poland to Ukraine to Russia.
I was submerged in my inner life; there was much freedom and heartache in that well-deep darkness.
Meeting my husband, Sam, changed all that. Under the light of a loving gaze, I suddenly had form and substance. I was visible, connected…and exposed. As secular agnostics, neither of us sought a Jewish partner, but we still found each other. Undeniably, that first magnetic conversation was sparked by the connection felt by two Jews at a Christmas party. And as our relationship grew more serious, my awareness of being Jewish, of being part of a Jewish couple, grew too.
When we landed in Krakow and rode through the night-lit streets to our rented apartment, I realized this trip felt different.
"This reminds me of every Holocaust movie I have ever seen," Sam whispered so the cab driver didn't hear. I chuckled, thinking he was kidding. How could this place of joyful escape inspire such dread?
I was aware of Auschwitz's proximity but declined to attend trips there organized by my summer language school. I didn't want to go accompanied by the immature Polish-American teenagers in my program, and I didn't want to go alone. Auschwitz remained on the edge of my consciousness, disassociated from Krakow itself.
Sam's words proved prophetic. The next morning, we walked out into the optimistic sunlight and saw SS officers in full uniform walking Florianska Street. Black vintage Mercedes cars rolled by.
"What's happening?" I asked a woman in Polish who had just taken a picture of her small daughter smiling in a Nazi's lap.
"They are making a film!" she said happily. "About the life of Pope Jan Pawel II."
Now we saw cameras on dollies and the film crew debating camera angles over coffee cups. But Sam and I held hands tighter, averting our eyes as we slunk past the brawny actors in SS costumes and turned onto a side street. I felt Sam's earlier sentiment: the uncanny sensation of time traveling to a historical nightmare.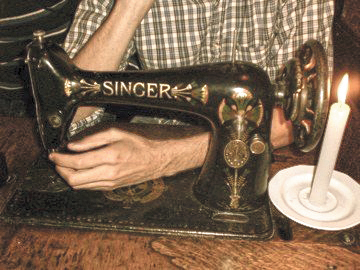 Although Krakow has a tiny Jewish population, much of its tourist industry relies on Jewish history. The old Jewish neighborhood beautifully named Kazimierz has been restored to house trendy Jewish restaurants and bars where hip Polish youths sip beer by candlelight.
The absence of actual Jews called from every corner at a restaurant where our meal began with a basket of matzah. It was late June 2007. The matzah was placed next to a wooden statuette of a doleful Orthodox Jew playing a violin.
We drank beer with raspberry syrup at one of those candlelit bars, in the old Singer factory, where sewing machines served as tables. At another bar, Jewish wedding clothes hung from the ceiling, the dress and the frock swaying grimly. In this bizarre tour of our ancestry's afterlife, I wondered whether the magic I once felt here was tone-deafness as misguided as the Jewish-themed kitsch we saw everywhere we went.
Poland as a country has a terrible track record of indifference to Jewish suffering and erasure of Jewish people from its history.
But no country is uniform; a significant contingent of Poles cares deeply about preserving Krakow's Jewish past. We saw this dedication at Krakow's yearly Jewish Cultural Festival, when the city hosts concerts, films, and lectures and fills with Jewish American and Israeli tourists.
It was a counterweight to the exploitation we felt earlier. Many months of work were devoted to organizing this heartfelt celebration. We watched a Brooklyn-based klezmer band play on the roof of a pierogi restaurant as Poles, Americans, and Israelis danced madly in concentric circles, their arms wrapped around each other. Sam and I stared at each other, absorbed in telepathic tenderness. We were happy. We were "a people." And one day we would be more than two.
Dr. Masha Kisel is a lecturer in English at the University of Dayton.
To read the complete May 2019 Dayton Jewish Observer, click here.