Grand jury weighs Lima temple vandalism case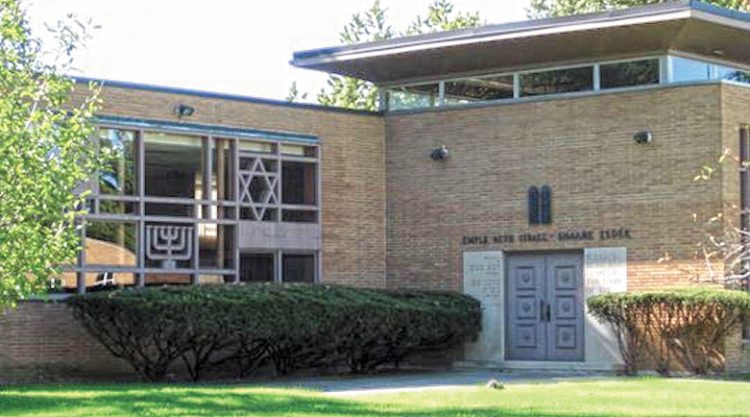 By Jane Kaufman, Cleveland Jewish News
Police have linked the spraying of Temple Beth Israel-Shaare Zedek in Lima with BB gunshots with three similar incidents in Shawnee Township and two men were referred to a grand jury, according to the Shawnee Township police chief.
"What can be relayed at this point is that there is no evidence that the synagogue was targeted," Shawnee Township Police Chief Michael Keith wrote in a Feb. 15 press release. "The synagogue was on the way to a location they were traveling to. Shawnee Township has two vehicles, a residence and Shawnee High School that sustained damage during this time."
Keith said the two suspects have not been charged.
"They're not in custody," he said. "The indictments will be secret until they're served."
Keith said Shawnee and Lima police are using the grand jury process to try to achieve an indictment of felony vandalism based on the combined value of the damage in both communities.
The synagogue damage was discovered Feb. 8. Lima is in Allen County, about 70 miles southwest of Toledo and 75 miles north of Dayton.
"As the investigation into the acts of vandalism against our synagogue is still ongoing, the Temple Beth Israel-Shaare Zedek community would like to express its most sincere gratitude to the Lima Police Department and Shawnee Township Police Department," stated a news release from Temple Beth Israel-Shaare Zedek, posted through the Jewish Community Relations Council of Dayton. "They have taken investigating this incident very seriously and have been incredibly sensitive to our needs in this trying time. The support we have received from all quarters friends and neighbors, those near and far – has helped us to begin healing from this unfortunate experience."
In a Feb. 17 email, Rabbi Howie Stein, who lives in Pittsburgh and leads the temple, wrote, "I have full confidence that the police have investigated this matter thoroughly and that this is an act of vandalism and not of antisemitism."
To read the complete March 19 Dayton Jewish Observer, click here.