The 'Prince of Kosher Gospel' opens CABF Oct. 7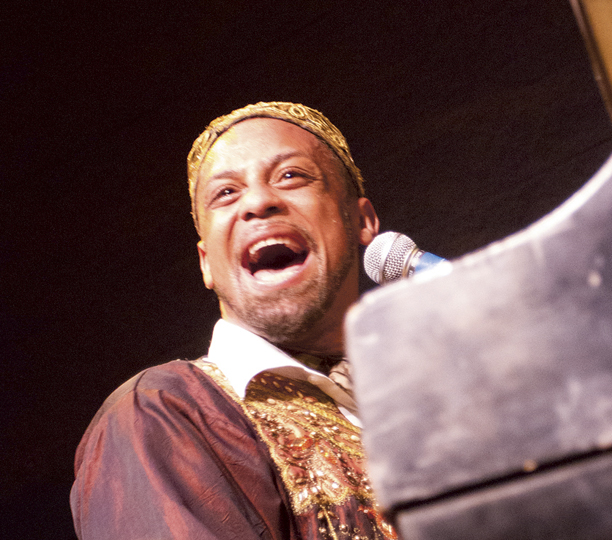 By Robert Wiener, New Jersey Jewish News
When he was 8 years old, Joshua Nelson made a discovery that would influence his entire life. Buried within his grandmother's record collection he found a Mahalia Jackson album which included the song, Walk in Jerusalem.
"I had heard gospel music before, but it never sounded like that," he said. Jackson was a devout Christian with a deeply emotional singing voice. In the ensuing years, her voice would be the spiritual and vocal foundation for Nelson's style, which honors his African-American and Jewish identities.
Nelson was born to a Jewish mother of Romanian descent and an African-American father.
He was raised by his grandparents in East Orange, N.J. Through his diverse heritage, he developed a strong affinity for religious and spiritual elements of Judaism.
"We observed all the holidays — all the festival days, and Shabbat," he said.
His own style is a blend of bluesy and up-tempo religious music, some taken from Jewish liturgy, some from Christian hymnals. With his hands on an electric keyboard, he is equally versatile singing and inspiring hand-clapping when he performs Mi Chamocha and Adon Olam in Hebrew, and Christian gospel songs such as How I Got Over and Elijah Rock in English.
He's been dubbed the "Prince of Kosher Gospel," and he'll open the Dayton JCC's Cultural Arts & Book Fest on Oct. 7 in a concert with The Dayton Jewish Chorale and the University of Dayton Ebony-Heritage Singers.
Did the fact that Jackson devoted her music to Jesus bother him? "Nope," he answered quickly. "I wasn't trying to copy her religion. I was trying to do her justice."
Born in Newark, Nelson walked to Temple Sharey Tefilo-Israel in South Orange each Saturday to attend services and Hebrew school.
His mother took pride in the fact that the congregation's rabbi, Harvey Goldman, religious leader from 1985 to 1998, had marched with the Rev. Dr. Martin Luther King Jr.
As a child, Nelson sang with Cab Calloway, the famed African-American band leader who included a Yiddish inflection in many of his lyrics and rhythmic cadences. At that concert at Lincoln Center, Nelson met the Klezmatics; when he was an adult, he recorded an album, Brother Moses Smote the Lord, with them.
Nelson's penchant for music led him to attend Arts High School in Newark. Following graduation, he spent two years in Israel living on a kibbutz and studying at Hebrew Union College-Jewish Institute of Religion and the Hebrew University of Jerusalem.
After returning to New Jersey, Nelson taught Hebrew school at Sharey Tefilo-Israel for 15 years before the demands of life on the road as a full-time performer made that impossible.
Nelson has performed in churches, embassies, synagogues, and concert halls in Europe, Asia, Africa, and the Middle East.
"I try to get black Jews as backup singers because they already know the prayers," he said.
On one occasion, he took his musical entourage — Christians and Jews alike — to visit the concentration camps at Auschwitz and Birkenau because "they have to understand the Jewish experience. They can't just get up there and sing."
Nelson said he has never had problems as a black man trying to connect with the Jewish community or as a Jew trying to connect with the black community, despite the fact that he has found "many black Jews trying to ostracize themselves from the black community and from anything that deals with Jesus because they want people to accept them as being Jewish."
Nelson is zealous in maintaining both Jewish and black identities, and in keeping memories alive of centuries-old injustices done to both peoples.
And ever since singing at the funeral of jazz vocalist and Newark native Sarah Vaughan in 1990, Nelson has performed at many Christian as well as Jewish services.
"I walk into a church and I sing Hallelujah, and if the spirit hits me, I fall down like anybody else who is black," he says, "and I will go into a synagogue and do it and I dare anyone to say something to me."
He noted that the rhythms and melodies of much gospel music have pre-Christian roots in Africa and were imported to America by those who were seized into slavery.
Christian worship was imposed on slaves by their masters at Southern plantations. To cope with the physical and emotional bondage, slaves used hymns such as Go Down, Moses and Steal Away to Jesus to encourage their escape to freedom. He said his music pays homage to that bitter history.
When a rabbi once asked him if gospel's Christian content conflicted with Jewish liturgical music, Nelson told him there is no conflict.
"I told him, 'You already know that black people were not Christians coming off the slave ship.'"
Nelson has performed with many well-known jazz and pop stars, including Dizzy Gillespie, Wynton Marsalis, Della Reese, and Aretha Franklin.
Besides Mahalia Jackson, he said his main influence is the late Aretha Franklin, whose vocal roots are in the gospel church and can be heard in her contemporary, secular rhythm and blues materials.
A second performer who inspires him is Louis Armstrong, whose far different background from Franklin's included an orphanage, a reform school, and the brothels of New Orleans.
"Every performer has to have a niche, and my niche keeps me working all the time," Nelson said with a smile.
His niche may be Jewish music presented in a gospel style, but Nelson does not like being referred to as a cantor. "It makes me sound so grandiloquent," he said. "Just call me Joshua."
The JCC's Cultural Arts & Book Fest presents Joshua Nelson with The Dayton Jewish Chorale and the University of Dayton Ebony Heritage Singers at 7 p.m. on Sunday, Oct. 7 at the Boonshoft CJCE, 525 Versailles Dr., Centerville. Tickets in advance are $18 adults, $8 ages 6-18, free ages 5 and under. Tickets at the door are $25 adults, $15 ages 6-18, $5 ages 5 and under. Tickets may be purchased at jewishdayton.org, by calling 610-1555, or the evening of the event.
To read the complete October 2018 Dayton Jewish Observer, click here.