Harissa Salmon Niçoise Salad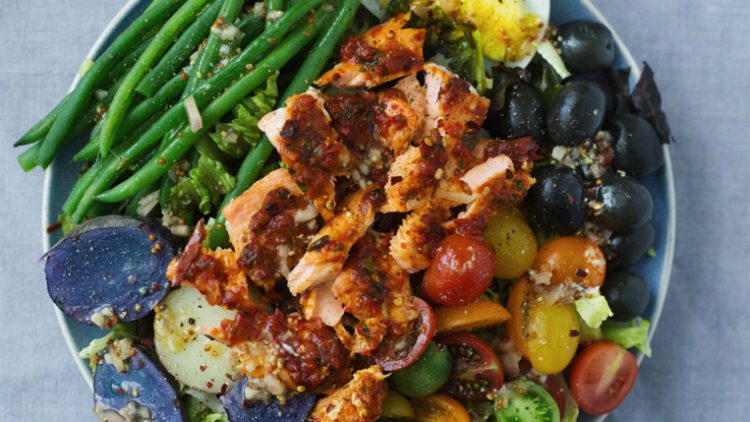 By Chaya Rappoport, thenosher.com
Harissa is a spicy, rich-flavored North African chili paste traditionally made with roasted red pepper, chiles, garlic, and a mixture of spices. This amped-up Niçoise salad is bright and punchy.
Notes
1. You can simplify this recipe; buy ready-made harissa.
2. Don't stress about making the dressing — you can also dress with olive oil and lemon juice or white wine vinegar.
3. You can prepare the salmon, potatoes, string beans, and hard boiled eggs ahead of time, and assemble when ready.
For the salad
4 oz. small red and purple potatoes
Kosher salt
4 oz. string beans, trimmed
4 oz. heirloom cherry tomatoes, halved crosswise
1 or 2 hard boiled eggs, halved crosswise
4 cups lettuce and/or mixed greens, washed, dried and chopped
1/4 cup black or niçoise olives, pitted
Flaky salt and fresh black pepper, for serving
For the salmon
6 oz. fresh salmon, skin removed
2 Tbsp. olive oil
Prepared harissa (around 1/2 cup to 1 cup depending on size of salmon and preference
For the harissa
1 large red pepper
2 Tbsp. olive oil
1 small red onion, diced
4 cloves garlic, minced
4 dried red chiles
1 Tbsp. tomato paste
¼ cup fresh parsley
1/2 tsp salt
¼ tsp. ground cumin
¼ tsp. ras el hanout
1 ½ tsp. smoked paprika
For the dressing
4 oil packed anchovy fillets, finely minced
1 Tbsp. whole grain Dijon mustard
1 small shallot, finely minced
1 small clove garlic, finely minced
1 Tbsp. white wine vinegar
2 tsp. finely chopped preserved lemon peel
½ cup extra-virgin olive oil
kosher salt and freshly ground black pepper
1. The harissa: broil red pepper on high for about 25 minutes, turning occasionally, until blackened on outside. Transfer to a bowl, cover with plastic wrap, let cool. This allows you to easily peel the skin off the pepper. Peel the pepper and discard its skin and seeds.
2. Rehydrate the chiles by placing them in a bowl of hot water for 10 minutes.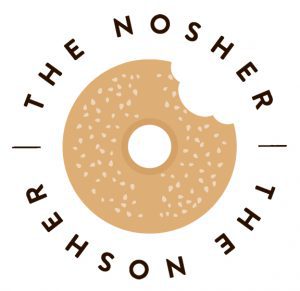 3. Heat olive oil in a frying pan over medium heat, fry the onion, garlic, and rehydrated chiles 10-12 minutes, until dark and smoky. Use a blender or food processor to combine all harissa ingredients until smooth, adding a little more oil if needed.
4. Preheat oven to 425 degrees. Place salmon on a paper lined baking dish and rub with olive oil. Spread harissa thickly on top. Bake for 10 minutes.
5. Meanwhile prepare rest of the ingredients. Place potatoes in medium saucepan, add cold water to cover by one inch.
6. Bring to a boil, season with kosher salt, cook until fork-tender, 15-20 minutes. Transfer potatoes to a plate with a slotted spoon.
7. Return water to a boil and cook string beans in same saucepan until crisp-tender, about two minutes.
8. Using a slotted spoon, transfer to a bowl of ice water. Chill until cold, about three minutes. Transfer to paper towels and pat dry.
9. The dressing: mash anchovies and mustard in a small bowl to form a coarse paste. Add minced shallot, garlic, and preserved lemon to the bowl and whisk in white wine vinegar. Slowly whisk in olive oil. Season vinaigrette with salt and pepper as needed.
10. Using a fork, flake the harissa salmon into large pieces; halve reserved potatoes crosswise.
11. Arrange lettuce on a platter; season with salt and pepper. Drizzle with half of dressing.
12. Top with separate piles of potatoes, green beans, tomatoes, hard boiled eggs, olives, and salmon. Drizzle salad with remaining dressing. Sprinkle with flaky salt and pepper.
To read the complete August 2018 Dayton Jewish Observer, click here.