Chabad programs for teens, college students, & young adults in hands of new young couple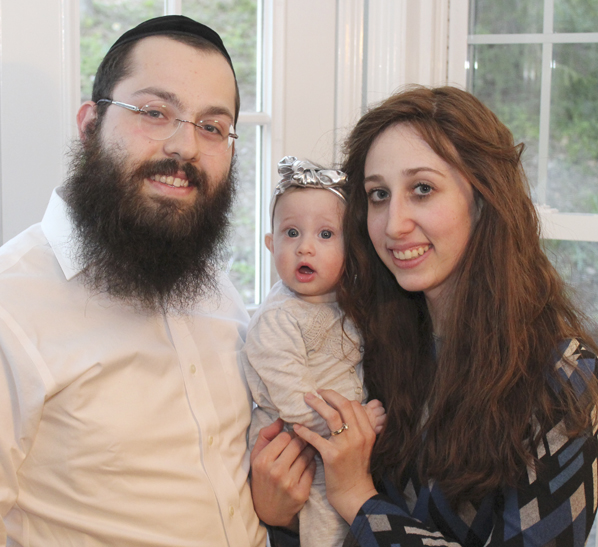 Chabad of Greater Dayton has hired a third couple, Mussie and Rabbi Elchonon Chaikin, to oversee its programming and outreach for Jewish teens, college students, and young adults in the Miami Valley.
Mussie, 22, is from Crown Heights, Brooklyn, headquarters of the Chabad-Lubavitch movement. She most recently worked in a life insurance office. Before that, she taught and tutored teenagers at a Chabad Jewish school in Crown Heights.
A native of Beachwood, Ohio, Elchonon, 24, pursued his higher-level rabbinic ordination — studying to be a rabbinic judge — while he taught seventh-grade boys in Crown Heights. He's also taught at yeshiva high schools in Chicago and Miami. Mussie and Elchonon have been married for 17 months and arrived here with their 7-month-old daughter, Esther, in April.
"We both worked with teens before, and we thought it was a great opportunity, so we hopped along for the ride," Mussie said of their move to Dayton.
They'll lead the Sinai lunch program at Miami Valley School while it continues for the next two years, are in charge of the Sinai Sunday program for high schoolers, and plan to establish a chapter of the Chabad Teen Network here.
"Though we have a strong focus on teens, we will have an equally strong focus on any Jewish student in any university locally, and definitely with a big focus on young adults and young, new families," Elchonon said. This, he said, will include programs for young, Jewish professionals.
"Another thing we want to do for the college students is have them have a home away from home, make them feel comfortable, and that they have some place to go, for those who are not local," Mussie added.
This is the second time Dayton's Chabad has hired a third couple to oversee teen, college, and young adult programming; Pesha and Rabbi Hershel Spalter oversaw those programs from 2014 to 2016.
— Marshall Weiss
To read the complete June 2018 Dayton Jewish Observer, click here.