Ohio BMV's 'GOY' ride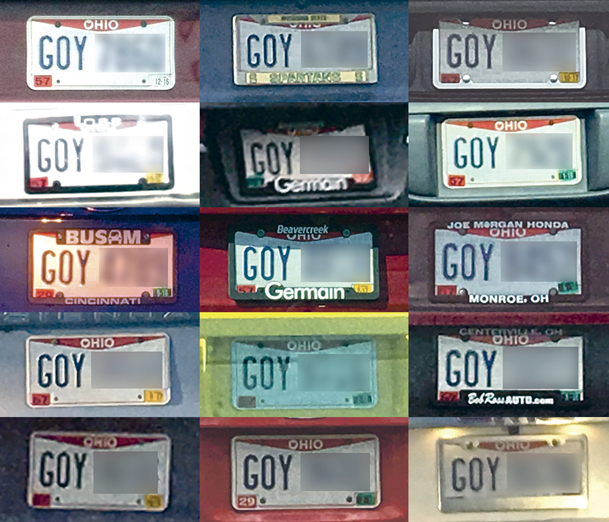 Photos and Story By Marshall Weiss
The Dayton Jewish Observer
A bizarre byproduct of the surge in hate activity and hate-baiting in the United States is debate about the nature and usage of the word goy.
When Steve Bannon got the boot from the White House on Aug. 18, the Huffington Post led off with the peculiar headline, Goy, Bye! A few hours later, when HuffPost changed the headline in the face of pressure, ADL National Director Jonathan Greenblatt tweeted the original was in "poor taste at best, very offensive at worst."
The weekend before, white supremacists rallying in Charlottesville were seen carrying signs that read, "Goyim know!"
What's more bizarre is that the Buckeye State has enshrined the term across the roads of our commonwealth.
Nearly two years ago, I saw it for the first time. Sitting at a traffic light in a suburb south of Dayton, my jaw dropped when I read the letters on an in-state license plate: GOY.
"Must be some non-Jew's attempt at humor," I thought. It had to be a vanity plate.
A few days later, another GOY plate. And another. And another.
Now, not a day goes without seeing at least two or three GOY plates around the Dayton area.
My new hobby became GOY spotting. I tried to resist. But if I saw a GOY in traffic in front of me and we came to a red light, I'd take what appeared to be a selfie; it was actually a shot of the plate. I had to document this phenomenon.
This got me in deep doo-doo with my teenage daughter.
"What are you doing?" she asked.
"I'm GOY spotting."
"What?!"
We don't use the word goy at home. My wife and I never really talked about why, but it didn't seem like something we wanted to pass on to our kids. Well, maybe we use it once in a while, when we think the kids aren't around.
I have no doubt our daughter picked up the word while voraciously watching reruns of The Nanny.
Goy is the Hebrew word for nation. It pops up regularly in the Jewish Bible. Colloquially, and in Yiddish, it means someone who isn't Jewish. It's not always used with a negative connotation, but it can be.
Growing up, we would sing the words of Isaiah in Hebrew school, "Lo yisa goy el goy cherev, nation shall not lift up sword against nation." At home we might hear: mayonnaise on corned beef? Oy, is that goyish!"
Whether or not we Jews — let alone non-Jews — should use the word goy is no longer the issue in Ohio. We have had goyishness thrust upon us.
It was time to find out what was going on. I called Columbus.
Ohio Bureau of Motor Vehicles Public Information Officer Lindsey Bohrer explained to me how the system works.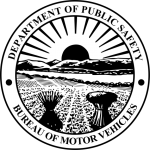 "All stock plate combinations are randomly computer generated," she wrote in an email.
The current plate combination comprises three letters and four numbers. A staff committee reviews the available three-letter combinations, "in an attempt to identify inappropriate combinations."
Bohrer said the plate committee reviewed the three-letter GOY combination in 2012.
"The GOY stock plates were randomly distributed to counties across the state and issued to customers between the months of July and September 2015," she said.
She added that Ohio issued 8,987 GOY stock plates.
Somewhere, at an Ohio BMV counter, I imagine a Chasid being handed one. Or a gleeful Jewish guy who'd rather be seen as a gentile.
But I don't have to wonder what it's like for a Jew to be handed a GOY license plate. Dr. Samuel Dorf, an assistant professor of musicology at the University of Dayton, told me he's the reluctant owner of one.
When the Ohio BMV handed it to him, Sam, originally from Boston, thought, "You've got to be kidding me."
Did he ask for a different license plate?
"They grabbed mine from a pile of other goyishe license plates," he explained. "It was like looking at stacks of white bread and mayonnaise!"
I haven't heard Jews here talking about the GOY plates that much. I wonder why. In the Dayton region of almost 1 million people, maybe we have 4,000 Jews. Maybe. Our numbers are so small, why bring it up if no one else notices? What will the goyim think?
Driving through the very whitest-bread city south of Dayton, seeing GOY after GOY plate, I looked to the heavens.
"Why the reminder that we are so few? Is this a sign? What does this mean?"
The next thing I saw was an athletic van from this city's high school in front of me.
There were only two letters on the van, followed by the four numbers. The letters read: OY.
To read the complete October 2017 Dayton Jewish Observer, click here.