At dawn of Trump era, 2 Jewish tribes descend on Washington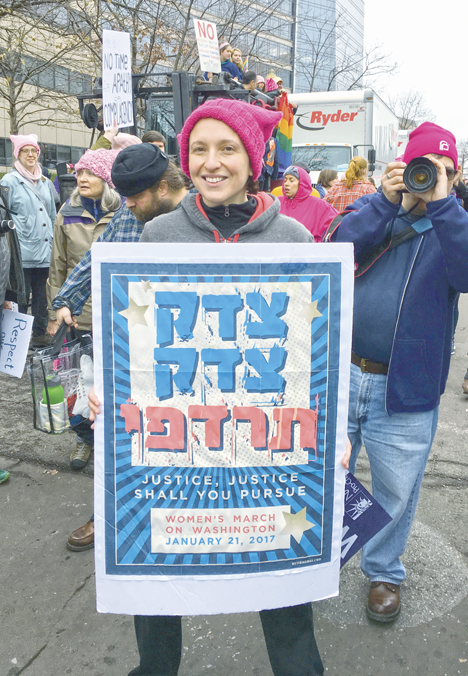 By Ron Kampeas, JTA
WASHINGTON — "Cantor Kaufman!" Rabbi Jonah Pesner shouted across the intersection of 3rd and D in Washington's Northwest quadrant, packed sidewalk to sidewalk with women in pink pussycat hats and their male friends. "A song!"
Jason Kaufman, the cantor at Beth El in Alexandria, Va., draped in a rainbow tallit at the Jan. 21 Women's March on Washington, didn't hesitate.
Kaufman's rich tenor soared and soon found company. The song was a natural for hundreds of Reform Jews waiting at the junction to join with hundreds more organized by the National Council of Jewish Women and other liberal Jewish groups.
"Hinei ma tov umanaim," they sang, quoting from Psalm 133. "Behold, how good and how pleasant it is for brothers to dwell together in unity."
The Reform marchers, organized by the movement's Religious Action Center, which Pesner leads, ultimately never met up with the NCJW marchers — Washington's streets and the National Mall were crammed to the point of claustrophobia the day after the inauguration of Donald Trump.
Still, around the same time, NCJW CEO Nancy Kaufman, said the marchers she led from the historic synagogue at Sixth and I broke into the same song.
It was not the first time the words soared over the nation's capital. Psalm 133 also made an appearance on Jan. 20, in Trump's first inaugural speech.
"When you open your heart to patriotism, there is no room for prejudice," Trump said. "The Bible tells us, 'How good and pleasant it is when God's people live together in unity.' We must speak our minds openly, debate our disagreements honestly, but always pursue solidarity. When America is united, America is totally unstoppable."
Rather than unity, the twin uses of Psalm 133 that Friday and Saturday signaled a nation deeply divided, and within it two Jewish tribes deeply at odds over its future.
To the smaller tribe, solidly Republican and disproportionately Orthodox, the inauguration weekend was a time to celebrate Trump for bringing Israel closer to the U.S. bosom.
For the other, larger one, which votes reliably Democratic and tends to support a progressive domestic agenda, it was a time to stand against what it sees as Trump's crusade to cleave Americans from one another.
Those glad of the Trump ascendancy say it will be a relief from a U.S.-Israel relationship still stinging from the toxicity between former President Barack Obama and Israeli Prime Minister Benjamin Netanyahu.
Their ranks include Sheldon and Miriam Adelson, the billionaire casino magnate and his wife, whose spending on pro-Israel causes is outmatched only by their spending to keep Democrats from power. On Jan. 20, they were seen grinning on the inaugural dais. Trump said later that their combined giving to his campaign and to the inauguration reached $125 million.
Perhaps a half a football field across from them, six or so Jewish Trump supporters from Los Angeles huddled on the mall. They were close to tears as Rabbi Marvin Hier took the stage to deliver the benediction — one that cited another psalm, 137, "If I forget you O Jerusalem, may my right hand forget its skill."
"That's my rabbi!" one yelled out. The group enthused about why they had made the journey cross-country.
"We had a chill" as Hier spoke, said Chaya Illulian, 22. "God wants us to stand for the truth!"
"We're excited for the change," chimed in Chaya Israely, also 22.
"To see Rabbi Hier up there, it means we're equal," said Adam King, 33.
The evening before, clumps of middle-aged out-of-towners, red Make America Great Again hats covering their kippahs, clustered around tables at the Char Bar kosher steakhouse. A common topic of conversation: Would Trump's Orthodox Jewish daughter, Ivanka, and her husband, Jared Kushner, set to assume a role as a top adviser, make it out of their parade limos the next day in time for Shabbat? (They did: The limos pulled up to the White House at 4:35 p.m. Shabbat came in a few minutes after 5.)
Earlier on Jan. 19, a select group of Jewish Trump supporters attended the Republican Jewish Coalition reception with Sen. Ted Cruz of Texas, Rep. Kevin McCarthy, R-Calif., the House majority leader, and Tom Rose, the conservative Jewish talk show radio maven who is close to Vice President Mike Pence.
On the night of Jan. 20, they gathered on the lower floors of the Marriott Marquis at "The Inaugural Shabbat," sponsored by the Israel Forever Foundation. The hotel is connected to the Washington Convention Center where, as the Shabbat dinner got underway, Trump took his first dance with his wife, Melania.
Or they were at the American Friends of Lubavitch headquarters near Dupont Circle, where Friday night services were packed with visitors.
The sense of a homecoming, of relaxed and happy banter, was natural, said Matt Brooks, director of the Republican Jewish Coalition. "At the end of the day, I think there's a huge sense of relief," he said. "This last eight years we have seen a significant weakening of the U.S.-Israel alliance. Things are going to be very different from the Obama administration. We're looking forward to a different tone and a relationship."
And Trump's quotation of Psalm 133? A natural, Brooks said. "His presidency is going to be about the people, it's going to be about holding government accountable, rebuilding infrastructure, restrengthening alliances, taking care of the middle class," he said. "Judaism is predicated on making sure we take care of all people, and we look out for people who are less fortunate."
Josh Weinberg, the president of ARZA, the Association of Reform Zionists of America, had read Trump's speech but did not notice the president's Psalm 133 citation. "OK, it's a nice line," Weinberg said. "But forgive my cynicism."
Jewish marchers who had picked through Trump's speech said they discovered intimations of exclusion: a rejection of prejudice that was conditioned on opening "your heart to patriotism," a dystopian vision of "American carnage," of inner cities in flame and children lost to broken schools.
Most striking for these marchers was Trump's rallying cry. "From this moment on, it's going to be America first, America first," Trump said, an echo of the isolationist and antisemitic movement Americans rejected as they entered World War II.
"I've been disappointed before," said Leslie Shapiro, a retired paralegal from Gaithersburg, Md., recalling past elections. "I've never been afraid."
Rabbi Shira Stutman suggested that Trump had hijacked Psalm 133. "Unity without watching out for one another is not us," she told a packed Friday evening service for marchers at Sixth and I. "Some of us grew up in this country feeling safe, and the safety is slipping from between our fingers."
The safety, according to Jewish marchers, was predicated on extending protections to all those who are vulnerable: The women, first of all, who marched because of Trump's long history of misogynist statements, his recorded boast in 2006 of sexual assault (one he now insists was empty), and his pledge to roll back abortion rights as president. But also protections for the minorities he named as a threat during the campaign, Mexicans and Muslims.
"Resistance is awakened at the intersection of love and holy outrage," Rabbi Sharon Brous, the leader of Los Angeles' IKAR congregation, told the hundreds of thousands of protesters.
"Our children will one day ask us, 'Where were you when our country was thrust into a lion's den of demagoguery and division?' And we will say, 'I stood with love, I stood with hope, I stood with sisters and brothers of all religions and all races and all genders and sexualities,'" she said.
To read the complete February 2017 Dayton Jewish Observer, click here.