Guide to shofar blowing & listening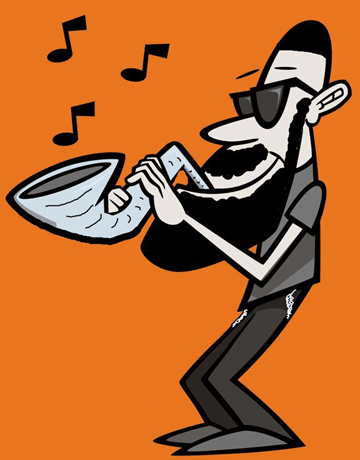 The Jewish Internet with Mark Mietkewicz, Special To The Dayton Jewish Observer
A hush falls over the congregation. The shofar is raised and the first blast — Tekiah — is sounded. The shofar is one of Judaism's most famous symbols, responsible for some profound religious writings.
Rav Saadiah Gaon gives 10 reasons for blowing the shofar on Rosh Hashanah. Among them: "Rosh Hashanah is the day that commemorates the creation of the world and it is described as the 'coronation' of God. As it is customary to sound a trumpet at a king's coronation so we blow the shofar on Rosh Hashanah. By blowing the shofar we recognize the 'purpose' of the creation (http://bit.ly/shofar1)."
Yvonne Alt Miller takes a slightly different tack to decode the power of the shofar: science. She argues that the sound of the shofar elicits a primal "fight or flight" response. When we are startled by a blast, our brain immediately starts producing hormones, making us more alert.
"On Rosh Hashanah," she writes, "these moments are invaluable. The energy we gain as we hear the shofar's loud blasts gives us — for a moment — a new, sharper state of consciousness, and a different way of looking at the world (bit.ly/shofar3)."
For the Jew, the urge to hear the shofar can be extremely powerful. Rabbi Eli Hecht tells the heartbreaking story of how a rabbi risked his life to sound a shofar in Auschwitz for hundreds of doomed children (bit.ly/shofar6).
And then there's the story of how some Conversos — Spanish Jews who officially converted to Christianity — were able to listen to the shofar on Rosh Hashanah without provoking the ire of the Inquisition (bit.ly/shofar7).
Sure, you can buy a shofar at your local Judaica shop or through the web but why not make one yourself (bit.ly/shofar9)? All you have to do is get your hands on a horn from a kosher animal: goat, ram, antelope, gazelle, bighorn sheep or ibex. No cows please; too much of a connection to Exodus's golden calf and the sin of idol worship. Then get an electric drill, soft wire, Borax and a coping saw. Presto! Your own home-made shofar.
Watch master shofar maker (and retired psychotherapist) Maurice Kamins go through the drill (bit.ly/shofar10).
If you don't have an ibex handy but want to see what its shofar would look like, download Rabbi Natan Slifkin's Exotic Shofars. This 18-page booklet has photos of shofars (some kosher, some not) from an incredible menagerie (bit.ly/shofar11).
If you are lucky enough to have your own shofar, you may marvel at its beautiful craftsmanship and appreciate its evocative tones. But you may also come to the realization that it smells. How to clean a shofar? All its needs is some vinegar or baking soda and a good soaking. Just don't expect perfection "Most shofars retain a slight, lingering reminiscence of their humble origin, the ram (bit.ly/shofar12).
There are numerous videos online offering shofar-blowing advice. By far the best one is by trombonist Haim Avitsur. Some tips:
• Before putting lips to shofar, make sure the mouthpiece is clean and deep. The shofar's length does not make much of a difference.
• Hold off on that shofar a bit longer. While blowing out, make a "free buzz," a kind of vibration with your lips.
• Then gently rest the shofar against your face. If you press, "You are hurting your chances to finish the 100 sounds."
• And as is the case with any musical instrument, practice, practice, practice (bit.ly/shofar13).
Once you've mastered the technique, Alistair Cohen demonstrates the three standard sounds, plus an awesome Tekiah Gedolah (bit.ly/shofar14).
All of this was no problem for the students of Associated Hebrew Schools of Toronto who trumpeted their way to a Guinness World Record in 2011. They blew a deafening 1,406 shofars for five minutes, demolishing the previous record of 790 shofars (bit.ly/shofar15).
And if you can't master it, don't fret. Marc Weissensteinburg points out that it's a mitzvah (commandment) to hear the shofar blown, but not to blow it (bit.ly/shofar16).
Long before American Idol, way before the X-Factor, generations of shul-goers have been informally judging their shofar-blower's musical performance. Too soft! Too sharp! Too staccato! If those comments remind you of a reality TV talent show, then take a gander at Shofar Idol to see how three animated judges (including one sporting a black T-shirt and a British accent) review a High Holy Day routine (bit.ly/shofar17).
Mark Mietkiewicz writes about resources for Jewish life to be found on the Internet. Contact him at highway@rogers.com.
To read the complete September 2015 Dayton Jewish Observer, click here.