After the terror: Israel's emergency workers, part one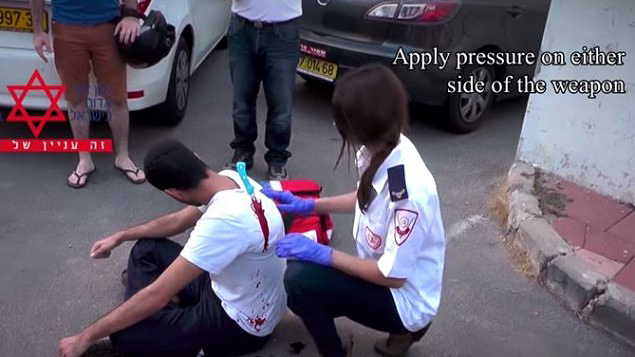 The Jewish Internet with Mark Mietkiewicz, Special To The Dayton Jewish Observer
The image is too familiar. A stabbing in Jerusalem. A shooting in Beersheba. A rocket exploding in Sderot. Within moments, Israeli emergency workers appear on the scene, willing to risk their lives to save the wounded, comfort those in shock, and show respect to the dead.
This month, we'll look at those emergency workers.
Magen David Adom (Red Shield of David) is Israel's National Emergency Medical Service. Mainly staffed by 10,000 volunteers — along with 1,200 emergency medical technicians, paramedics and emergency physicians — MDA is responsible for helping Israel's Army Medical Corps in wartime, providing civilian emergency and medical first aid services, and maintaining a blood bank for civilian use (http://bit.ly/isemerg1).
In a sign of the times, the Magen David Adom has released a video describing how members of the public can treat the victim of a stabbing. "Look for additional stab wounds and stop the bleeding," says MDA medic Yamit Sol. "Speak to the victim while you help him, try to reassure him and don't let him move until MDA arrives." Sol concludes, "Remember, your safety comes first, so make sure you aren't in danger. You can't help the victim if you are wounded (http://bit.ly/isemerg2)."
Magen David Adom's efforts aren't limited to disasters within the borders of Israel.
Its staff and volunteers have responded to crises in Greece, Kosovo, Indonesia, Eritrea, Ethiopia, and a devastating earthquake in Turkey: "MDA paramedics sent daily reports of horror, despair and miracles. On the word of an excited boy and girl who said they heard knocking sounds deep within a pile of rubble, one paramedic used his stethoscope to locate the person underground. He dug a small hole toward the noise. At first two fingers and then an entire hand emerged, allowing the paramedic to insert an intravenous transfusion which helped to keep the victim alive for the eight hours it took to free him (http://bit.ly/isemerg3)."
International volunteers (over age 18 and Hebrew-speaking) are invited to join Israeli first responders on their lifesaving mission (http://bit.ly/isemerg4).
After intensive training, they are faced with life and death challenges. American volunteer Shoshana Blum writes of two unforgettable experiences. "We got a call that a woman had taken too many pills, most likely trying to commit suicide…We got to the woman's house and I began compressions right away as the other paramedics got medications and the AMBU pump ready. Unfortunately, we did CPR for 20 minutes and there was nothing more we could do. She passed away that night (http://bit.ly/isemerg5)."
On another night, "we got a call that a woman was in labor at her home. When we got there, the head of the baby was already visible. I was able to help deliver my first baby. I was the first to hold the baby, even before the mother. This experience of bringing a new Israeli child into the world is like nothing I could ever describe."
Although they share a common goal, you probably wouldn't confuse MDA responders with members of United Hatzalah.
While the first group arrives by ambulance, United Hatzalah gets to the scene of the disaster aboard ultra-modern motorcycles. They claim that a two-wheeled emergency vehicle lends them the speed and flexibility needed when traffic comes to a standstill after an attack (http://bit.ly/isemerg26).
Speaking in the U.S. at a TED talk just days after the 2013 Boston Marathon Bombing, United Hatzalah founder and emergency medical technician Eli Beer credited his volunteer EMTs, a smartphone app and a fleet of "ambucycles" for their extraordinary average response time of three minutes (http://bit.ly/isemerg7).
The idea came to him when Beer received a call about a 7-year-old child choking on a hot dog. "Traffic was horrific, and we were coming from the other side of town in the north part of Jerusalem. When we got there, 20 minutes later, we started CPR on the kid. A doctor comes in from a block away, stops us, checks the kid, and tells us to stop CPR. That second he declared this child dead."
Beer then realized that a motorcycle would enable them to respond quickly. But he points out, "we're not there to replace ambulances. We're just there to (fill) the gap between the ambulance call until they arrive. And we save people that otherwise would not be saved."
Although most volunteers are Jewish, Beer has expanded his organization to east Jerusalem. "When my own father collapsed a few years ago from a cardiac arrest, one of the first volunteers to arrive to save my father was one of these Muslim volunteers from east Jerusalem who was in the first course to join Hatzalah. And he saved my father. Could you imagine how I felt in that moment (http://bit.ly/isemerg8)?"
Unfortunately, relations between United Hatzalah and Magen David Adom have not always been as cordial. After years of rivalry and complaints of defamation, the Israel Ministry of Health laid down ground rules in 2014 to ensure that both organizations remain focused on saving lives — and not on each other (http://bit.ly/isemerg9).
Next month, we'll look at the combat engineers who try to defuse the bombs, and the volunteers who deal with the aftermath.
Mark Mietkiewicz writes about resources for Jewish life to be found on the Internet. Contact him at highway@rogers.com.
To read the complete January 2016 Dayton Jewish Observer, click here.