Beth Jacob executive director to retire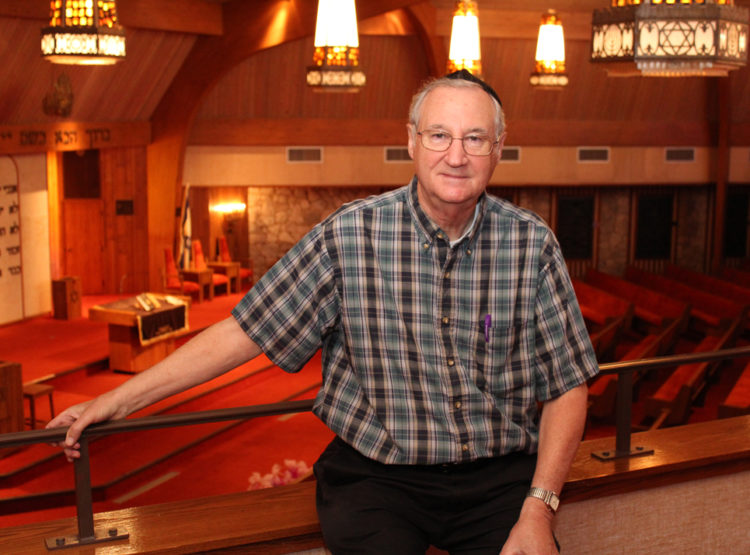 By Marshall Weiss, The Dayton Jewish Observer
Two note cards are pinned to the bulletin board next to Barry Serotkin's desk.  One reads, "Stay Calm. Carry On." The other has one word: "Think."
Barry says he posted those messages "just as reminders that we should show everybody the proper respect."
With a reputation for providing all who enter Beth Jacob Congregation with the highest level of customer service in an unflappable manner, Barry will retire after Sukkot as Beth Jacob's executive director after 17 years on the job.
"When I got into this, I thought that I had won the job Lotto," he says. "In this 17 years, there wasn't a day that I got up and thought I didn't want to come to work. It's good to be able to do something I really thoroughly enjoy."
A native of Cincinnati, Barry and his wife, Haana, moved to Dayton in 1965 when Edison Brothers Shoes transferred him here. Shortly after, he went to work as a buyer with Elder-Beerman for almost 30 years.
"It was around the holidays and we were unfamiliar with Dayton and financially we were not the greatest at the time," Barry, age 69, recalls. Hope and Larry Footer, friends and neighbors who lived in the same apartment complex, encouraged the Serotkins to try Beth Jacob. "They'll welcome you with open arms and you don't need a ticket," Barry remembers the Footers said.
"And after that, I just started coming and got involved. I really developed a closeness when my parents passed away. And one of the few places I truly felt comfortable was here."
Through the urging of Rabbi Samuel Fox, Barry joined the board; he ultimately served as secretary, treasurer, and president. In 1995, when Beth Jacob's then-executive director, Kenneth Jacobs, left for a larger synagogue in Cincinnati, Barry applied for the job. Current Beth Jacob President Dr. Herman Abromowitz was also president at that time.
"I thank him over and over again because I had no administrative background, it was all retail," Barry said. "And he gave me the opportunity to do this."
Since then, Barry has worked with five presidents and six boards. He's handled more than 200 funerals.
"I have to thank my wife for putting up with all the crazy hours that I worked. And you know the kids that I used to chase around the building here? I see them now, they're all grown."
Barry also credits long-term administrative assistants Melissa Howell, Tammy Evans, and custodian Jerry Norris, "good, knowledgeable people," who have made his job easier.
The Serotkins plan to spend more time visiting their grandchildren in Texas and at their place in Florida during the winter. Barry says the most rewarding part of the job has been "to help people have their simchas, just to do some good things for our congregation and the Jewish community."