Dayton Metro Library hosts Americans and the Holocaust exhibit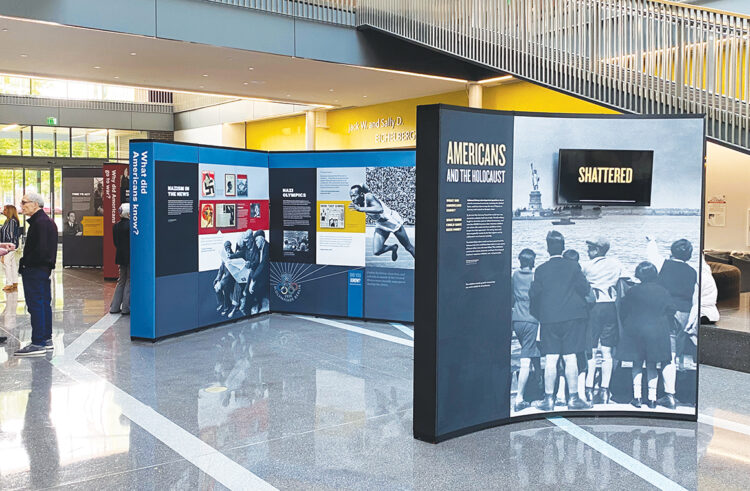 The traveling version of the U.S. Holocaust Memorial Museum's Americans and the Holocaust exhibition will be on display at the Dayton Metro Library Main Library from May 18 to June 21. Dayton Metro Library is one of 50 academic and public libraries selected to host the exhibit for its initial tour.
What did Americans know and what more could have been done are the overarching questions explored in the exhibit, which opened at the U.S. Holocaust Memorial Museum in 2018 to mark the museum's 25th anniversary.
Museum staff and curators collaborated with Ken Burns, Lynn Novick, and Sarah Botstein for their 2022 PBS documentary, The U.S. and the Holocaust.
In conjunction with the exhibit, Dayton-area Holocaust survivor Ira Segalewitz will share his story at 2 p.m., Sunday, May 21 in the Main Library's Eichelberger Forum and Atrium.
Dayton Metro Library will host four programs at the Main Library connected to the exhibit in June:
• Daytonians and the Holocaust: The View From Here, a talk by Dayton Jewish Observer Editor and Publisher Marshall Weiss, at 7 p.m., Monday, June 5;
• The JCC Jewish Film Fest screening of Charlotte, at 7:15 p.m., Thursday, June 8;
• The second day of a conference for Holocaust educators, on Wednesday, June 14 (June 13 at Wright State University);
• Belonging Versus Othering, a panel discussion on Immigration, at 6 p.m., Thursday, June 15. With UD Sociology Prof. Theo Majka, Dayton Metro Library Newest American Specialist Gabriela Pickett (also a Dayton Public Schools board member), Welcome Dayton's Desire Ntwayingabo, and Eichelberger Center For Community Voices/WYSO's Neenah Ellis. Amaha Sellassie, director of the Center for Applied Social Issues and assistant professor of sociology at Sinclair College, will serve as moderator.
Volunteer docents will lead several 25-minute guided tours of Americans and the Holocaust; the complete schedule is at daytonmetrolibrary.org.
The main library is located at 215 E. Third St. For more information and to register for these events, go to daytonmetrolibrary.org.
To read the complete May 2023 Dayton Jewish Observer, click here.