Obituaries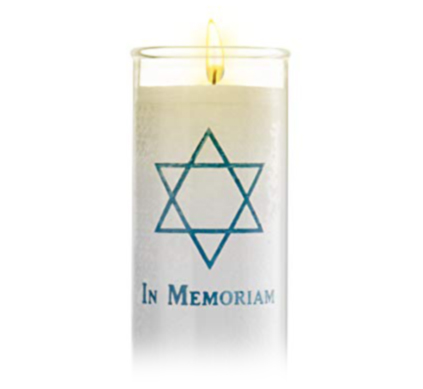 Rick Fishman, age 65, passed away on Feb. 22. Rick was preceded in death by his parents, Libby and Norman, and his brother, Coleman. He resided at the former Covenant House, now Garden Court, from 1995 to the present. Ricky loved sports, people, and never knew a stranger. His smile and bright spirit will be missed by everyone who knew him. Rick is survived by many cousins and friends. Interment was at Beth Jacob Cemetery. Donations can be made to the Holocaust Education Fund of the Dayton Jewish Foundation or Beth Jacob Congregation. May his family and friends be comforted amongst the mourners of Zion and Jerusalem. May his memory be for a blessing.
Helen Edith Ross of Dayton, cherished mother, grandmother, and great-grandmother, passed away on March 13 at age 87. Helen was preceded in death by her husband of 63 years, Dr. Allen R. Ross, and her parents, Max and Rachel Zeidman of Wheeling, W.Va. Helen is very proudly survived by three wonderful, caring sons, David (Debbie), Rick, and Marc (Donna); four terrific, loving grandchildren, Rachel (Harry) Wolff, Cameron (Scott) Fussey, Gabriel, and Carter; three adorable great-grandsons, Miles and Evan Wolff, and August Fussey. Helen was known for her razor-sharp sense of humor, and always had a joke (or 10) to share. She was born in Wheeling and graduated from Triadelphia High School. Helen attended Carnegie Institute of Technology, then transferred to The Ohio State University, receiving her B.A. in home economics in 1956. She was on the faculty of OSU Extension Service for three years, during which she wrote a regular home economics bulletin, and hosted a daily WOSU radio show as well as the occasional TV program. Helen managed her husband's dental practice in Trotwood for over 30 years, and also ran her own gift shop called Gifts & Games in North Dayton. Her son Rick worked there alongside her, launching a candy business that he grew into a global candy design and packaging company, Galerie. After retiring from dentistry, Helen and Allen worked in the candy business. Helen loved working in the Galerie Retail Center, which connected her to her time at Gifts & Games with her son. Helen and her husband loved theatre and traveling and made sure their grandchildren did as well— there was always a Cincinnati Playhouse in the Park ticket for a grandchild passing through town. She was well known for having the perfect hat for every occasion, with a collection fit for a queen. Helen was a member of Temple Israel in Dayton since 1961 and served with various women's organizations. Interment was at Riverview Cemetery. Contributions may be made to Temple Israel, Hospice of Dayton, or a charity of your choice.
Leonard Swartz passed away on Feb. 15 at the age of 90. He was the father of Greg (Sandy) Swartz and Ellen Swartz. He was grandfather to Melanie (Aaron) Fried, Max Swartz, and Matthew Swartz. He was great-grandfather to Liam and Zoey Fried. He was born in Akron and moved to Dayton for his career in the early 1970s. He was executive vice president of franchises at One Hour Moto-Photo until he retired and moved to Delray Beach in 2000. He was married to Lillian Swartz for 63 years and they were both busy and involved in the community through their work, friends, and family. Memorial contributions to the National Kidney Foundation would be appreciated. May the memory of Leonard be for a blessing, and may we join together to embrace and support his family.
To read the complete April 2023 Dayton Jewish Observer, click here.