Kerri Strug to keynote Presidents Dinner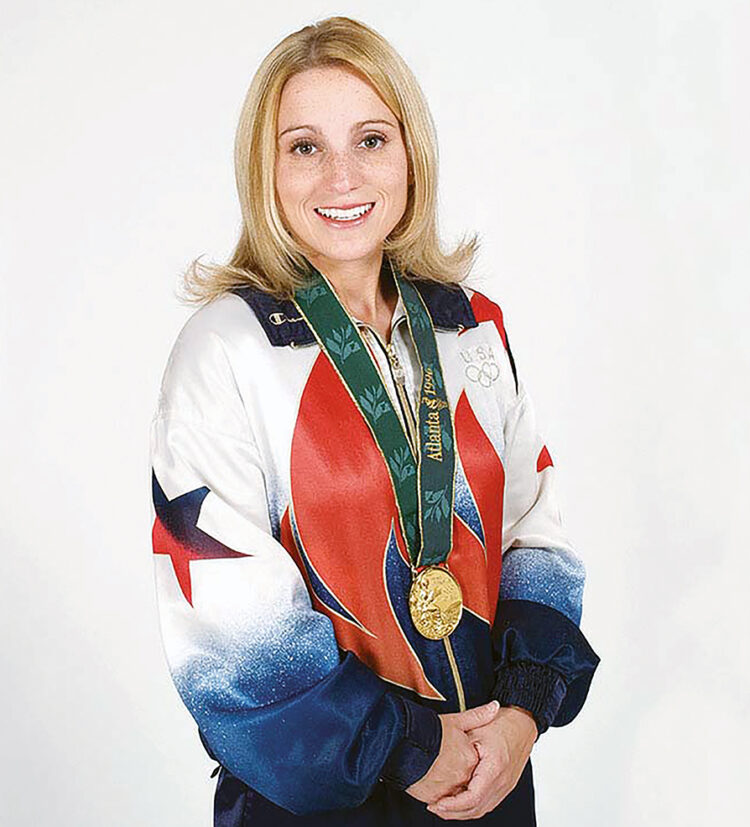 By Lisa Keys, Kveller.com
One of the most — if not the most — iconic Olympic gymnastics moments of all time was when Jewish gymnast Kerri Strug clinched the gold medal in the 1996 Olympics despite having a serious injury.
With the encouragement of her coach, Béla Károlyi, Strug continued to compete after injuring her ankle on her previous vault attempt. She vaulted again, stuck the landing — and then collapsed in pain on the mat.
At 18 years old, Strug immediately became a national hero. Strug's decision to power through her pain and secure the gold was a huge deal at the time. Recall, if you will, that in the mid-'90s, the internet was in its infancy, there was no such thing as social media, and nobody had ever heard the term "viral video." And yet, everyone was talking about this.
In the aftermath of her feat, Strug made the rounds on talk shows, graced a box of Wheaties, and even made an appearance on Beverly Hills, 90210. Strug never competed in gymnastics again.
Strug will keynote the Jewish Federation of Greater Dayton Presidents Dinner, Sunday, May 21 at 6 p.m. at the Boonshoft Center for Jewish Culture and Education. She'll talk about her career and the role Judaism has played in her life.
Thanks to YouTube, footage of Strug's 1996 Olympic vault is available for anyone who wants to watch it. And while her determination remains undeniably powerful, watching Strug compete despite injury feels more like a tragedy than a triumph, especially in the wake of the horrific USA Gymnastics sexual abuse scandal, and other reports of the abusive relationships of gymnasts and coaches, including Károlyi.
Strug has pushed back against accusations she was bullied into doing the vault by her coach.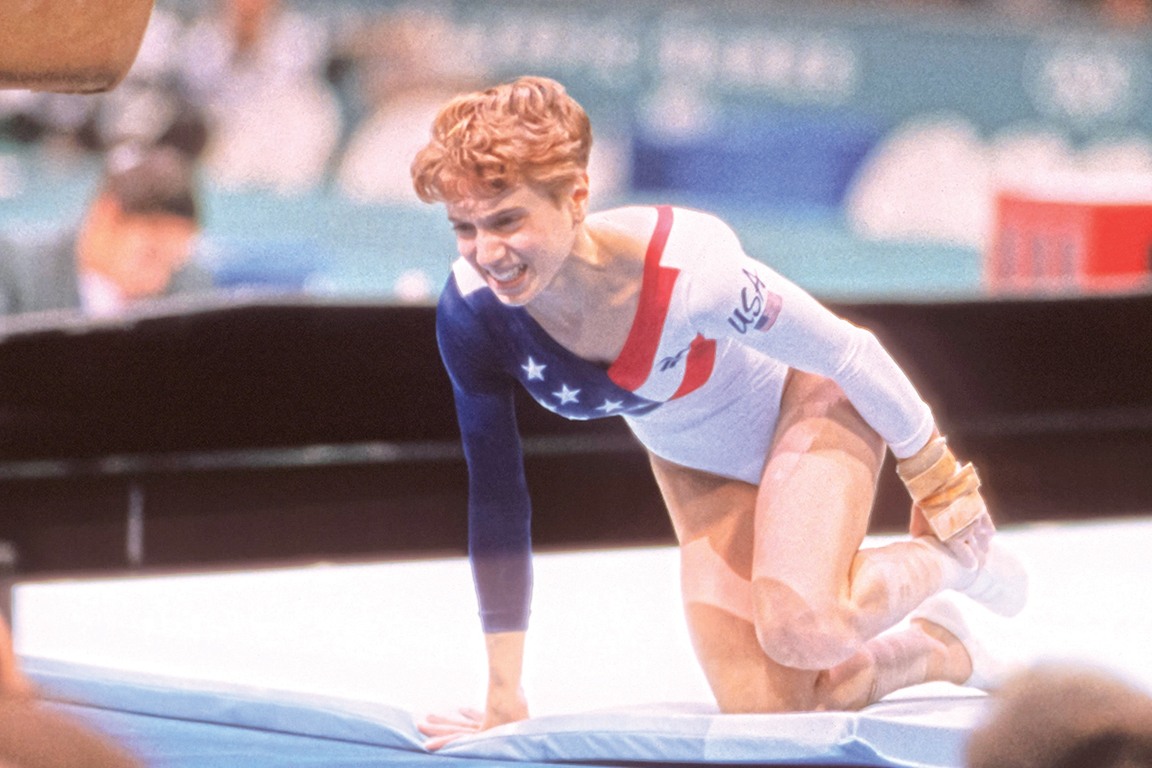 These days, Strug is a 45-year-old Jewish mom of two kids. Here are Jewish facts to know about the Olympic icon.
1. Strug was raised in a Jewish home.
Strug grew up in Tucson, Ariz. She was raised Jewish by her parents, Melanie Barron and Burt Strug, a cardiovascular surgeon. She has two older siblings, Kevin and Lisa. "The first to fall in love with gymnastics was Lisa, the oldest," Strug's official bio reads. "She started competing when she was 8 years old, before Kerri was even born. A few years later, Kerri declared that she wanted to be just like her older sister, and she was soon enrolled in a 'Mom and Tots' gymnastics class."
2. Strug has described her childhood home as culturally Jewish.
Her family attended services on the High Holidays but she did not have a bat mitzvah. "By the time I was 7, I was winning competitions and I had to make a choice: Go to Hebrew school or go to the gym," Strug told the Jewish Standard in 2006.
3. She began to explore her Jewish identity after the Olympics.
Strug began to explore her Jewish identity while she was in college. She attended UCLA and later transferred to Stanford University, where she earned a master's in sociology. She has credited her Conservative Jewish boyfriend at the time with acquainting her with many aspects of Jewish tradition, including celebrating Shabbat and other Jewish holidays.
4. She officially opened the 1997 Maccabiah Games.
She kicked off the multisport event, known as "the Jewish Olympics." It was her first trip to Israel. In the opening ceremony, she carried an Olympic-style torch into the stadium to open the Games. That year's Maccabiah was marred by tragedy: A bridge leading to the stadium where the opening ceremony was held collapsed, killing one athlete and injuring 48 others.
5. Strug views her athletic prowess as profoundly Jewish.
She's proud of being Jewish, despite repeated encounters with people who express surprise at her Jewish identity. As Strug herself wrote in I Am Jewish: Personal Reflections Inspired by the Last Words of Daniel Pearl: "I think about the attributes that helped me reach that podium: perseverance when faced with pain, years of patience and hope in an uncertain future, and a belief and devotion to something greater than myself. It makes it hard for me to believe that I did not look Jewish up there on the podium. In my mind, those are attributes that have defined Jews throughout history."
6. She had a Jewish wedding.
In 2010, Strug married attorney Robert Fischer in a Jewish ceremony that also incorporated Christian traditions. "They'll have a Kiddush cup and then a unity candle, so it will be special for both of them," wedding planner Anne Bryan told People magazine. The wedding took place at Skyline Country Club in Strug's hometown of Tucson.
7. About that 90210 episode…
Strug made a cameo appearance on the Sept. 18, 1996 episode of Beverly Hills, 90210. In the scene, Strug briefly meets Jewish character David Silver (Brian Austin Green) who, frustrated by class registration at California University, quips: "What do you have to do, win a gold medal or something?"
Oddly enough, this was a very Jewish episode of the series, which has Kelly (Jennie Garth) and David take their friend Jimmy, who is Jewish and dying of AIDS, to synagogue to celebrate Rosh Hashanah.
8. Strug is a Jewish mom.
She and her husband are the parents of two children: Tyler William, born in 2012; and Alayna Madaleine, born in 2014. "It's different how your perspective changes once you have a kid," she told ESPN shortly after Tyler's birth. "Everybody tells you it's going to happen, but until you have one, you don't get it."
9. She's an inductee in the National Jewish Sports Hall of Fame.
In 2008, Strug was inducted into the National Jewish Sports Hall of Fame and Museum. The total number of gymnasts to have received this honor is three: Strug; Mitch Gaylord, the first American gymnast to score a perfect 10, in the 1984 Olympics; and two-time Olympian Aly Raisman, who was inducted in 2012.
Jewish Federation's Presidents Dinner with Kerri Strug, 6 p.m., Sunday, May 21 at the Boonshoft CJCE, 525 Versailles Dr., Centerville. Tickets are $100 each, $50 per young adult (ages 35 and under). Kashrut will be observed. Participants will be asked to make their pledges to the 2023 Jewish Federation Annual Campaign. To RSVP by May 15, click here.
To read the complete April 2023 Dayton Jewish Observer, click here.