Beth Abraham's new rabbi, Aubrey L. Glazer, is here.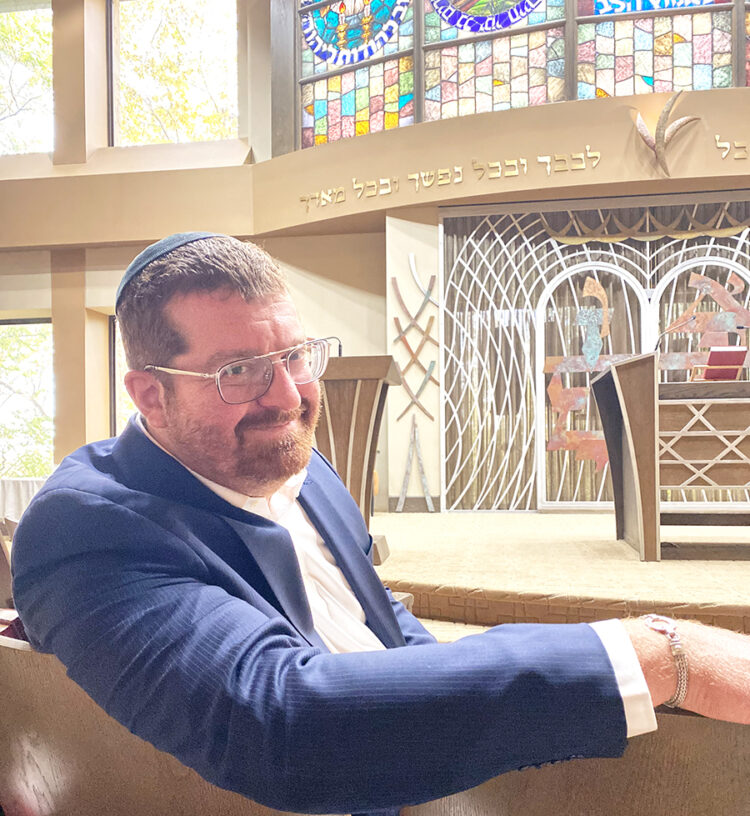 By Marshall Weiss, The Dayton Jewish Observer
The call came Wednesday, Sept. 21, four days before the beginning of Rosh Hashanah.
"Can you cross on Thursday?" Beth Abraham Synagogue President Scott Liberman asked Rabbi Aubrey L. Glazer.
"We're packing up right now," the rabbi said.
He and his wife, Elyssa Wortzman, had sold their house in Montreal and were living with her parents in Toronto. Their furniture was in storage.
"We had to have what we called our evacuation pack ready as soon as the call came from the immigration lawyers that we could cross," Glazer said.
Because of the U.S. government's backlog on visa approvals, the couple had been in a holding pattern, unable to enter the United States by Aug. 1, the start date of the rabbi's five-year contract with the Dayton area's only Conservative synagogue.
"We landed here late Thursday night," said Glazer, who prefers to go by the Hebrew term for rabbi and religious mentor, rav. "On angels' wings we made it."
He and Beth Abraham's longtime cantor, Andrea Raizen, began leading services together on the bima (stage) that Friday, Sept. 23.
Since August, Glazer's been with his new congregation virtually and on the phone.
"I've been going to daily minyan (service), I've been prerecording sermons to StreamSpot that were launched for Shabbat, I've been doing learning and pastoral counseling," he said. "I've spent time already trying to get to know as many people as possible and to be there for people in the ways a rabbi needs to be."
Now that he's on the ground here, Glazer said he's listening, learning, and witnessing.
"Like I would say as a filmmaker, I'm trying to get as much footage shot as possible so that we can start the process of editing together our current story and also envisioning the future story in that journey together."
Filmmaking and architecture have played key roles in Glazer's journey to the rabbinate, his scholarship, and his engagement with Judaism.
He describes himself as a "lifelong learner in Jewish mysticism."
Glazer was born and raised in Toronto, also where his wife grew up. He was raised in a Conservative household, but his personal journey led him to attend Conservative, Orthodox, and Reform Jewish day schools in Toronto.
"And by grade seven, I left them all behind because none of them spoke to me," he said. "If I had understood and had been able to call it what it was when I was looking for it, it probably would have been the Jewish mystical experience and none of the educators or rabbis who I met were able to relate to me in that way or to speak that language to me."
He found the mystical experience through drawing and painting at schools for the arts. About a third of the way through an architecture program in college, he left the University of Waterloo and eventually studied French language and literature, philosophy, and film at the University of Toronto.
The shift came through an epiphany as part of his architecture co-op study when he worked as a draftsman on a project to renovate a synagogue.
"The people I was working with didn't really seem to understand what a synagogue was about and what sacred space was about," he said. "And I felt like I needed to also sort of do some archeology of myself."
Glazer said he was influenced by French thinker Michel Foucault, who wrote about an "archeology of the self."
"I was deeply immersed in my French-Canadian identity — but more French identity — in trying to understand where I was coming from and who I was," he said. "That part of me wanted to do an archeology of my own identity."
He decided to join an archeological excavation in Ashkelon, Israel.
"I also challenged myself that I had to start going back to synagogue," he said. But he drifted away because he felt clergy didn't understand what he was looking for.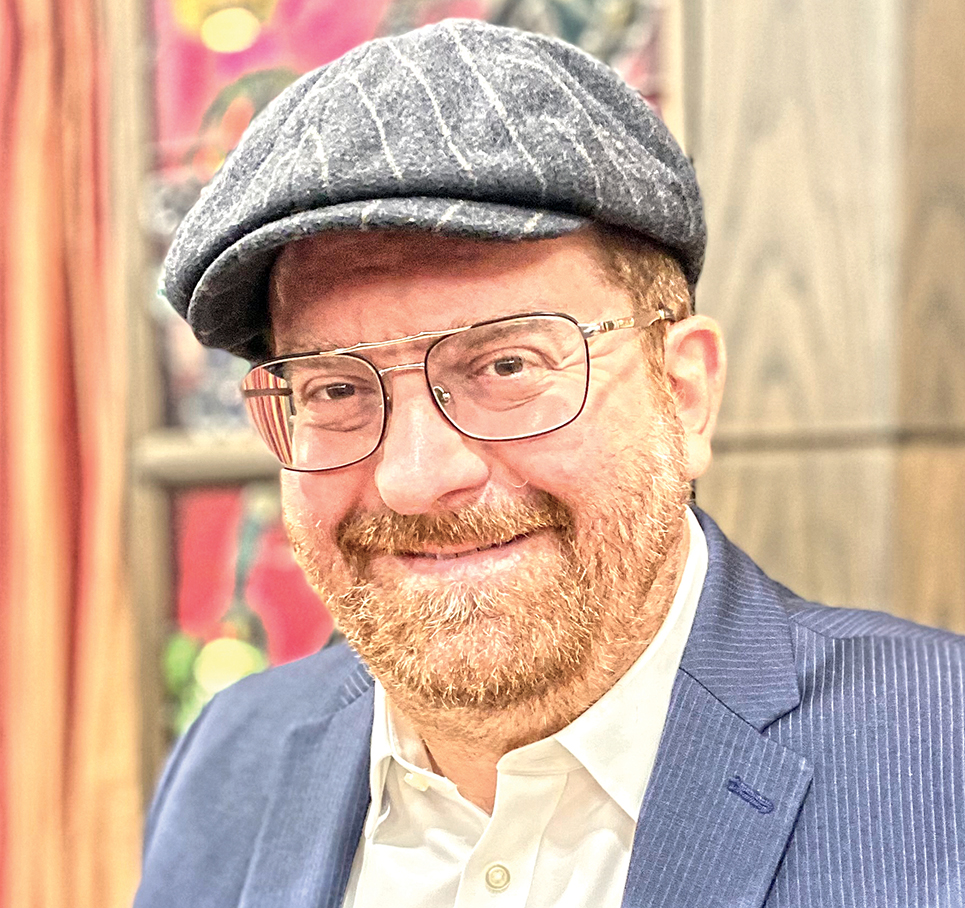 "And I couldn't articulate it, but I knew I couldn't find it at the shuls (synagogues)."
While an undergrad, he melded his learning in philosophy and filmmaking with the great ethical dilemma in the Torah narrative of the Akedah, the binding of Isaac.
Glazer made a film about Danish theologian and philosopher Søren Kierkegaard's book about the binding of Isaac, Fear and Trembling.
"And so, I spent three to four years making this film, which I eventually sold to television, the Canadian Broadcasting Corporation."
Rather than become a filmmaker, Glazer decided to apply to the rabbinical program at Jewish Theological Seminary in New York.
"I showed them my film for my entrance exam. I was very chutzpadik (gutsy). I said, 'If you want me to interview, I'm going to interview you. I want someone on the panel who can speak French and watch my movie, and we can interview.' They had never heard anything like this before."
Because Glazer's parents had insisted that he continue his Hebrew language studies after he left Jewish day school, he not only achieved fluency in Hebrew, he came to love it. After he received his Conservative rabbinic ordination, he returned to the University of Toronto and earned his Ph.D. in religious studies.
His dissertation, which led to two published books, focused on contemporary mystical Hebrew poetry written in Israel.
"The first book was mostly focused on female poets and the second was more expansive, including male voices as well," he said. "But it's all an extension of looking for an experiential way of connecting to these mystical experiences and my love of Hebrew."
He most recently served as senior rabbi of Congregation Shaare Zion in Montreal and has served as senior rabbi of Congregation Beth Sholom in San Francisco and the JCC of Harrison, N.Y.
Glazer and his wife, artist and art teacher Elyssa Wortzman, have been married for 18 years. Their daughter, Tal, 16, is studying at Givat Haviva International School in Hadera, Israel, likely through her high school graduation.
Israel is where Tal has always felt most at home, the rabbi said.
"We tend to go to Israel at least twice a year, either as a family or I go there to teach at the Conservative yeshiva or on fellowships, conferences, synagogue missions, so she's come a lot with us."
Givat Haviva, Glazer said, is an experiment in shared society. Foreign students (Jewish and non-Jewish), Israeli Jews, and Israeli Arabs live and study there together.
Over the past 15 years, Glazer has found much inspiration as part of an archeological research project in Tiberias, Israel to uncover a little-known Chasidic aliyah (Jewish immigration to Israel) there in 1777.
"What drew me to it," he said, "was they didn't really have, not just a rebbe (dynastic leader of a Chasidic sect), but there wasn't a tzadik (spiritual leader) figure that the Chasid would turn to. It was a community that was horizontal. Today, we would say it was egalitarian. They wouldn't have used those words. But they were deeply committed to what they called mystical experiences of bonding through friendship."
The rabbi said this relates directly to Dayton.
"I am committed to klal Yisrael (the Jewish people), so I resonate strongly with my Chabad colleagues and have collaborated with them in my Tiberian Chasidim project as well as community-building efforts for all Jews."
Glazer said his spiritual vision is inspired by the Neo-Chasidism of his teacher, Rabbi Art Green.
"I am honored that the shiddach (match) between myself and Beth Abraham came to fruition, and I value relational Judaism and hope to really develop meaningful relationships with all my Beth Abraham chevre (friends) and beyond."
He said he chose the Midwest because he immediately felt at home on his visit here.
"We want to explore the traditional egalitarian edge of Conservative Judaism, but also to be very open to the evolution of Conservative Judaism, which is really in a process of evolving and trying to find its next chapter."
The rabbi said the first priority he and Beth Abraham will work on is its strategic planning process.
"We're working with the movement, the United Synagogue of Conservative Judaism, to understand better who we are, where we've come from, our very important history as a synagogue, and its place within the Dayton community — what the possibilities and the interests are of where leadership in the community is poised presently, and what the short-term and long-term vision can be for us to be able to grow."
For his new congregants, Glazer said he strives every day to be the rabbi that wasn't there for him when he was searching.
"I try to be that rabbi that is open to the world and is open to mystical experiences and spirituality, which was something I wasn't trained in at the seminary — nor were the rabbis who served me trained in. But I've been searching and cultivating those experiences for a few decades now."
Related: Surprising spiritual advice from Lou Reed's American-Jewish songbook
To read the complete November 2022 Dayton Jewish Observer, click here.