A conversation with new Jewish Federation President Mary Rita Weissman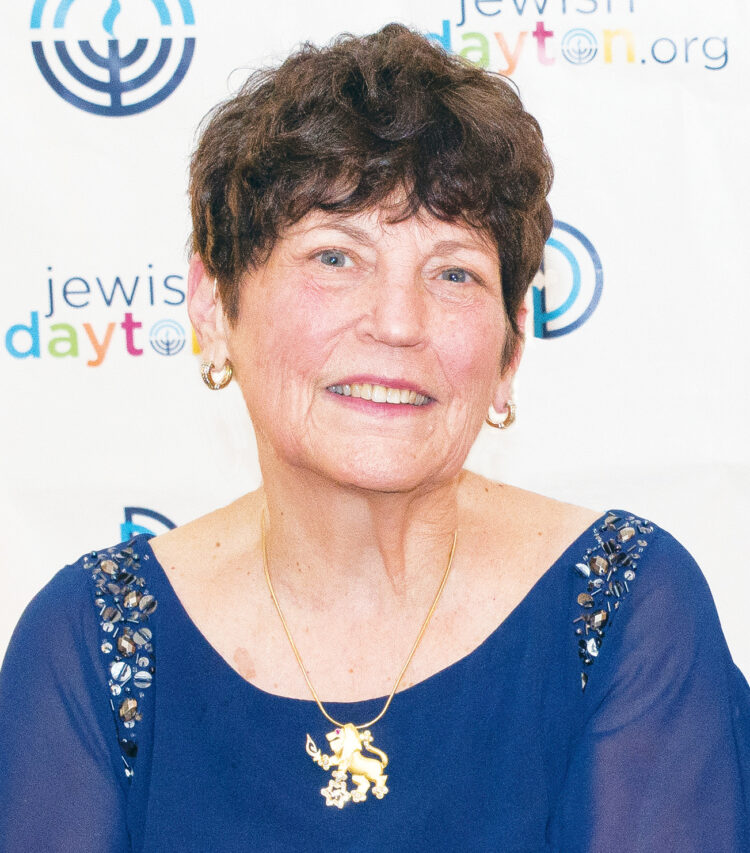 By Marshall Weiss, The Dayton Jewish Observer
Longtime labor relations consultant Mary Rita Weissman — a stalwart volunteer in the Jewish and general Dayton community — was elected president of the Jewish Federation of Greater Dayton at its annual meeting, Aug. 17. Here, she talks about her pathway to Jewish leadership and her plans for the Federation.
How did you start getting involved in the organized Jewish community?
I moved here in the late '70s. I was transferred from Atlanta, where I was the personnel manager for the box plant division of the Mead Corporation. I was there for six months, and Norm was hired to be the labor relations manager of the packaging plant. We shared a labor agreement. We got to know each other, became friends.
I got transferred to Cincinnati but still had responsibility for that plant and another plant as well. And then I got transferred to Dayton, at the corporate headquarters, as the labor relations person. Not six months later, after I got transferred up to Dayton, Norm got promoted to the VP of HR for the paperboard division. So we were friends. We had a lot of conversations.
We decided that we would get married. At the time, nobody knew we were dating, because we were both in the same field in the same company in the late '70s. I had been involved pretty deeply in all organizational design aspects of Mead. And because of that, I was involved in a lot of new startups and also involved in labor relations.
I always said one day I'm going to leave Mead and I'm going to start my own company and consult on organizational design because these academics that are doing this work don't have a clue about the kind of people we have, and the kind of technologies, and so on. Norm had come up with the same conclusion about labor relations.
So when we decided we were going to get married, he left Mead to start our company in February 1980. I applied for and was promoted to his job, believe it or not. And by the way, I made 20-percent less than he did.
We got married in July 1980, and I had promised him that we would raise the kids Jewish. So I said, if I'm going to have a Jewish husband and Jewish kids, I better learn about Judaism. There was never any thought in my mind or Norm's that I would become a Jew by choice. And the moment I started studying, I realized I had been Jewish my whole life.
Now, I was the ultimate Catholic: Catholic grade school, Catholic high school, Catholic college, Catholic graduate school, and I grew up in Chicago. I had a minor in theology in college. I was intensely involved in the Catholic community and the parish, as much as one could be in the Catholic environment in those days.
I became a Jew by choice and Norm had not yet joined a synagogue, so he was doing that while I was studying this. He called the Jewish Federation and said, "I'm in town." Federation Executive Director Peter Wells came and had a meal with him, and we were immediately hooked.
And so, as the kids went to camp, I just got involved in this and that and the other thing. Our expertise in human resources is always an important volunteer contribution. I've done human resource stuff for practically every one of the synagogues whenever they've needed help.
And eventually you became president of Beth Abraham Synagogue.
People all said to me when I agreed to be (synagogue) president that the happiest day of your life is when you stop being president. And that was not the case for me at all. I loved being president. I served two terms. Because I was chair of the JCC, I also served on the JCCA national board, and that was so much fun.
You've also been a key leader with the Miami Valley School for several years.
I'm still on the board. I'm emeritus, but I go to all the meetings because I love Miami Valley School.
What led you to decide to take on the Federation presidency?
I had been asked multiple times and I always said no. Being president of a synagogue is very time-consuming. At the other times when I was asked to serve, I was on the board of United Rehabilitation Services, I was on the board of Miami Valley School, I was the chair of the board of the Disability Foundation, and I was on the JCC board. It was just too much before. We're cutting back on the business and so it's a good time now.
What are the opportunities ahead for the Federation?
Oh, I think Dayton Dreams Big. The challenge of losing all of these senior staff people and the opportunity to bring in all this new staff, and mining the wisdom and the ideas of new staff members.
I would like to see us do more in young leadership. We have a real opportunity there. We have people in place, including me, who have been around a very long time in leadership positions.
I would like to see the amazing JCC Early Childhood that we have capitalize even more on its excellence. I would like us to get all the Jewish kids we can get.
Given the sparseness of children we have in camp, Camp Shalom is fabulous. We want to continue to build on that. Maybe the most important thing is continuing what Federation CEO Cathy Gardner started, making the Federation the central address for all things Jewish, so everybody's comfortable. And for the collaboration and cooperation among all the Jewish organizations out there outside the Federation to continue down the path it's been on. It's been fabulous.
It's the kids, young leadership, and the watering of all of the flowers of the Jewish entities in Dayton. This is the way to go.
We're in an amazingly good place right now, from the staff at the Federation to the collaboration among the synagogues.
We don't have the big givers that we used to have. So financing all this is much more difficult. I'm not saying it was ever easy, but it is much more difficult. But again, our annual campaign is going up. We're in a great place.
To read the complete September 2022 Dayton Jewish Observer, click here.