Obituaries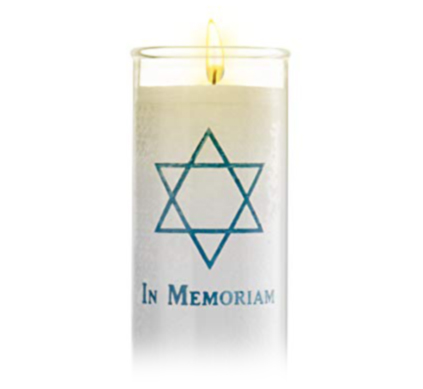 Howard Zane Beyer passed away on Jan. 19 in Union, N.J. at the age of 78. Howard was born in Canton to Elizabeth and Abraham Beyer. He married Rena Zwelling on July 24, 1967. Howard was the owner of Ohio Lamp and Fixture, which served the Dayton community for nearly 80 years. He was also a lifetime associate of Hadassah. He was a kind, caring and devoted husband, father, and grandfather. Howard will be missed by his children, Marnina, Alysha, Liba Tahly and Nadeev; grandchildren, Daveed, Tikvah, Ndashi, Kasuba, Hava, Zohara and Ezra. He will always be remembered and loved. Memorial contributions may be made to Beth Jacob or Hadassah.
Dorothy Levitt Engelhardt passed away Jan. 18 at age 93. She is survived by her loving children, Debbie and Simon Igielnik, Lynn Engelhardt and Beth and Louis Guttman; her beloved grandchildren, Ben and his wife Jessica, Ruth and her husband Ben, Jon, Julien and her husband Adam, Aaron, Ellyn and Isaac; and great-grandchildren, Aliza, Shuli, Sarah, Yael and Nani; and her loving sister, Ann Brenner. Also beloved nieces and nephews — some she wasn't even related to. She was preceded in death by her beloved husband, Simon; her parents, Recha and Boris Levitt; and her two brothers she adored, Albert and Ted Levitt. The family would appreciate a gift in our Bubbie's memory to Beth Abraham Synagogue, Hospice of Dayton or any charity that promotes kindness and justice.
Evelyn Ostreicher lost her battle with multiple sclerosis when she died peacefully in her sleep on Jan. 4 at 91 years old. Evelyn was preceded in death by her beloved husband, Ernest; her parents, Herman and Fannie Wolf; her brother, Jack Wolf; her sister-in-law, Shari Krauss; and her brothers-in-law, Eugene Krauss and Moshe Meryl. Evelyn is survived by her daughters, Helen Halcomb, Isabelle Bernal (Robert), Sharon Ostreicher; grandson, Aidan Bernal; and sister-in-law Gita Meryl and numerous nieces, nephews, grandnieces, grandnephews and cousins.
Evelyn Wolf Ostreicher was born in Hamilton, Ontario, Canada on Feb. 19, 1930. She was raised in Lorain, Ohio where she met her husband, Ernest. They moved to Dayton with their three daughters for a business opportunity.
Evelyn Ostreicher embraced life in Dayton, joining Beth Jacob Synagogue and getting involved in numerous charity works and organizations. She was Sisterhood president from 1968 to 1970, a tireless volunteer for her synagogue, and a member of the committee celebrating the 100th anniversary of Beth Jacob in 1987. Evelyn would spend her Saturday afternoons with residents of the Jewish nursing home (Covenant House) and was such a fixture that she became known as the "Cookie Lady" and an activity that many residents looked forward to for her friendship and entertainment.
Diagnosed with multiple sclerosis in her late 30s, Evelyn did not let her illness stop her from continuing to help others. Evelyn was presented the Top Ten Volunteer Award from United Way in 1981 and the Hope Award from the National Multiple Sclerosis Society in 1994. In addition, Evelyn received awards from the Ohio Senate and accommodation from President Reagan of the United States. After selling the family business, Drug Mart, Evelyn and Ernest moved to Sun City Summerlin in Las Vegas. While in Las Vegas, she renewed her love of mah jongg, was an active participant in her new synagogue, and continued to be an active volunteer. She received another award as Volunteer of the Year in 2009 from her new synagogue, Young Israel Aish, Las Vegas.
In July 2011, Ernest and Evelyn moved to Walnut Creek, Calif. where they stayed until the death of Ernest in October 2013. Shortly afterwards, Evelyn moved to Reutlinger Jewish Community in Danville, Calif., where she spent the last eight years of her life. Undaunted by her physical limitations, Evelyn continued to volunteer on several boards and committees at Reutlinger, to play mah jongg, and attend Shabbat services at the Reutlinger chapel. Evelyn became an artist under the tutelage of Resident Artist Betty Rothaus, creating many beautiful watercolors. If interested, Evelyn Ostreicher's artwork can be seen at ArtwithElders, artwithelders.org. Evelyn Ostreicher lived her life to the fullest, never letting her MS diagnosis prevent her from living a meaningful, joyous life. She will be dearly missed by her family and the many friends she made in Ohio, Nevada, and California. Donations can be made to Beth Jacob Synagogue, MS Society, or a charity of your choice.
Dennis K. Rich passed away Jan. 11 after a lengthy illness. He was born on June 28, 1939 in Dayton to the late Leonard and Evelyn Rich. He graduated from Fairview High School in 1957 and attended the 50th reunion in 2007. Denny attended The Ohio State University but left early to join his family's business, The Rich Company. He became a manager and co-owner of Rich's Pawn Shop from 1959 to 1981.
Denny's first marriage was to Sue Bashore Rich, now of McKinney, Texas. Denny spent most of his leisure time at Meadowbrook Country Club, where his family were members for many years. He played golf and enjoyed lounging and schmoozing at the pool. Denny loved the sun and had the best suntan in Dayton! His family were members of Temple Israel and Beth Jacob. Denny was involved with several Jewish organizations at that time.
The Rich family were snowbirds in Boca Raton for many years before moving there permanently in 1981. Denny was fortunate to retire from full time work at that time. He continued to dabble in real estate and property development. He continued to search for the perfect tan.
He was blessed to find love again later in life and remarried in 2005 to Linda McGowan, with whom he continued to enjoy a life of leisure, traveling, dining out, or just having friends over to visit. Denny knew no stranger. He loved people and could talk up a storm with anyone he met. He enjoyed watching the stock market and always knew the price of gold.
Denny was preceded in death by his second wife, Linda McGowan Rich. He is survived by and will be sorely missed by his son, Jeffrey Rich; daughter and son-in-law Wendy and Dr. Philip Korenman; grandchildren Justin Ford, Samuel Korenman, and Emily Korenman, and Jacob Rich and wife Ashley; and great-grandchildren Isaac Rich and Esther Rich. Denny is also survived by numerous cousins and lifelong friends in California, Ohio, Texas, and south Florida who will miss him dearly. Interment was at Eternal Light Cemetery in Boynton Beach, Fla. Donations in his memory may be made to St. Jude Hospital or any local Jewish Family Service of choice.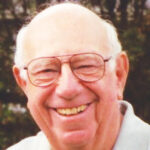 After a grand weeklong celebration of his 100th birthday, Sam Unger passed away peacefully at his home on Nov. 20. He is survived by his loving children, Cindy Unger of Casper, Wyo. and Ellis Unger of Bethesda, Md., daughter-in-law Clare Unger of Bethesda, and five loving grandchildren. His wife, Edith, predeceased him. After serving in World War II, Sam followed many entrepreneurial dreams, and was eventually successful in the office supplies business in Dayton. After retiring in 1986, he and Edith were fortunate enough to travel the world extensively, and ultimately settled in Pompano Beach, Fla. Sam's life revolved around finding new challenges. He was both brilliant and generous. Playing the piano was his passion. He also loved golf, bridge, painting, and writing but, most of all, he loved people. Fiercely independent, he endeared himself to many with his sharp wit and heart of gold. There are many who miss his barrage of jokes in their email every morning. He contributed much to all of us. If there is anything beyond this life, he is undoubtedly cracking jokes, singing, dancing, and playing the piano for all eternity. He was interred at Adath Jeshurun Cemetery in Pittsburgh alongside his beloved wife, Edith. To honor him, please donate to the charity of your choice.
To read the complete February 2022 Dayton Jewish Observer, click here.