Obituaries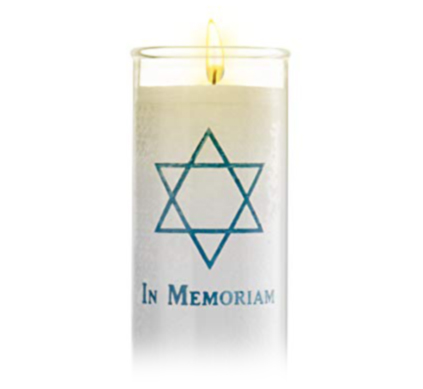 Charlotte Braverman, age 92 of Columbus, formerly of Dayton, passed away Oct. 25 at her residence. She was a teacher with Trotwood Madison Schools for 15 years, a member of Beth Abraham Synagogue, a life member of Hadassah, and was a volunteer for many organizations including Orchestra and You. She was preceded in death by her husband, Jerome L., and son, Stephen. Mrs. Braverman is survived by her daughters, Laurie Braverman and Dr. Lisa Braverman. Interment was at Beth Abraham Cemetery. Memorial contributions may be made to Hadassah, Dayton Philharmonic Orchestra, or Beth Abraham Synagogue in her
memory.
Howard Faust, age 88 of Dayton, died Oct. 19 at The Hospice of Dayton. He was the owner of Carl A. Schmidt's Pharmacy, president of Miami Valley Pharmaceutical Association, a member of The Ohio State Pharmaceutical Association Board of Directors, president of Temple Israel Brotherhood, a member of the Temple Israel Board of Directors, and a member of the Downtown Dayton Priority Board. He was a passionate tennis player, avid reader of fiction and an active learner at the Osher Institute at UD. Mr. Faust is survived by his wife, Ellen; sons and daughters-in-law, Mitchell and Sara Faust and Jonathan and Deborah Faust; daughter and son-in-law, Jessica and Matt Maiten; sister, Sandra Abraham; grandchildren, Noah, Isaac and Jeremy Faust and Samara Maiten. Interment was at Riverview Cemetery. Donations can be made to Temple Israel Dayton's Brotherhood Education Fund or The Hospice of Dayton.
Highly decorated retired Navy SEAL Michael Raymond "Goody" Goodboe died on Nov. 24, 2020 from injuries sustained while serving his country overseas. To say that Goody was a giant in the special operations community is to understate his reputation in the U.S. military and special operations community. Goody served his country with distinction in multiple theaters including Iraq, Afghanistan, Eastern Europe, and Africa. Goody retired from the Navy as a Chief Warrant Officer (CW2) after a distinguished career as a Navy SEAL in which he earned the Silver Star Medal for extraordinary heroism, four Bronze Star Medals (two with Valor Device), three Defense Meritorious Service Medals, the Joint Service Commendation Medal, the Navy and Marine Corps Commendation Medal, the Joint Service Achievement Medal with Valor Device, three Joint Service Achievement Medals, the Navy and Marine Corps Achievement Medal, Combat Action Ribbon, Navy Presidential Unit Citation Medal, Afghanistan Campaign Medal, Iraq Campaign Medal, Global War on Terrorism Service Medal, five Sea Service Deployment Ribbons, Expert Rifleman, Expert Pistol Shot. Goody will be remembered for his warrior spirit, sense of humor, and high standards for himself and his comrades. Goody made a lasting impression on everyone he worked with, whether in peacetime, training, or serving overseas in challenging environments. As fiercely loyal and dedicated as he was in service to his country so was he with his love and devotion to his family and friends. All were blessed with Goody's wit, warmth, compassion and love from a man who lifted hearts the moment he walked into the room. At the time of his death, Goody was 54 years old. He will be missed beyond comprehension by Ruthie Litvin Goodboe, his wife of more than 20 years, his parents Michael and Zelia Goodboe, in-laws, Joseph and Elaine Litvin, uncles, aunts, and cousins together with his chosen family and friends. Michael R. Goodboe will be remembered with pride, honor and love for generations to come. Goody was buried at Arlington National Cemetery in September 2021. Donations can be made to the Navy SEAL Foundation at navysealfoundation.org/donate.
Kenneth L. Schriber, age 77, of Dayton, passed away on Oct. 25. He was born on Feb. 21, 1944 to Paul Schriber and Maryan Hortence Goldberger in Philadelphia. After graduating from Colonel White, Ohio State, and University of Cincinnati Law, Mr. Schriber went on to work for the FBI in the days of J. Edgar Hoover, following which he moved home to Dayton to practice law and join the family business. Mr. Schriber met his spouse, Connie Adams, in 1963 at The Ohio State University and married three years later. Mr. Schriber loved Yoga, hiking with his dogs, camp trips with his lifelong buddies, and just spending time with his many, many friends. He served on numerous community and charitable boards over the years and was well respected as a leader. Mr. Schriber was predeceased in death by his father, Paul, mother, Maryan, and brother-in-law, Mario Iglesias. He is survived by his wife of 55 years, Connie; daughters, Pam Vitaz (Todd) and Bayla (Jason); grandchildren, Elliot, Ethan, Xanthe, Azalea, and Jorma; sisters, Sheri Udisky (Allen), Judy Wargo (James), Deborah Schriber (Mario), as well as many beloved nieces, nephews, and cousins. Interment was at Beth Abraham Cemetery.
Kathe Mueller Slonim of Southport, N.C., formerly of Dayton, passed away peacefully on Oct. 23, 2021. Born in Stuttgart, Germany, July 1, 1927, she and her family were survivors of the Holocaust. The Nazis took her father to the Dachau concentration camp. In an effort to save their only child, Mrs. Slonim's mother brought her to the Catholic Church in Stuttgart where she was hidden until her father and mother were able to escape and take her to Luxembourg. Once there, they waited a year for papers to let them enter the United States. Mrs. Slonim was 12 years old when they arrived in Albany, N.Y. She attended Albany Business College and Sarah Lawrence College. She married in 1951 and moved to Dayton. She worked for 40 years as a school secretary for the City of Dayton Department of Education, Cornell Heights Elementary School, and Hickorydale Elementary School. She was loved by all the staff and students who never hesitated to drop by the office for her support and advice. She was a supporter of literacy and for many years after her retirement she volunteered her time in the schools where she read to students and helped many students learn to read. For 45 years she volunteered for the Hillel Academy bingo fundraiser. She volunteered at the Dayton State Hospital for the mentally challenged. She was a world traveler who visited countries on every continent. She was independent and adventurous as she traveled to Chile, Buenos Aires, Brazil, Australia, Africa, Singapore, Vietnam, Cambodia, China, Israel, Egypt, and nearly every country in Europe. She particularly enjoyed her many visits to Tokyo, Japan where her daughter Elyse and son-in-law Ed lived for five years. She was a woman of many talents: an artist, a musician, a seamstress, an amazing cook and baker. She never hesitated when asked to provide all the baked goods for family and friend's events. She was an expert at finding treasures at flea markets and antique shows. She loved spending time with her grandchildren, especially challenging them at her favorite pastime game, Rummikub. She is survived by her three children: Dr. Charles Slonim of Tampa, Susan (Slonim) Servais of Boston, and Elyse (Slonim) Brown of Southport; and her beloved sons-in-law Ed Brown, Arnie Servais, and daughter-in-law Barrie Slonim. She is also survived by seven grandchildren: Dr. Elliot (Karly) Servais of Wellesley, Mass., Dr. Andrew (Rebecca) Servais of Boston, Dr. Jackie Servais (Josh) Kram of Bethesda, Md., Erik Brown of Durham, N.C., Jessica Brown (Ted) McCarthy of Woodbridge, Va., Arlie Slonim (Herbie) Ziskend of D.C., Emma Slonim of D.C., and four great-grandchildren: Matthew, Emily, William, Ellie with two on the way. Her funeral was held in Albany, N.Y. Donations can be made to: The Restoration Campaign of Temple of Israel, 922 Market St. Wilmington, NC 28401; or the SECU Hospice House of Brunswick, 955 Mercy Lane, Bolivia, NC 28422.
To read the complete December 2021 Dayton Jewish Observer, click here.