Interim rabbi for Beth Abraham Synagogue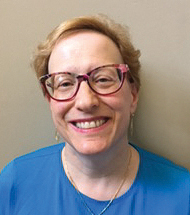 Beth Abraham Synagogue, the Dayton area's Conservative Jewish congregation, has named Rabbi Melissa Crespy of Columbus as its interim rabbi for the year beginning July 1 while it conducts its search for a rabbi. A native of Freehold, N.J., Crespy was ordained at Jewish Theological Seminary in New York. Most recently, she was staff chaplain with Mt. Carmel Health System after serving as Congregation Agudas Achim's rabbi in Columbus.
To read the complete July 2021 Dayton Jewish Observer, click here.