Keeping our community connected for a quarter century

By Marshall Weiss, Editor and Publisher, The Dayton Jewish Observer
When the Jewish Federation hired me in January 1996 to start a Jewish newspaper for the Dayton area — with the first issue out in time for Passover — two widely-cited industry figures weighed heavily on me: nine out of 10 new print publications fail within their first year, and for every 10 advertising prospects you call on, you'll be lucky to get one sale, and even that will take several months.
And those were the good old days.
Through its Jewish Community Relations Council, the federation had established a Jewish newspaper committee in May 1994. The privately-owned Dayton Jewish Chronicle, which began publishing in 1958, had gone through a succession of ownerships, its advertising and circulation dwindled, and the publication was seen as not fully covering the happenings of the local Jewish community.
In fall 1995, when the federation announced it would establish a Jewish community newspaper in spring 1996, the Chronicle announced it was closing down.
That a privately-published newspaper in a Jewish community of approximately 5,500 was able to put out a weekly through 1995 was the exception, not the rule.
In the mid-1990s, about three-quarters of the Jewish newspapers across the United States were either owned by or operated in some form of partnership with their local Jewish Federations.
Outside of maybe the largest dozen Jewish communities in the United States, publishing a Jewish newspaper was not a money-making venture.
The concern Jews in the Miami Valley had, and rightly so, was that a federation-published newspaper would be more of a federation newsletter than an instrument of journalism that would reflect the real goings on and aspirations of the community.
More and more federations that controlled their local Jewish newspapers did transition them into house organs as challenges to their annual campaigns increased in the 1990s.
I was glad to learn that's not what the leadership of Dayton's federation wanted. Starting with then-federation President Ralph E. Heyman, going through the Jewish Community Relations Council and its Dayton Jewish newspaper committee chaired by Ellen Faust, the federation understood the value of a real Jewish community newspaper.
A newsletter function in our pages would always have a secondary role.
They meant it and have stood by this principal for 25 years.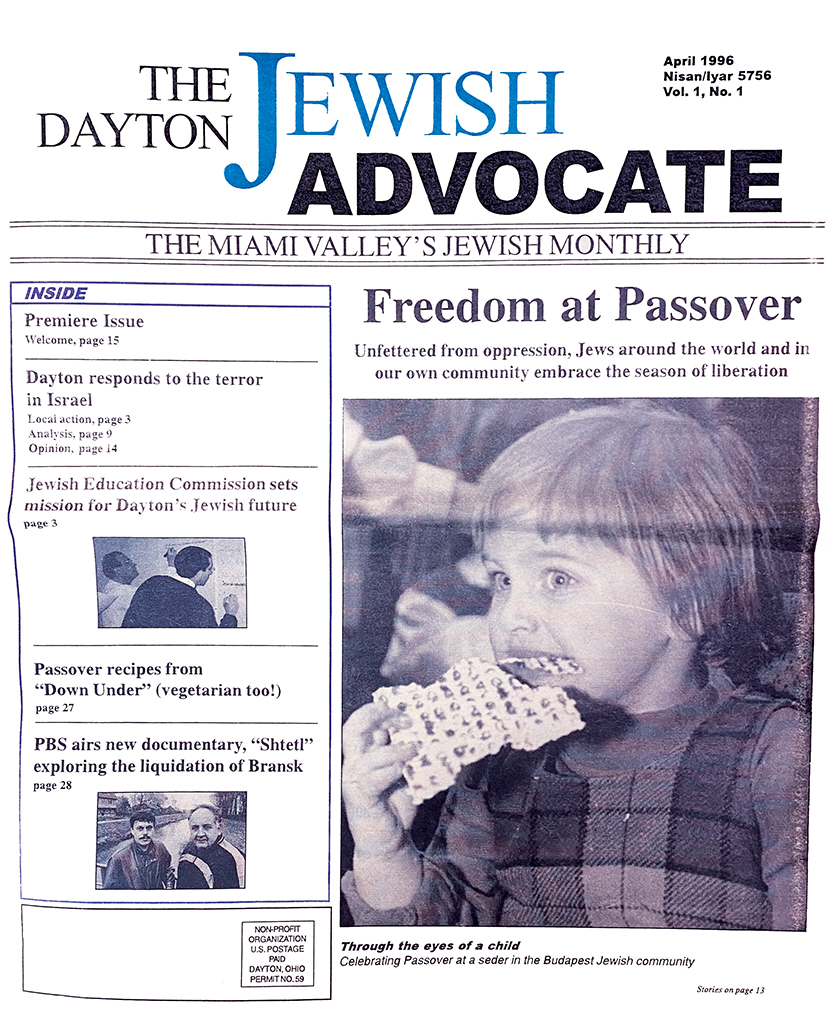 What's in a name?
I was told Dayton's Jewish newspaper would be a monthly, which made sense given the size of our Jewish community, and that its name would be The Dayton Jewish Advocate. In 1995, the federation held a name-the-Jewish-newspaper contest. The winner was a Jewish Daytonian who was then retired in Florida.
The only other Jewish Advocate out there that I knew of was Boston's Jewish paper. It turned out there was a reason for that. Several months after we launched The Dayton Jewish Advocate, we were contacted by the publisher of The Jewish Advocate in Boston. He explained to us that he had trademarked the name Jewish Advocate and that we had to change our name. Or he'd sue us. So we did.
We weren't alone. The same year, the Dayton Voice, Dayton's alternative weekly, received a cease-and-desist notice to remove the word voice from its name. The Village Voice had trademarked Voice as a publication name.
So much has changed in the publishing world since then. Boston's Jewish Advocate, the Village Voice, and Dayton's alternative weekly, most recently called the Dayton City Paper, are all gone.
Our newspaper committee decided to change our name to The Dayton Jewish Observer. Before we flipped the switch, I checked with every publication titled Jewish Observer. They all said it was OK.
Keeping it local
From the beginning, we wanted to keep our coverage as local as possible. And with limited resources in a small Jewish community, we didn't have the luxury of dedicating space to coverage of local news that might be of interest to Jewish readers but wasn't inherently Jewish. This also meant as much as possible, we would secure columnists from within our own Jewish community.
For this, I turned to the late Carol Pavlofsky, then director of federation's fundraising, for advice.
She suggested I invite educator Candace R. Kwiatek to take on a monthly family column. Candy's been in our pages every month since that first issue, winning first-place awards from the American Jewish Press Association and Ohio Society of Professional Journalists. I can't tell you how much I have learned from Candy, month in and month out.
Carol's other suggestion was Charlotte Golden, who wrote our Can We Schmooze! column for several years. This was followed by Rachel Haug Gilbert's Kvelling Corner and now Scott Halasz's Mr. Mazel column. I still hear from readers who tell me that's the first page they go to when The Observer hits their mailboxes.
The late Shirley Schatz charmed readers with her columns for years in The Observer, which focused on memories of her childhood and especially of her bubbie's wisdom.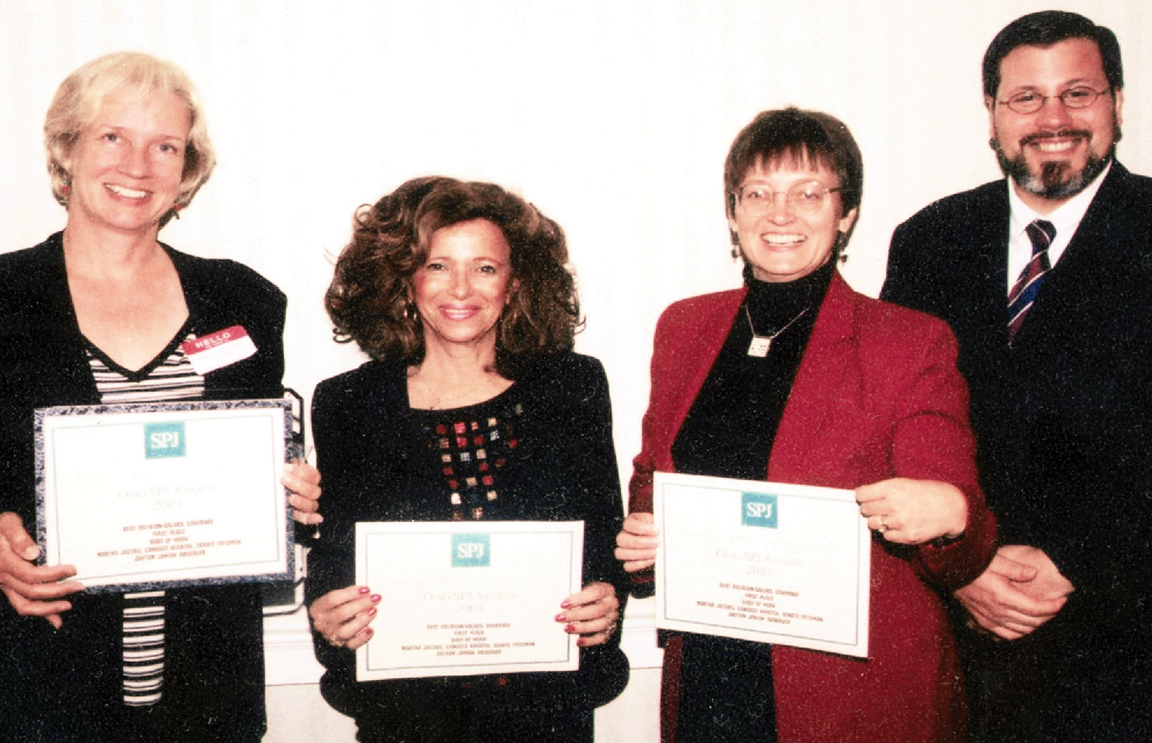 What was going on
We published our first issue at a heartbreaking time for the Jewish world and Israel. Israeli Prime Minister Yitzhak Rabin had been assassinated by extremist Yigal Amir four months before. The Oslo Accords between Israel and the Palestinians had now devolved into a barrage of Palestinian terrorist suicide bombings targeted at civilians on buses and in crowded areas in Israel.
Dayton, celebrating its bicentennial, was also processing its role in the Dayton Peace Accords — the General Framework Agreement for Peace in Bosnia and Herzegovina — reached at Wright-Patterson Air Force Base a few weeks after Rabin's murder.
Our local Jewish community was still energized from the arrival of nearly 200 Jews from the former Soviet Union, which the federation had resettled here between 1989 and 1993 as part of United Jewish Appeal's Passage to Freedom and Operation Exodus campaigns during the collapse of the Soviet Union.
The massive project empowered volunteers across our community with a singular purpose through an expanded Jewish Family Services: to build connections with these Jews and provide them with all they needed to set up their new lives here. Volunteers collected furniture, set up apartments, found them jobs, provided transportation, and helped newcomers become acquainted with Judaism. Children of the former Soviet Jews enrolled at Hillel Academy Jewish day school on scholarships. Families received memberships at the JCC.
Leaders at all levels across the American Jewish community grappled with the results of the National Jewish Population Survey of 1990, which estimated the intermarriage rate for Jews as 52 percent.
Their concern: how do we inspire those in interfaith families to become involved in Jewish life, and how much of a priority is doing so? Jewish community organizations at the national and local levels debated about priorities of "inreach versus outreach," whether to concentrate on the active core or attempt to attract those with few or no connections.
The Reform and Conservative movements championed "Jewish pluralism" here and in Israel, while the Orthodox movements emphasized the value of "Jewish unity."
Participation in local Jewish organizations, congregations, federation, and the JCC were on the decline. Dayton's Jewish community had always been an ambitious one: it had steadily built the amenities one would expect in a much larger Jewish community. With the local Jewish population on the decline and shifting from the suburbs northwest of Dayton to Dayton's south suburbs, Jewish entities attempted to figure out how to remain relevant and vibrant with fewer people and funds, and in different locations.
Little community, big stories
It's exciting to break important stories before other news outlets, but it's most important to get each story right. One of the first breaking news stories we reported was in 1997 when the Aryan Nations hate group considered moving its national headquarters from Hayden Lake, Idaho to Miamisburg. Thankfully, this didn't come to pass. At the time, the active local hate group included violent, dangerous members. Two years later, one local member was arrested, tried, convicted, and incarcerated for attempting to assassinate Southern Poverty Law Center founder and Chief Trial Counsel Morris Dees. This effectively led the local Aryan Nations group to crumble.
One of our first stories to receive national distribution across Jewish media was about a little girl, Brooklyn Van Skoyck, born with Canavan disease, a fatal degenerative disease most common among Ashkenazi Jews. Her maternal grandfather was Jewish. Brooklyn's father had no known Jewish lineage.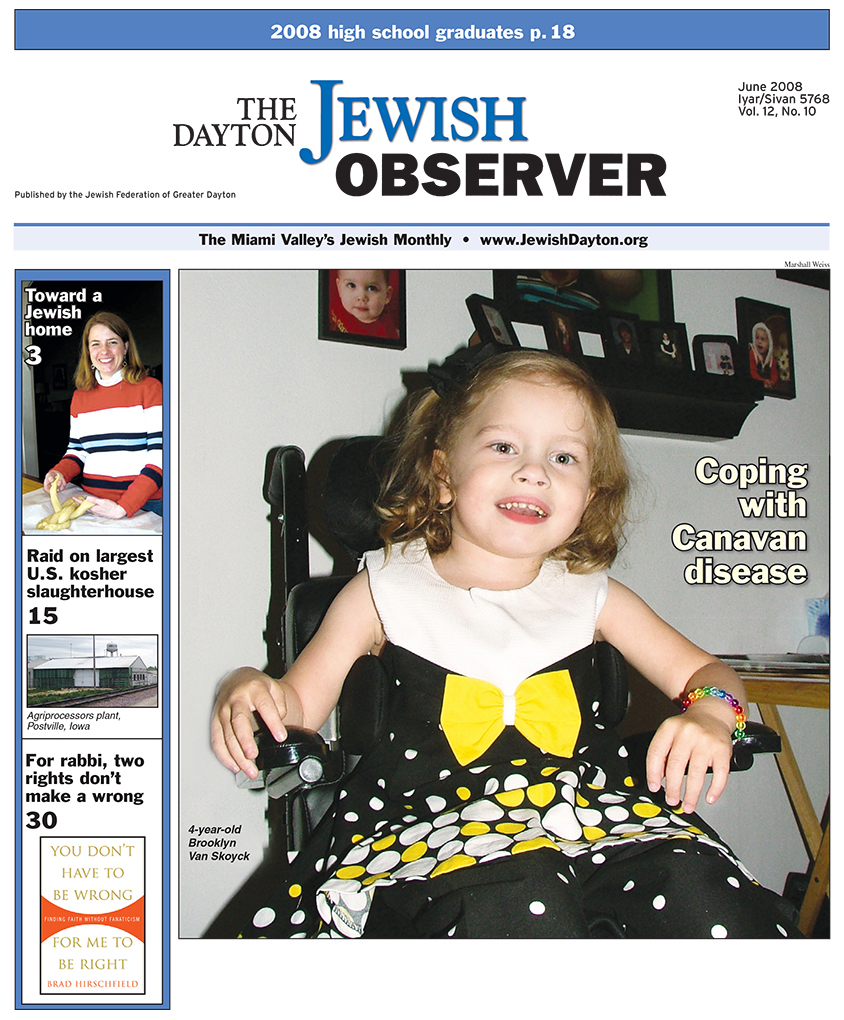 Through Brooklyn's story, we were among the first to report that even if one member of a couple has some Jewish lineage, he or she should get tested for Jewish genetic diseases. If that person is found to be a carrier, the partner should also get tested. Because of her parents' loving care, Brooklyn lived much longer than anticipated, until she was 11.
Not that it was related to Dayton, but as the centennial of the Titanic sinking approached, I wondered if kosher food was available on the liner, particularly because of all the immigrant steerage trade.
The answer turned out to be yes. Just as the world commemorated the centennial of the sinking, our package on Jewish connections to the Titanic was picked up by Jewish news outlets across the world, including the then-new Times of Israel. We shed light on how Eastern European Jews would often stop over in England before continuing on to America because they couldn't afford the full Atlantic crossing.
Rediscovering treasures of local history
It's difficult to understand any current news situation without knowing how we got to this point. I love introducing our readers to forgotten episodes of local Jewish history. We published one of the first of these pieces in 2003 for the centennial of powered flight, when Bob Thum wrote about the first known American Jewish airplane pilot, Arthur Welsh. An ardent Zionist, Welsh learned to fly from Orville Wright himself and became a flight instructor for the Wrights and a member of their exhibition team.
From there, we've also looked at African American-Jewish relations in Dayton, Jewish leaders of a century ago, and most recently, John H. Patterson, NCR, Oakwood, and our Jewish community. There's always something new to discover. Or rediscover.
Interviews to remember
"Marshall, you're blushing!" Dr. Ruth told the packed crowd at the federation's 2019 Presidents Dinner when I interviewed her. She was detailing the mechanics of a subject within her realm of expertise. If I wasn't blushing before, I was then!
In the same room at the Boonshoft CJCE 13 years before, I interviewed Sheldon Harnick, lyricist of Fiddler on the Roof and so many other classic Broadway shows. That was a favorite of mine.
Interspersed over our conversation were performances of Harnick's songs sung by Renée Franck-Reed and Kevin Moore, accompanied by pianist Raymonde Rougier. This was for The Observer's 10th anniversary gala, chaired by Marilyn and Larry Klaben, which established our endowment fund. We learned about how Harnick and the Fiddler creative team gave birth to a masterpiece.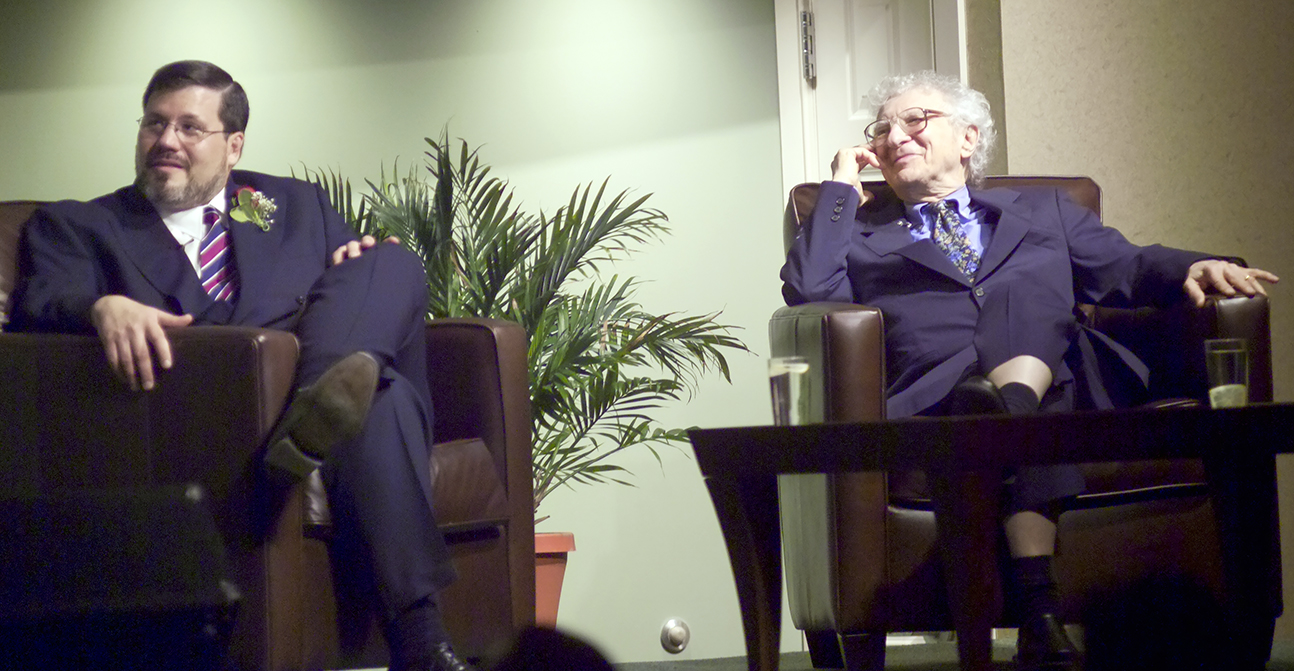 When composer/lyricist Stephen Schwartz was in town working on a musical with the Human Race, we talked about his penchant toward creative works with spiritual themes.
In advance of her opening event for the federation's annual campaign, Joan Rivers told me on a phone interview that she went out of her way to ratchet up her use of foul language in front of Jewish groups. She would live up to her word.
The most profound interviews I've been part of were with Elie Wiesel. I had the opportunity to interview him three times. Every word that came out of his mouth was intentional, thoughtful, prophetic.
Our first interview came in advance of his visit to Dayton to accept the Dayton Literary Peace Price Lifetime Achievement Award in 2007. As a monthly publication, our deadlines are weeks before each issue comes out.
Joan Knoll, a member of The Observer advisory committee, was also active with the Dayton Literary Peace Prize. She made sure DLPP put my interview request in to Wiesel's office.
Before he approved an interview request, Wiesel — himself a former journalist — wanted to see the kinds of questions an interviewer would ask. I sent in my questions and was told to give him a call.
His words from that first interview stay with me with each issue I put together: "Sensitize to the danger of fanaticism, the ugliness of fanaticism. And then, with some luck, some people will hear."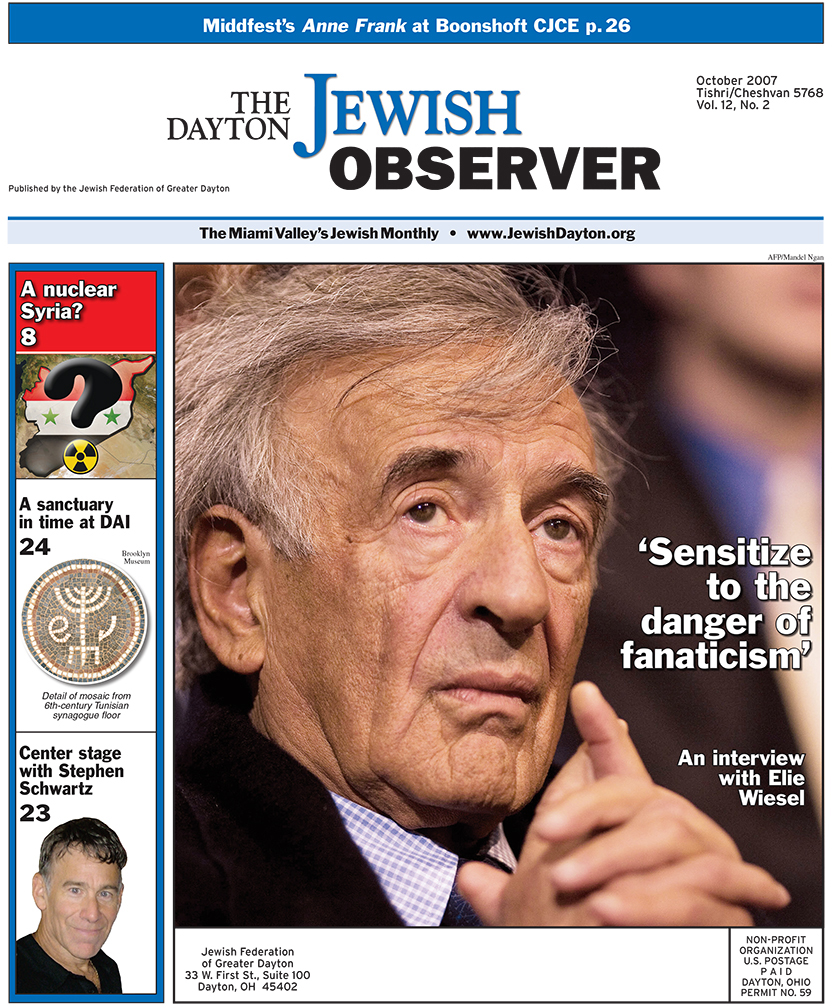 A few weeks later, still before the event in Dayton, Wiesel's office told the Dayton Daily News he had already done his advance interview for Dayton.
The night of the gala, I was seated at the Dayton Daily News table. Martin Gottlieb, a longtime writer for the Daily News editorial page, shook his head back and forth in disbelief.
"We should have had that interview," he said cordially.
After Martin retired from the Daily News in 2011, he became the mentor I had always hoped for in my career, in the formal role as advisor to The Observer.
He serves as my advisor still: patient, clear, and kind in his critiques and suggestions when I come to him for advice. Martin is an editor's editor.
Why are we here?
A few weeks ago, I received a call from a reader upset that we published a story that was negative about a Jewish organization here in Ohio.
"What's the point of publishing something like that?" the reader asked me.
Stories that report bad news are uncomfortable. They're uncomfortable for me. As a Jewish journalist, I must be apart from the community I cover, but also a part of the community. I love our Jewish community. If you don't, you shouldn't be in this business.
Some local stories we've reported on over the years have made me physically sick, have weighed heavily on my heart.
But I am obligated to cover such stories when they come up.
Why do we publish stories that sometimes may reflect negatively on people and organizations?
Because journalism empowers our readers with the information they need to repair a broken world. It holds a mirror up to our community so it can see itself as it is.
Journalism also provides a forum to discuss what a better community might look like and how to bring it about.
Jewish journalism is tasked with balancing the tension we find between the two commandments in Leviticus 19:16: "You shall not be a gossip monger among your people; you shall not stand aside while your fellow's blood is shed; I am the Lord."
That is, we strive to balance the conflicting values of privacy and the need to know with care and sensitivity when we decide if and how to cover news.
If we don't let our readers know what is broken, how it affects them, and offer the most honest and fair interpretation of the facts, we do the Jewish people of our community a disservice.
It's an honor to bring you the best obtainable version of the truth with every story we publish.
To read the complete May 2021 Dayton Jewish Observer, click here.