Obituaries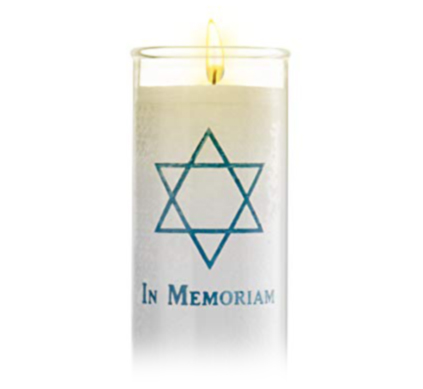 Charlotte Hannah Ross Bloom, age 96, formerly of Dayton, passed away April 9 in Bloomfield Hills, Mich., where she had been living. Mrs. Bloom was preceded in death by her husband, Jerome Bloom; parents, Abraham and Francis Ross; and brother, Matthew Ross. She is survived by her children, Barbara (Jim) Markwell and Stuart Bloom (Nancy Mahlin); two grandchildren, Jon (Amy) Bloom and Jerry (Eva) Markwell; great-granddaughter, Opal Markwell. Interment was at Riverview Cemetery in Dayton. Memorial contributions may be made to the Alzheimer's Foundation of America, 322 Eighth Avenue, 7th Floor, New York, NY 10001.
Asher Bogin, devoted husband, father, grandfather, and brother, died April 10 at his home in Oakland, Calif. Born to Norman and Selma Bogin, April 23, 1927 in New York, Mr. Bogin and his family moved to New Haven, Conn.; Gulfport, Miss.; and New Rochelle, N.Y. He met Janet (Schmier) at New Rochelle High School, where they were both active in civic and social clubs. After graduation in 1944, Mr. Bogin served in the Navy, attended college, and graduated from Syracuse Law School in 1950, after a stint in the Air Force judge advocate's office in Alabama. He and Mrs. Bogin were married in 1950 and lived in White Plains, N.Y. while Mr. Bogin worked for a law firm and Mrs. Bogin taught school. In 1952, Mr. Bogin was invited to take a position in Dayton as in-house counsel at United Aircraft Products. The couple joined Temple Israel and were active members of the Jewish community. Their children, Jim and Wendy, were born in Dayton where Mr. and Mrs. Bogin developed many lifelong friendships that continue to this day. Mr. Bogin was a founding partner of Goldman, Bogin and Fox, and later Bogin and Patterson, now known as Bogin, Patterson, Ellis, Slaton and Stump. In the 1960s he opened a law office in Yellow Springs, the only attorney in the village at that time. Mr. Bogin had a passion for civil rights and social justice, and became active in the American Civil Liberties Union, donating his time and skills representing victims of discrimination and student protestors, and supporting efforts toward school desegregation in Dayton. He was a long-standing member of the Dayton Bar Association and served on the Dayton Area Regional Transportation Authority. In retirement, the Bogins split their time between Dayton and Aptos, Calif., within easy distance of his sister Elaine, and Wendy's family in Berkeley. The Bogins traveled frequently to visit Jim and his family in upstate New York. Mr. Bogin was known for his infectious smile, his kindness, his humor, his wit, and intelligence. He could recite classic poems from memory well into his 80s. He was a lifelong student of history and could engage in thoughtful debate on many topics. He was an avid runner, running several marathons in the 1980s. Mr. Bogin's love and devotion to his wife were inspiring to family and friends. After her stroke in 1977, he helped with her rehabilitation and, with his support, she regained her independence. Many remember their daily walks, arm in arm, on the beach in Aptos. In 2013, the Bogins relocated permanently to Oakland. Mr. Bogin is survived by his wife of 70 years, Janet; son, Jim; daughter, Wendy (Scott Kane); sister, Elaine Herman; grandchildren, Rachel Hodges, Kenneth Goodrich (Rachael), Angela Goodrich, Nomi Kane and Ben Kane (Alice); and great-grandchildren Brooke, Lila, Celia, Luke, Sophia, Oliver and Willow, along with nieces, nephews and cousins with whom he remained close throughout his life. He will be greatly missed by all. Donations can be made to ACLU of Ohio, 4506 Chester Ave, Cleveland, OH 44103 or acluohio.org.
Jerry S. Cohen, age 81 of Vandalia, passed away peacefully March 28. Dr. Cohen served in the Army Reserves and was a podiatrist for over 35 years. He is survived by his wife, Jacque; a daughter and son-in-law, Halle (Dan) Saperstein; a son and daughter-in-law, Robert (Amy) Cohen; seven grandchildren, Jacob, Ellie, Ryan, Ari, Eli, Sophie and Lela. Interment was at Royal Oak Cemetery.
Sandra Lee Schoemann, née Recht, age 74, passed away April 1 at Hospice of Dayton. Our dear Mrs. Schoemann was born Aug. 11, 1945 to the late Jack Recht and Edith Haberman Recht Aberte. Mrs. Schoemann had a long and loving marriage of 41 years to Steven M. Schoemann, who passed away July 27, 2019. In addition to her parents and her husband, Mrs. Schoemann was preceded in death by her brother, Barry Recht, and her brother-in-law Philip Friedman. Mrs. Schoemann is survived by her sister, Carol Splaver, brother-in-law Harvey Splaver, nephew Elchanan Splaver, niece Nechama Weingart and Scott Weingart, sister-in-law Linda Recht; nieces, Stacey Recht and Philip von Zweck, Melissa Recht and Brian Boyd, Leah Recht and Ben Rockwell and their families; sister-in-law, Carol Friedman; niece, Elana and Andre Carnevale; nephews, Aaron and Christy Friedman, Reuben Friedman and Teresa Lowder and their families; aunt, Shirley Oppenheimer, and many cousins including Bonnie and David Parish, Barbara and Ian Rosenthal, Paul and Marilyn Haberman, Mark and Cheri Richman, Joel Richman and Jill Blumberg, Randy Richman and Marilyn Trinz, Jeanne and Gary Newman, Betsy and Steven Rosenman, Martin and Joan Holzinger and their families, as well as many beloved relatives from both the Recht/Haberman and Schoemann families. Mrs. Schoemann graduated from Barberton High School and earned her bachelor of arts degree at Ohio University. She taught at Meadowdale High School in the Dayton Public Schools district for three decades. After her retirement, she and her husband taught as substitute teachers at Lehman Catholic High School in Sydney. Her impact on thousands of students was one of her greatest legacies. She loved teaching Spanish and kept in touch with many of her former students. Mrs. Schoemann was the family genealogist and spent many tireless hours gathering family history, researching both sides of the family tree, connecting with long-lost relatives, writing the Recht and Haberman family history, contributing information about the Schoemann family history for a book published in Germany by Marie-Luise Conen, and meeting other genealogists at conferences and remotely on the internet. It was one of her passions and a true gift to the family. Mrs. Schoemann loved to travel, garden, read, bake legendary cheesecakes, and go out with the members of the Lunch Bunch & Coffee Club, whose friendships she treasured. Mrs. Schoemann was a member of Beth Abraham Synagogue and was actively involved in Miami Valley Jewish Genealogy & History, formerly known as the Jewish Genealogical Society of Dayton, and was a board member of Hadassah and enjoyed participating in its Stock Club and Book Club for many years. Her family and friends will miss her warm, kind eyes and her bright smile. She was incredibly brave and positive even as cancer took her energy and health and as she dealt with the sudden loss of her husband. Her family is grateful for the doctors and nurses who cared for her during her battle with cancer and for the caring staff of the Hospice of Dayton, and for the many friends who reached out to help her during this difficult year. A special thank you to her dear friend and cousin, Bonnie Parish, and to her friends Paula Gessiness and Chaya Vidal. Memorial contributions may be made in memory of Mrs. Schoemann to Miami Valley Jewish Genealogy & History, 525 Versailles Dr., Dayton, OH 45459, the American Cancer Society, or to the charity of your choice. Interment was at Beth Abraham Cemetery.
To read the complete May 2020 Dayton Jewish Observer, click here.