Montana mom with Dayton ties on how she fought antisemitic troll storm. And won.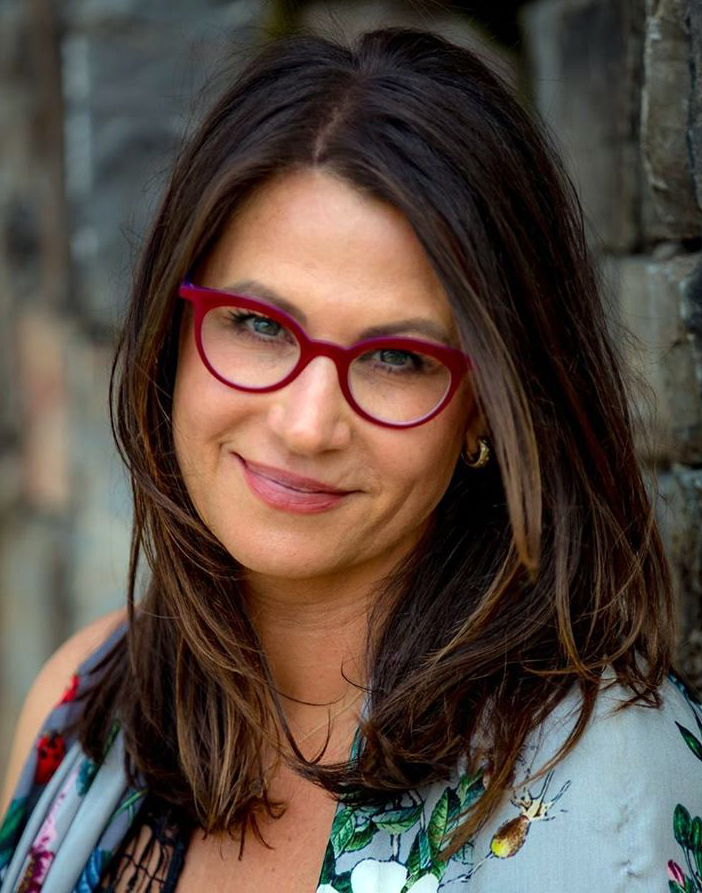 By Marshall Weiss, The Dayton Jewish Observer
Tanya Gersh says that at age 46, she discovered what it was like to fear for her own life.
That was in 2016, when Andrew Anglin, publisher of the neo-Nazi website the Daily Stormer — one of the most widely-read white supremacist websites in the world — urged his followers to harass Gersh, a real estate agent and wedding planner in Whitefish, Mont. Anglin also posted Gersh's contact information in the 30 articles he published about her at the Daily Stormer.
"One day, I was this volunteer in the community, PTA mom, and the next day, I'm on a neo-Nazi website, receiving hundreds and hundreds and hundreds of letters, of emails, phone calls, messages, and anyway they could find me," Gersh told a gathering at the Boonshoft Center for Jewish Culture and Education Nov. 24.
"And for months and months it went on all day and all night," she said. "They visited every social media website that they possibly could and left me endless amounts of bad reviews."
A typical message was, "You should have died in the Holocaust with the rest of your people."
Gersh was in Dayton — her husband's hometown — to talk about how, with the Southern Poverty Law Center, she fought back and won a lawsuit in federal court against Anglin last August to pay her more than $14 million in damages.
The Dayton Chapter of Hadassah and Jewish Community Relations Council hosted Gersh's talk.
In December 2016, Anglin began a troll storm (harassment of a person via a social network) against Gersh, falsely claiming that she attempted to force the mother of white nationalist leader Richard Spencer out of Whitefish. Sherry Spencer owns a vacation home in Whitefish, a resort community.
"These are the new Nazis of today," Gersh said of Richard Spencer and his "alt-right" followers. "They're very clean-cut gentlemen."
After the 2016 presidential election, when Richard Spencer appeared in a video that went viral — telling his "alt-right" followers, "Hail Trump, Hail our people, Hail victory," to which they responded with cheers and the Nazi salute — his mother, Sherry Spencer, called Gersh about selling her property in Whitefish.
Gersh said Sherry Spencer told her, "I'd like to sell my real estate because I know that Richard and my presence in this town is hurting Whitefish, and will you help me?"
"She told me she didn't believe in the ideologies of her son, and I believed her," Gersh said. "I got her all signed up and then within a few days…essentially this listing got in the hands of her son and her son told Andrew Anglin and all hell broke loose."
On Gersh's real estate website, she had always mentioned that she was very active in the Whitefish Jewish community.
"It's something I was so proud of, and never imagined when I wrote that, I would have to worry about being safe by admitting that I was Jewish."
It was about 9 p.m. when she came home one evening and learned what happened from her husband, Judah.
"All the lights in our house were dark, which was kind of strange. I knew my husband was home," she said. "The front door was locked and we never lock our front door in Whitefish, ever. I knocked on the door and Judah came down and he said, 'Tanya, I need to show you something.' And he opened the laptop and he showed me my face with the words, 'Are you ready for an old-fashioned troll storm? Contact her anyway you can and tell her what you think about her Jewish agenda. Get her alone. Visit her in person. Ask her to sell you real estate so you can tell her what you think of her.'"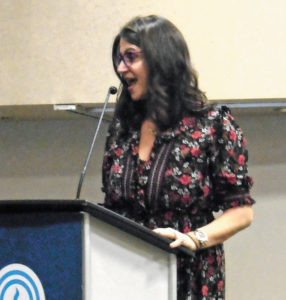 Gersh said she still wakes up in the middle of the night and thinks "What could I have done differently? What made me think that I could talk to the mother of Richard Spencer?"
It's taken her three years of therapy sessions to come to the conclusion that she wouldn't have done anything differently.
"This was antisemitism I had never been exposed to and had been in denial of," Gersh said. "I thought we had won this war. And for a while, we kind of did."
At the same time as she felt like her community was taken from her — she was now "the girl on the neo-Nazi website" — Whitefish stood beside her, showing her much love.
"I received hundreds of packages and letters, and love and support," Gersh said. "The governor came and sat with me and held my children's hands. The attorney general of the state of Montana came and gave me a medal of honor. I received letters of solidarity from every Native American tribal leader in the state of Montana. The city council wrote a no-hate declaration, that hate is not welcome in our town, and that they stand in support of the Gersh family."
In December 2016, Anglin threatened an armed march in Whitefish, which would go through the center of town and end at the Gersh home.
"The FBI kind of knew it was a bluff. But I didn't," Gersh said. "The FBI was watching. SPLC was watching. The local law enforcement was watching. Homeland Security was watching. But I told my husband we're out of here. I figured if there's going to be one crazy guy who's going to show up at my house, it's probably going to be that day of the (planned) march."
They went to Miami, where both she and her husband's grandparents had lived. Miami was also where they held their older son Jacob's Bar Mitzvah. Jacob had been targeted too, to promote the proposed march. "They took my 12-year-old son, put a (Jewish) star on his forehead, and put him next to me on the gates to Auschwitz." The postings included Jacob's Twitter handle.
Through the ordeal, Jacob kept studying for his Bar Mitzvah. And Gersh kept watching him.
"Watching him study helped me heal," she said. At his Bar Mitzvah, "he talked about how proud he was to be a Jewish man on that day. Not just because he read the Torah. Because he learned a very valuable lesson."
Whitefish held a Love, Not Hate Rally in honor of her family in January 2017. But Gersh didn't want to go.
"I want to be there organizing it for someone else," Gersh said. "This is who I am, this is what I do. I'm not a victim. I don't want to be this girl."
With 500 people at the rally in sub-zero weather and media out in force, she reluctantly attended.
When the Southern Poverty Law Center showed up at her door and asked her and Judah if they wanted to sue Anglin, her answer was, "Heck yeah. Let's fight."
Gersh said she fought back because of her children.
"At the time, I had a 9-year-old son and a 12-year-old son, and they were watching me so closely. So I had a choice: I could completely fall apart, I could completely be a victim, or I could fight. I could show my children that these are Nazis, that nothing they say is credible. That these are a bunch of losers that are living in their parents' basements, can't find jobs, don't have any kind of self security, never made anything of their lives, terrible people. These are the scum of the earth. There are all of these delicate words for these haters today: 'alt-right,' white nationalists. They are Nazis. They are bad people. There are not good people on both sides."
Gersh said watching the events of Charlottesville in August 2017 helped her rebuild her life, one step at a time.
"I thought my career in real estate was over. How could I ever be alone in a room with a stranger again? How could I ever answer the phone?"
Gersh watched the mother of Heather Heyer — who was run over and killed by white supremacist James Alex Fields Jr. — say on television she was proud her daughter showed up to protest that day in Charlottesville, that she did not regret that her daughter showed up.
"And I went, 'Crap. I have to stop feeling sorry for myself. I have to go open my real estate office. I have to start getting clients. I have to start answering my phone again. And I'm going to do it for Heather.'"
Gersh keeps a photo of Heather Heyer on her desk at her real estate office.
"And she reminds me that I lived to survive to talk about it. I am one lucky lady."
After the Pittsburgh Massacre in October 2018, Gersh couldn't get out of bed for a week.
"I couldn't separate my pain from their pain," she said.
One thing Gersh said she learned from her lawsuit is that hate speech is not free speech.
"That's what I won. You cannot hide behind the First Amendment if it affects somebody else."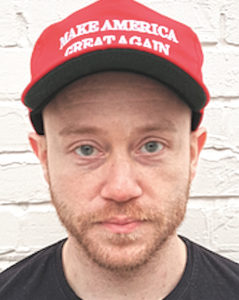 Anglin, who went into hiding when he was sued, didn't show up in court. "And that," Gersh said, "sent a very loud message to his followers. My case, my $14 million that I'll never see — and I knew that going in — was never about the money. But I never imagined we would ever get that kind of outcome from Montana.
"Wow, did the state of Montana yell off the building: don't mess with the people of our state. And don't spread hate. They yelled it from the rooftop to the world: this will not be tolerated. You will get in trouble for spreading hate. And there are 1,300 active hate groups in our country today. And I think they may have learned a little lesson. We need to make sure this lesson is not lost. We are winning. This was scary and this is scary but we've got a lot of very strong people on our side."
No one is sure of Anglin's whereabouts. In an AP article last year, his lawyers claimed he hadn't been in the United States since 2013. Gersh thinks he might be in Ohio, where he was seen last.
"I don't think he's going to come up for air anytime soon," she said. "I'm sure he goes out and about, but he must keep a very low profile."
Gersh's talk in Dayton came about because family friend Cherie Rosenstein, a member of the Dayton Chapter of Hadassah (now living in Beachwood), asked her to speak here about her experiences as soon as she was able.
"I have deep connections to Dayton," Gersh said. "My husband grew up here, he was Bar Mitzvahed here, he went to Hebrew school here, he went to Beth Abraham and Beth Jacob. I met Judah when we were 23, and we were newly engaged and he took me to Dayton, Ohio and it was where I fell in love with my Judaism."
When she walked into Beth Jacob Congregation for the first time, "one at a time, the women would come and give me kisses on the cheeks and hugs. A group of them, they're sitting here in this room. It was the day that I discovered that Hashem (God) believes in me. It was the day that I discovered there was a big Jewish community out there that loves me, that I'm part of, and that I want to stay a part of."
Back in Whitefish, in an interview with The Observer, Gersh said she occasionally runs into Sherry and Richard Spencer. It's not comfortable.
"But I can tell that they are way more uncomfortable to see me than I am to see them," she said. "So that is a sense of relief for me. They literally run in the opposite direction if they see me, and it's happened a number of times."
Gersh's community also watches out for her.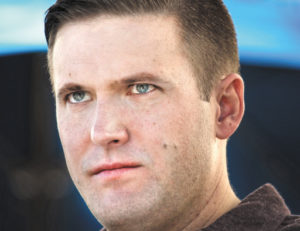 "They're not in town that much. But if there's a Richard Spencer sighting at the local coffee shop, it's enough of a small town that somebody will call me or text me and say, 'Don't come for coffee, Richard's here.' This town doesn't accept Richard Spencer at all. There's not a bar or restaurant in town that will serve him. He gets asked to leave."
She thinks the only reason he returns to Whitefish is because he has children there.
Three weeks after Gersh's visit to Dayton, leaders of the SPLC came to Whitefish and hosted an event to honor Gersh, her family, and the Whitefish community for their courage in confronting the internet trolls.
Gersh said her community made her strong enough to help her win the case. "My community was my backbone."
When asked if the Gersh family will stay in Whitefish, she says, "for the time being, for sure."
Their two boys are now in middle school and high school there.
"Why we're staying is because we have this community that really just stood up to this hatred publicly and made it very well known to the country that hate does not belong in this town and will not be accepted. It's hard to leave a community that does all that for you. This is our home. We're proud to be here."
To read the complete January 2020 Dayton Jewish Observer, click here.