Obituaries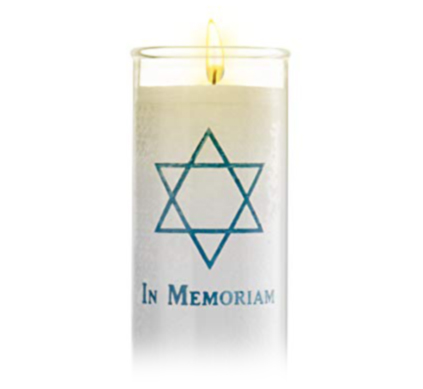 Marilyn Garison, age 94 of Trotwood, passed away Sept. 8 at Friendship Village. Mrs. Garison retired from the Dayton VA Medical Center after 26 years of service. She was a longtime member of Beth Jacob Synagogue, a charter member of B'nai B'rith Women, member of Hadassah, Beth Jacob Sisterhood, and taught Sunday School at Beth Jacob for many years. Mrs. Garison was preceded in death by her beloved husband, Ben, in 1982; sisters, Fannie Friedman, Sara Shapiro, and Mildred Blum; brothers, Morris, Arnold, and Tom Blum; niece, Barbara Shapiro and nephew, Howard Shapiro. She is survived by her daughters and son-in-law, Leslie and Victor Goldstein of Dayton, Peggy Fogelman of Los Angeles; son and daughter-in-law, Gary and Therese Garison of Vandalia; grandchildren, Amy (Mark) Walker, Andrew Goldstein, Eric (Kate) Evans, Brian (Samantha) Evans, Meghan (Mark) Gariety, Matthew (Cassie) Garison and Michael Garison; 11 beloved great-grandchildren; numerous nieces, nephews, and many other relatives. Interment was at Beth Jacob Cemetery. If desired, memorial contributions may be made to The Leukemia & Lymphoma Society, 4370 Glendale Milford Road, Cincinnati, OH 45452 in Mrs. Garison's memory.
Diane June Handler, age 75, of Dayton, passed away Sept. 9 at Cottages of Clayton. Ms. Handler was preceded in death by her beloved parents, Benjamin and Jeanette Handler. She is survived by her sister and brother-in-law, Deborah and Gary Froelich of Dayton; sister, Denise Tucker of Springboro; beloved niece and nephews, Scott Crist of Calif., Joshua Froelich of Calif., Jessica and Jason Trieb of Calif., Louis and Danielle Froelich of New York, Jason Bomstein (his fiancée Gillian) of Toronto; great-nieces and great-nephew; and many other relatives and friends. She was a graduate of The Ohio State University and a longtime member of Beth Abraham Synagogue. Interment was at Beth Abraham Cemetery. If desired, memorial contributions may be made to Beth Abraham Synagogue in Ms. Handler's memory. The family would like to express their heartfelt thanks to Beth Abraham Synagogue, Jewish Family Services, Day City Hospice, The Cottages of Clayton, and Gary Heller for all their assistance.
Norman Louis Hecht, age 81 of Oakwood, died Oct. 12. Dr. Hecht is survived by his wife of 60 years, Judith; his children, Michael (Christine), David (Margret) and Ellen; granddaughters, Sarah, Rebecca and Madison; and his sister Barbara. Dr. Hecht received his doctorate from Alfred University and spent a lifetime working in diverse areas including ceramics, energy conservation, and resource recovery. He published many articles and books related to his research. Dr. Hecht retired as a professor emeritus at UD and continued to teach and mentor graduate students. He watched over his children and grandchildren and surrounded himself with lifelong friends. He will be missed. Interment was at Riverview Cemetery. Memorial contributions may be made to The Foodbank Dayton.
Richard D. Levin passed away at his home in Sarasota, Fla., Sept. 24. Born in Cleveland, he served in the army during World War II then went to college at The Ohio State University where he received his degree in architecture in 1951. Mr. Levin's architectural career spanned more than 40 years. While practicing in Los Angeles, he met Gail Ruslander, the woman he would marry and who would share his life for the next 60 years. In 1960, they moved to Dayton where Richard founded Levin Porter Associates Inc. The practice quickly became known for its outstanding design work. Levin Porter was awarded the ASO/AIA Gold Medal and more than 60 awards and commendations during his tenure. The firm's work was featured in over 35 national and international journals. Levin Porter Associates is still active almost 60 years after it opened its doors. Levin was a Fellow of the American Institute of Architects, the highest honor given by the profession, president and trustee of the Dayton Chapter of the American Institute of Architects, and a trustee of the Architects Society of Ohio. In 1986, he was appointed by the governor of Ohio to the Ohio State Board of Examiners. He also served on the advisory committee for Ohio State University's School of Architecture. Mr. and Mrs. Levin moved to Longboat Key, Fla. in the early 1990s, where Mr. Levin built his last house. In Dayton and then in Longboat, Mr. Levin's open design plans created spaces for friends and family to gather. The Levins welcomed everyone into their homes for food and drink and lively and loud conversation. Mr. Levin will forever be remembered for his charm and wit, his love of dogs, and his commitment to animal rights organizations. He also deeply loved his quirky and opinionated family. In retirement, Mr. Levin was chairman of the Longboat Key Facilities Advisory Committee, and a member of both the Longboat Key Planning and Zoning Board and the Revitalization Task Force. Mr. Levin is survived by his wife, Gail Levin of Sarasota; his sister, June Roth; daughter Claudia Levin (Daniel Gardner), Doug Levin (Hope Schaffer Levin) and son Geoffrey Levin. He is also survived by four grandchildren: Jeremy Gardner, Alexander Levin, Drew Levin and Raya Levin. Donations may be made to the Knowlton School of Architecture/Ohio State Univ., the Humane Society of Sarasota, or a charity of choice.
To read the complete November 2019 Dayton Jewish Observer, click here.