Obituaries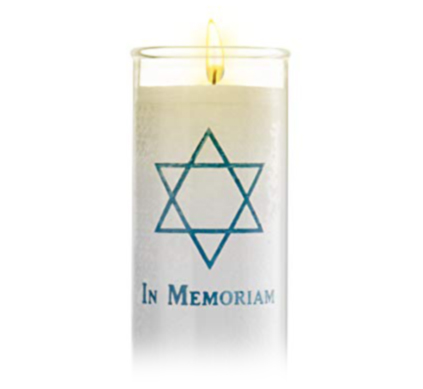 Carolyn G. Caplan, age 79 of Dayton, passed away April 18. She attended Mary Institute in St. Louis prior to Colorado Women's College. Mrs. Caplan was vice president of Diet Workshop for 18 years. She was an avid tennis and racquetball player and enjoyed the company of her friends and family. Mrs. Caplan is survived by her husband of 53 years, Mel Caplan; children, Jay (Rachel), Robert (Kathy), and Richard (Jessica); grandchildren, Drew, Anna, Corbin, and Josh; and her sister, Susie Rainish. Interment was at Riverview Cemetery. Memorial contributions may be made to The Jewish Federation of Greater Dayton or The Parkinson's Foundation.
Charlotte "Yami" Greenblatt, age 94, passed away April 28. She was born in Cleveland, where she grew up with her two older sisters living above their parents' grocery store, and she described herself as a sports-loving tomboy. After high school, she worked as a bookkeeper and married her longtime boyfriend, the late Sidney Greenblatt. Her husband's sales career took them to New York, Texas, and Chicago, where their two daughters, Merle and Gail, were born. After one more move to Peoria for a few years, they settled back in Cleveland where they remained until her husband's death in 1989. During their years in Cleveland, Mrs. Greenblatt worked as a bookkeeper for many years at the Kidney Foundation, and then at the famous Corky & Lenny's Delicatessen. She loved baseball, football, politics, cooking, telling dirty jokes, and being surrounded by friends. A few years after her husband's death, Mrs. Greenblatt moved to Cincinnati to be closer to her children and grandchildren. She had a wonderful time living at Indian Creek for almost 20 years, then spent the last few years of her life at Cedar Village Senior Living Community. Mrs. Greenblatt's greatest happiness came from spending time with her beloved family. She is survived by her daughters, Merle Coyle in Cincinnati and Gail (Stuart) Weprin in Dayton; her grandchildren, Katie (Aaron) Carroll, Matt Weprin, Molly Weprin, Abby (Jono) Matasar, Jacob Weprin, Sara Coyle, Annie Coyle, and Sam Coyle; and her precious great-grandchildren, Adam, Benji, and Charlie Carroll. Interment was at Mt. Olive Cemetery, Cleveland. Donations may be made to Congregation Beth Adam in Cincinnati or the charity of your choice.
Michael Shane of Oakwood died April 28 at the age of 58 after a hard fought battle with cholangiocarcinoma (bile duct cancer). Mr. Shane is survived by his wife, Felice; his children Lindi (Adam), Allison, and Jordan; his granddaughter Sidney; his sister, Cindy Pretekin (Jeff Froelich); and his nieces and nephews. He was preceded in death by both of his parents, Phyllis and Sidney Shane; and his sister, Margie Shane. Mr. Shane was born in Evansville, Ind. and attended college at Indiana University. He moved to Dayton in 1982 and a few years later he and his two business partners, Geoffrey Hyman and Jeffrey Fourman, started a company that was originally known as Cables To Go and later renamed Lastar, Inc. They sold that company in 2014 and since then, Mr. Shane was focused on serving the Dayton business community and the broader Dayton community. He had the opportunity to serve as a board member/advisor to several local businesses, and he served as the director of the Feast of Giving and was previously the chairman of the board of Dayton Children's Hospital. Mr. Shane was an avid Dayton Flyers fan, loved the game of golf, but most of all he cherished family time. He believed in giving back to the community and wanted to do what he could to help make an impact on others' lives. Mr. Shane was a loving husband, father, grandfather, and friend. He will always be loved and missed by many. Interment was at Beth Abraham Cemetery. Please consider a donation to the Feast of Giving Fund at the Dayton Foundation, to the Cholangiocarcinoma Foundation, or to the charity of your choice.
To read the complete June 2019 Dayton Jewish Observer, click here.