No-Bake Strawberry Coconut Pesach Pie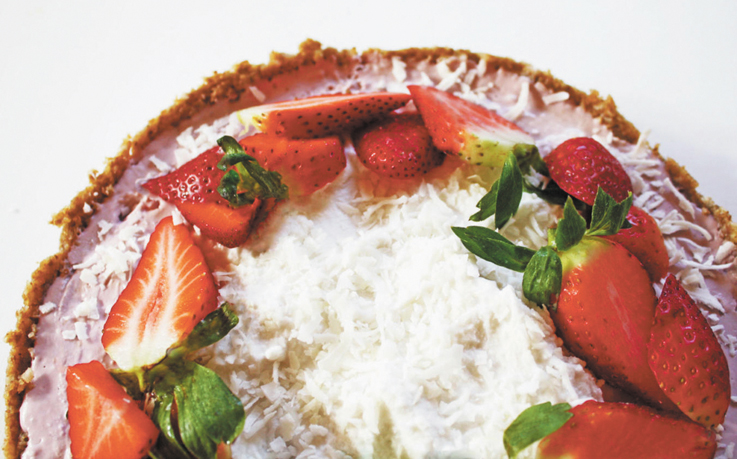 By Sonya Sanford, The Nosher
This is a departure from the classic coconut cream pie you may be familiar with. It offers a creamy, smooth, coconut-rich treat without grains, refined sugars, dairy, or any baking required.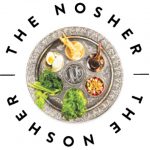 For the crust:
Coconut oil spray (or other cooking spray)
1 cup raw unsalted pecans
1/2 cup shredded unsweetened coconut
1/2 cup good quality dates, such as Medjool of Khadrawy (pitted and soaked in water for 10 minutes and drained)
big pinch of salt
For the filling:
1 cup raw unsalted cashews, soaked in water for 6-12 hours
3/4 cup sliced strawberries, fresh or thawed if frozen
1/2 cup coconut cream, refrigerated overnight (or use a can of refrigerated whole fat coconut milk, and skim off the top layer of cream that solidifies)
1/4 cup coconut milk (or the remaining liquid from the can)
3 Tbsp. light agave nectar, or your preferred sweetener
1 tsp. vanilla extract
juice of 1/2 a lemon, about 2 Tbsp. pinch of salt
1/3 cup melted coconut oil
1/4 cup shredded unsweetened coconut
For the coconut whipped cream:
1 cup coconut cream, refrigerated overnight (or use a can of refrigerated whole fat coconut milk, and skim off the top layer of cream that solidifies)
1 Tbsp. agave syrup, or your favorite sweetener (sugar or maple syrup work fine)
1/2 tsp. pure vanilla extract
For the garnish:
sliced fresh strawberries
shredded coconut
To make the crust: Spray a 9-inch springform pan or a pie pan with oil. Line the bottom of the pan with a round of parchment paper.
In a food processor, pulse the pecans, coconut, soaked dates, and a pinch of salt together until the nuts are finely ground and the mixture forms a paste-like consistency and sticks together when pressed between your fingers.
Press the raw crust into the pan in an even layer. Place the crust in the freezer to set while you make the filling
To make the filling: Soak one cup of raw cashews for six hours or overnight. If you forget to soak your cashews ahead of time, you can cover them with boiling water and let them sit for one hour before using.
Combine the soaked cashews, fresh sliced strawberries, coconut cream, coconut milk, agave, vanilla extract, lemon juice, and salt in a high-powered blender or food processor. Blend until smooth and creamy.
Add the melted coconut oil and blend until incorporated. Add in the shredded coconut and pulse a few times until just mixed in, you still want that coconut texture.
Pour the filling into the crust. Place the pie back in the freezer, and let it set for two hours or until very firm. Transfer to the refrigerator and store there until ready to garnish and serve. Can be made up to one day prior to serving.
Just before serving, make the coconut whipped cream. Make sure the coconut cream is very cold, and then combine all of the ingredients together and whip using an electric hand mixer or immersion blender until thick and whipped topping-like.
If you find your coconut cream is too stiff, you can add a few tablespoons of liquid from the can to the cream.
If it's not whipping up and is too loose, you can place the mixture in the freezer in the mixing bowl for 15 to -30 minutes and try again. There are also many dairy-free whipped creams and toppings available to use if you prefer to skip this step.
Top the pie with the coconut whipped cream. Garnish with strawberries and shredded coconut and serve.
To read the complete April 2019 Dayton Jewish Observer, click here.