The father of Oakwood's library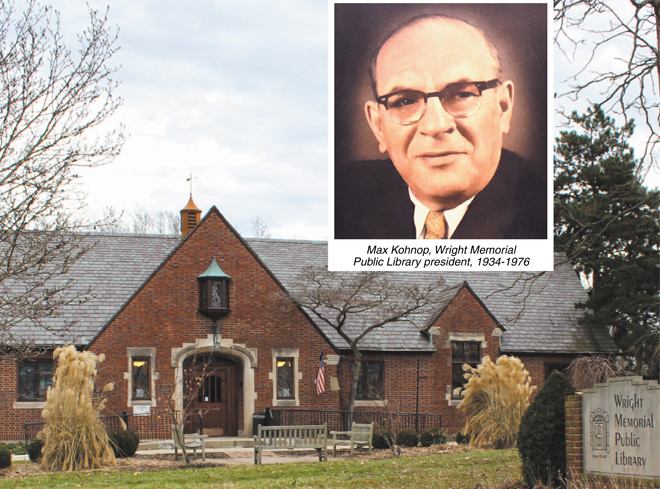 By Marshall Weiss, The Dayton Jewish Observer
Until just a few years ago, if visitors to Oakwood's Wright Memorial Public Library ventured to the basement to browse its video section, they would encounter a portrait of Max Kohnop on a wall above hundreds of DVDs.
But over the months leading up to the library's 80th anniversary on Feb. 14, current staff have rediscovered Kohnop's legacy as the "Father of the Wright Library."
Kohnop served as president of the Oakwood library board from 1934 to 1976, and continued on the board until 1981. A longtime editor of the Sunday Dayton Daily News — from 1939 to 1964 — he brought to fruition Oakwood's decades-old dream of its own library building.
He and his wife, Minnie, were among the very few Jews to live in Oakwood going back to the 1920s.
"He was hugely impactful to us," says Kristi Hale, director of Wright Library, which is named for siblings Wilbur, Orville, and Katharine Wright. "He was instrumental in the planning of this gem."
Tracy Staley, public relations and community engagement specialist with the library, has been researching the library's history for its yearlong celebration. She flips through a vast scrapbook from the library's early days.
"You look through this book and every few pages it's an article that says he (Kohnop) was reelected as president," Staley says. Kohnop joined the library board in 1933.
"Someone from the Dayton Daily News staff, where he worked, told him there was an opening," Staley says, "and because he was a resident of Oakwood, he would have a very easy time getting a seat on the board. He called library president Arthur Claggett, and says, 'The next thing I remember, I was a member of the board.''' Only a year later, Kohnop was elected board president.
Staley holds a copy of a 1989 speech given by longtime Oakwood librarian Thelma Yakura, who noted, "If any man could be said to be the father of Wright Library, that man is Max Kohnop."
Oakwood's library dates to 1913, when the Oakwood Efficiency League collected 100 books and made them available for lending at a private home.
Three years later, the collection was housed at what is now Harman School. From 1923 until 1939, the library was located in a small wooden house at 45 Park Ave.
According to Staley, Kohnop guided the library through its greatest periods of growth, when its levy was passed in 1938 and the new building opened, and through expansions in 1964 and 1972.
With all the materials she's looked through, Staley gets the sense that Kohnop staunchly supported the library staff.
"He backed them up," she says. "He was invested and supportive of the staff members and the work that they did. He was really proud of the collection of books that the library was able to curate over his time that he was here."
Because Kohnop served as president of the Oakwood library board, he became one of very few to get as close as anyone could to extremely guarded introvert and Oakwood resident Orville Wright. He already knew Wright from the days when he covered aviation.
When a vacancy came open on the library board around 1937-38, someone suggested Orville Wright for the position. It was Kohnop who called Wright and asked him to join the board.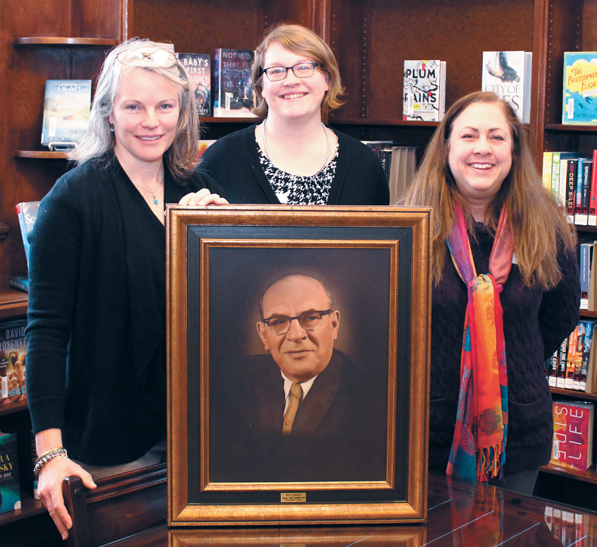 Staley says Wright agreed to serve as vice president, with two conditions: that he would never be quoted in the newspaper, everything he said would be off the record; and that Wright would never have to preside over a meeting.
"They had these board meetings that would last about 45 minutes and then end, and they'd go on for hours with Orville Wright telling all of these stories," Staley says. "So he had a really interesting vantage point of history, both as a newspaper man and being on the board."
On Thursday, Feb. 14 at 6 p.m., the Wright Library will recreate the quirky opening dedication ceremony it held on that date in 1939.
"When they planned to have that ceremony, Orville Wright said the ceremony can only be 20 minutes," Staley says. "Orville was insistent. They have about 200 people come to see the new library, they start this program, and according to Max, at about 20 minutes, the power went out."
People went home and came back with candles to complete the tour.
According to a 1967 oral history with Kohnop for the University of Dayton, Orville was timing the ceremony with his stopwatch.
"When the power went out," Staley says, "Orville looked over at Max and said, 'You did a fine job. Everything went along smoothly.' Someone from Dayton Power and Light was here and was very embarrassed that the power went out."
For the ceremony recreation, a member of the Oakwood Historical Society will retell the story. When it comes to the part about the power outage, the library will dim its lights and everyone will receive an electric candle to turn on for the rest of the story.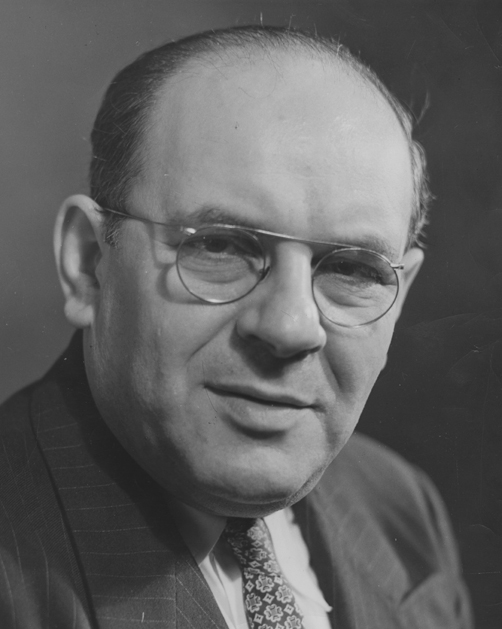 One of Kohnop's granddaughters, Sandy Senser of Columbus, remembers her grandfather as very proud of the library.
"When we would go visit, we would go to the library," Senser, who grew up in Ashland, recalls. "Even now, whenever we're down in that area, we always stop in the library."
Max and Minnie Kohnop moved to Dayton in 1922 when the Dayton Daily News hired him away from the Cincinnati Enquirer. Their first address here, listed in the 1923 Williams' Dayton Directory, was 1207 E. Third St. From 1924 through 1926, they are listed as living in the then up-and-coming Jewish neighborhood of Dayton View. In 1927, the Kohnops are listed as residents of Monterey Avenue in Oakwood, where they would remain.
Jews were generally not welcome to live in Oakwood until the late 1970s; they often faced discriminatory real estate restrictions. Even so, some Jews lived in Oakwood as far back as at least the 1920s.
Senser doesn't recall her grandparents talking about why they moved to Oakwood or about discrimination they may have faced there.
"They kept kosher, they kept to themselves," Senser says. "They were neighborly, they had good neighbors, but you just didn't make a big deal about being Jewish. They would eat out, but they would only eat fish. I don't recall going to shul with them, partly because Grandpa worked on Saturday, working on the Sunday edition.
"He used to come home at 2 in the morning or something like that after the paper was put to bed. She (Minnie) always lit Shabbos candles, we celebrated the holidays."
Kohnop was president of Temple Israel and chaired its cemetery committee, president of Dayton's B'nai B'rith Lodge 55, and a longtime member of the Jewish Federation board. He also edited the B'nai B'rith and Jewish Federation newsletters for decades. His wife died in 1982; he died in 1990.
"That he was an integral part of this place is meaningful," Staley says. "As a library that is open to all, we can look back at our history and see someone who was rare: who could possibly not have been welcome in this community."
With the library's renovations complete and in time for its 80th anniversary celebrations, Hale, the library's director, says she has found the perfect spot to display Kohnop's portrait: on the main floor, near the service desk.
For information about Wright Memorial Library's 80th anniversary events, go to wrightlibrary.org.
To read the complete February 2019 Dayton Jewish Observer, click here.