Nearing the 50-year mark, pioneer cardiologist retires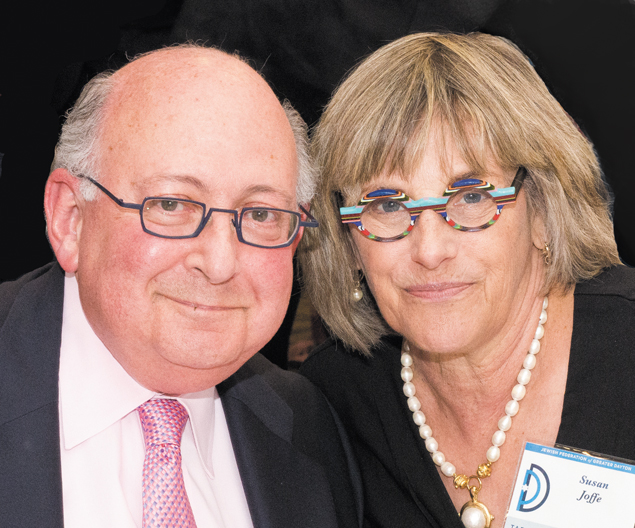 By Marc Katz, Special To The Dayton Jewish Observer
A hush came over the lecture hall nearly 40 years ago where Dr. C. David Joffe sat listening to Dr. Andreas Gruentzig — the inventor of the angioplasty — teach a class at Atlanta's Emory University.
Gruentzig confirmed a new way to deal with heart patients as Joffe and his contemporaries tried to justify what they had learned in medical school with what they now heard.
Joffe was there at the suggestion of Dr. Sylvan Weinberg, whose Good Samaritan Hospital practice Joffe joined in 1977 following his formal education at Brandeis, University of Cincinnati Medical School, residency and fellowships in Boston and New York, as well as a two-year Army commitment.
"He (Gruentzig) not only put a catheter into the mouth of the artery, but actually put a catheter balloon down into the artery," Joffe recalled. "We were taught early on, if the catheter dives down into the artery, you immediately take it out because you might hurt the patient.
"And now, on purpose, you were putting something where in your training, you were told not to do it."
It was the first angioplasty course, and Joffe said it transformed cardiology from a diagnostic field — you gave the right pills — to therapeutic intervention.
"I'm of the first generation of intervention cardiologists," Joffe said. "Now there's several thousand around the country who do this."
Joffe performed the first balloon angioplasty in the region in 1981, at the now closed Good Samaritan Hospital. He is also credited with being one of the first 100 doctors in the U.S. to do coronary and peripheral angioplasty intervention.
At the end of this year, after being at the forefront of heart care as a cardiologist for nearly 50 years and performing some 12,000 heart procedures — including replacing heart valves without surgery — Joffe, approaching his 74th birthday, is retiring.
That doesn't mean he's severing all ties to his lifelong profession.
"I won't take patient responsibility now," Joffe said. "I will be part of the Heart Institute with Josh Lader. I will arrange lectures. I will go to conferences. We'll bring the sports figures in (for public interviews)."
Joffe is the founder and president of the non-profit Heart Institute of Dayton, which was established upon the sale of the Dayton Heart Hospital.
He'll also continue to push for more CPR kiosks like the one in Dayton's airport.
It all began when he showed early interest in medicine through a friend's father.
"I was this kid they thought was pretty smart from Fairview High School," Joffe said. "(At) Brandeis, 95 percent of the students were from the East Coast, and they were 10 times smarter than I was. It was a shock."
Nevertheless, Joffe proved their equal and more. He joined Weinberg's practice; Weinberg encouraged Joffe to help innovate cardiology in the area.
Weinberg served as Good Samaritan's chief of staff for more than 30 years; he also founded the first coronary care unit in Ohio.
Today, you're more likely to see Joffe at Beth Abraham Synagogue on Saturday mornings, but in his early days at school, he was an avid follower of UC Cardiology Prof. Dr. Noble Fowler, who wrote textbooks and gave Saturday morning lectures.
"I went to those lectures. It was a beautiful match. It was so exciting," Joffe said.
"Initially, I just wanted to be a good cardiologist. But I was around real giants in the field of cardiology during medical school and residency and fellowship. From then on, anything new that came along that made sense to me, I would try to embrace."
Joffe traces his profession to about 40 to 50 years ago, "when a cardiologist was somebody who made the diagnosis. That diagnosis may have been anything from examination to EKGs to early ultrasound exams and then into diagnostic cath. Never until the early '80s was there any thought the cardiologist could do anything in terms of treatment, except for medications."
Over at Kettering Medical Center, Dr. Ben Schuster was doing caths. Schuster established Kettering Medical Center's cardiac program in 1965 and in 1968 founded its heart catheterization lab, which he would direct until 2000. Weinberg wanted Joffe to push the envelope a little.
In addition to his work as a cardiologist, Joffe has served on the board of directors at Beth Abraham and Hillel Academy as well as the Dayton Philharmonic Orchestra and Dayton Opera. He started at Good Samaritan Hospital, left to help found the Dayton Heart Center in 1992, returning later to Good Sam. He is also a clinical professor of medicine at the Wright State Boonshoft School of Medicine.
A nearly four-month illness less than two years ago, plus encouragement from his wife, Susan (also his practice nurse for 38 years) and his approaching birthday led to his retirement decision.
He and Susan will travel to see four children and six grandchildren, and he'll read books — including classics in medicine and literature.
He'll miss the interaction with patients, and knows the role his faith has played in his work.
"I'll work hard for you," Joffe says when patients ask. He points an index finger to the sky. "I can't promise the outcome. There is only one who can tell you that."
To read the complete December 2018 Dayton Jewish Observer, click here.