Dancing with 4,700 Chabad rabbis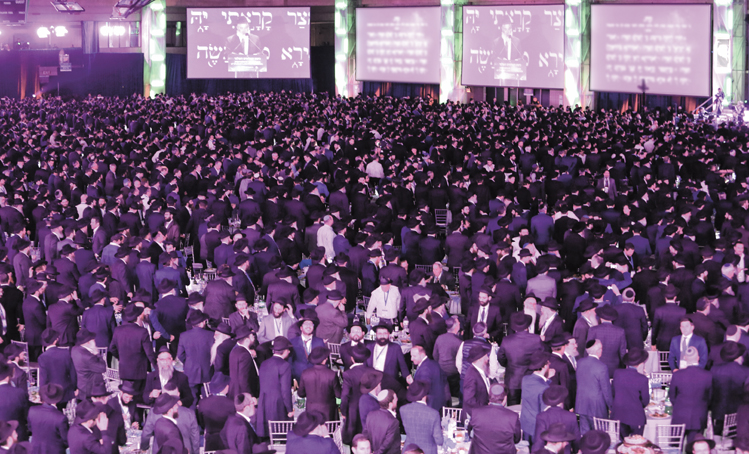 By Marshall Weiss, The Dayton Jewish Observer
"You know what I've always wanted to do?" I said to Motti Seligson and Chaim Landa of Chabad.org when I caught up with them at a conference this summer. "I've always wanted to attend the Chabad emissaries annual dinner."
"Let's do it!" they exclaimed at the same time.
It's one thing to read and watch videos each year about the Kinus Hashluchim — in which the thousands of emissary rabbis flock from 100 countries to Chabad-Lubavitch international headquarters in Crown Heights, Brooklyn to reconnect, recharge, and to joyfully dance at a gala banquet before returning to their far-flung posts.
But it's another thing to immerse in the joy of the celebration. And the joy of pulling off a surprise. It was my hope to surprise our Chabad rabbis from Dayton. For that, I would have to keep my mouth shut for months and make it to the Dayton table at the dinner before they did; security is tight and name cards are preset.
I was almost busted on my way out of the Dayton airport. That Sunday morning, Nov. 4 in the TSA line, who did I see two rows behind me? Chabad's Rabbi Shmuel Klatzkin.
"Are you going the same way I am?" he asked. "Um, yeah," I said, keeping the conversation short, but with a look like I got caught with my hand in the cookie jar. He had to know, I thought. But on the off chance that he didn't, I ended the conversation. Better he thinks I'm rude than blow the surprise?
Fortunately, we were on different flights. Unfortunately, the Brooklyn experience wasn't in the cards for me this year. The sit-down kosher dinner has outgrown Brooklyn venues. Chabad was now testing out its 35th annual dinner in a gym at Rockland Community College in Suffern, N.Y., about 30 miles north of the city. This would be a new experience for me, along with the 4,700 Chabad rabbis and 900 other guests.
The rabbis I overheard waiting in line to get in also sought joy — to keep moving forward days after the massacre of Jews in a Pittsburgh synagogue at the hands of an antisemitic gunman.
Several said they needed to be recharged, to hear words of inspiration from the speakers at the dinner.
I navigated the hall's 528 tables, looking for the Dayton table, K6. Already the tables were just about full. A klezmer band and singer performed on the stage at the front. Speakers were coming on.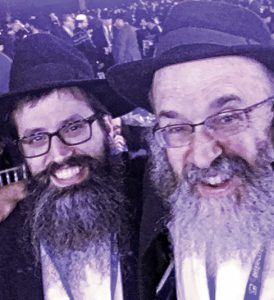 I found K6. Rabbi Klatzkin and Rabbi Elchonon Chaikin were in high spirits; they didn't know I'd be at the dinner until they saw my name card on the table. We shared a round of hugs and l'chayims. Rabbi Chaikin introduced me to his father and brother, with us at the table.
But where was Chabad of Greater Dayton Co-Founder and Co-Director Rabbi Nochum Mangel?
"We haven't seen him yet," Klatzkin said.
"Perfect," I said. There might still be one good surprise left.
In the meantime, Dayton Chabad's Rabbi Levi Simon came by for a hug. He was seated with his family at another table.
One person I did tell about my trip just before I left was his wife, Rochel Simon. She called his cell and said, "Levi, go over to the Dayton table. There's a surprise for you there."
A few minutes later, Rabbi Mangel made his way down the row to our table.
"So, nu?" I said, walking up to him.
I've rarely seen Rabbi Mangel thunderstruck.
"You're here!" he said, looking genuinely perplexed.
"I've always wanted to come to one of these," I said.
And after the biggest bear hug, he was my tour guide for the evening. But that was only after feasting on stuffed chicken breast atop a thick, tender steak, on top of an oversized potato latke.
Much of the program was adjusted at the last minute because of Pittsburgh. Among the speakers was Rabbi Yisroel Rosenfeld, executive director of Chabad of Greater Pittsburgh — the father of Rabbi Mangel's son-in-law, Rabbi Henoch Rosenfeld — who led Mishnah study in memory of the 11 Jews who were killed.
The dinner also marked the 10th anniversary of the murders of emissaries Rabbi Gavriel and Rivky Holtzberg and four others in a terror attack at the Chabad center in Mumbai, India.
Most touching to me was the story of how a Chabad rabbi helped bring a teenage boy out of addiction. The boy then went on to become a Chabad rabbi himself, and recently helped a boy out of a similar situation. The three shared their perspectives.
After the roll call of nations where Chabad has emissaries — intertwined with larger delegations breaking into dance — Kinus Chairman Rabbi Moshe Kotlarsky asked those emissaries to stand who had been sent out by the late Lubavitcher Rebbe Menachem Mendel Schneerson or his predecessors. Among those who stood was Rabbi Mangel, who with his wife, Devorah, was sent to Dayton in 1993 to establish a Chabad here, a year before the Rebbe's death. Hard to believe the Mangels have been in Dayton for 25 years.
Now it was time for all to dance. Rabbi Mangel ensured I had the full experience, dancing with small groups and vast, tidal waves of rabbis.
"I'm behind you the whole way," he said, pushing me across the gym at the front of a tsunami of 100 or so rabbis. Heading straight for us was another wave of about 200 black hats, coats, and beards.
The room reminded me of Van Gogh's painting Starry Night. But instead of stars and the entire night sky swirling in waves, it was swirling waves of rabbis in joy, pure joy.
To read the complete December 2018 Dayton Jewish Observer, click here.