After 81-year delay, Sam Heider celebrates his Bar Mitzvah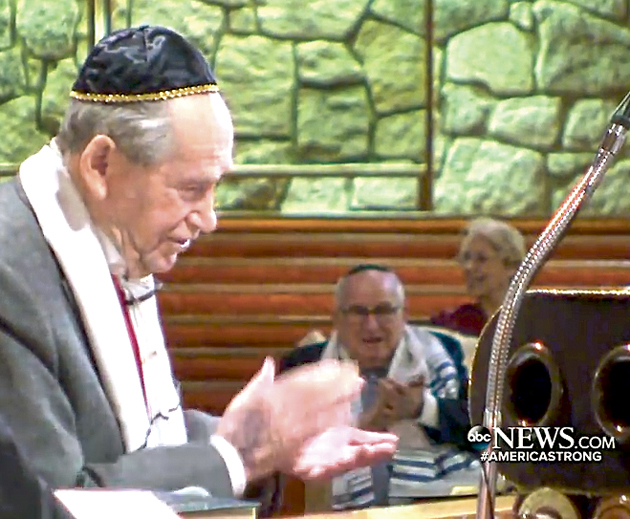 ABC World News covers surprise event 
Sam Heider's children told him they were hosting a Kiddush luncheon in honor of his 94th birthday after morning services at Beth Jacob Congregation on March 24.
But Heider still couldn't understand why so many people filled Beth Jacob's main sanctuary on that Shabbat morning.
Only then did his children tell him he would have his Bar Mitzvah ceremony and celebration — after a delay of 81 years.
Raised in the village of Biejkow, Poland, Heider was the only member of his immediate family to survive the Holocaust. His parents, two brothers, and three sisters perished in the gas chambers of Treblinka. Somehow, he made it through five concentration camps, including Auschwitz and Dachau.
But even before the Nazis invaded Poland in 1939, Polish antisemitism was pervasive; it kept Heider from his Bar Mitzvah when he became 13 in 1937.
"In 1937, we moved from the village to Lodz," Heider said. "The reason was because I went to a yeshiva (Jewish seminary) there." He added that with rumors of Hitler's planned invasion of Poland, his father thought the family would be safer in a big city. He was wrong.
"My brother was stabbed with a knife by Andekis — they were against the Jews," he said. His brother recovered in a Lodz hospital for a year.
"He barely survived," Heider said. "It was about a quarter of an inch in his lung." Their parents wanted to wait until his brother got better to hold Heider's Bar Mitzvah ceremony and celebration, which they hoped would take place at the shtibel (small synagogue) of the Gerrer Rebbe, Avraham Mordechai Alter. Gerrer Chasidism was the largest Chasidic movement in Poland.
"I wanted to have the Bar Mitzvah because I was prepared for it," Heider said.
After Heider's brother recovered, the family moved back to Biejkow. Then the Nazis invaded Poland.
ABC News Correspondent Erielle Reshef covered Heider's Bar Mitzvah at Beth Jacob, which was broadcast that Sunday night.
"So many called me from Israel," Heider said. "And even from Germany and family in France." He even received a call from a man who remembered him from their liberation from Dachau.
Viewers saw Heider dance in a playful Chasidic way. "Whenever we would go to a simcha (celebration) of the Orthodox in Poland, I would dance."
— Marshall Weiss
To read the complete May 2018 Dayton Jewish Observer, click here.