Israeli jazz musician brings fun times 10 to UD
By Masada Siegel, Special To The Dayton Jewish Observer
It's no shock that clarinetist/saxophonist Anat Cohen — nominated for two Grammy Awards, one of which is for a piece called Happy Song — bubbles over with passion for her profession.
Cohen was born and raised in Tel Aviv in a musical family. The love her parents have for music was imparted to all three of their children.
"Music kept us going at home," she says. "Our entire childhood revolved around music. I participated in youth orchestras and I have two brothers that are amazing musicians. I followed in my their footsteps — they played before I did — so I just followed them. I fell in love with jazz, and it definitely has to do with who your teachers are."
Cohen will bring her New York-based tentet (an ensemble with 10 musicians) to the University of Dayton for a performance on the evening of April 11.
Named the Jazz Journalists Association's Clarinetist of the Year for nine consecutive years, Cohen has ranked first in DownBeat magazine's critics and readers polls for clarinetist annually since 2011. She has also been named DownBeat's Jazz Artist of the Year, and is an ASCAP Wall of Fame prize recipient for her compositions and musicianship.
She attended the Tel Aviv School for the Arts, the Thelma Yellin High School for the Arts, and the Jaffa Music Conservatory. While she learned classical music at first, jazz quickly captured her heart and freed her imagination allowing it to take flight.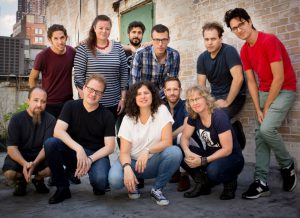 "I grew up in the bubble of Tel Aviv in the '80s, when everything was optimistic," Cohen says. "There were lots of opportunities and a great deal of music education. When I was in primary school, music used to be part of the class. But just like in the USA, budgets have gone down and music programs has been cut in many schools."
This, she says, is a disservice to children.
"Music is so important to young kids. These days, social media is eating up so much time, and kids today are losing communication skills. With music, you have to look up and discover the person in front of you. You have to discover the notes, and it is the most amazing way to communicate. For some people, communication with words is challenging, yet music can be an outlet that gives them the tools to do so. Music also is a world where people can make friends, learn body coordination, and learn about a whole new inspiring world where they can create."
Cohen says jazz gives her the unique ability to interact with her fellow performers and to absorb the reactions from the crowd; the positivity and energy fills her with an immense amount of joy.
"It's so expressive and interactive, standing up, soloing, hearing people cheer," she says. "There is a great deal of passion. In a jazz concert, you need to incorporate anything thrown at you. It is a way to prepare us for society: such as how to think in real time. Music is a tool for teaching life skills, how to keep moving forward."
University of Dayton presents the Anat Cohen Tentet at 7:30 p.m. on Wednesday, April 11 at Kennedy Union Ballroom. Tickets are $18. Call 229-2545 or go to go.udayton.edu/artslive.
To read the complete April 2018 Dayton Jewish Observer, click here.