A Chanukah menu with a lighter touch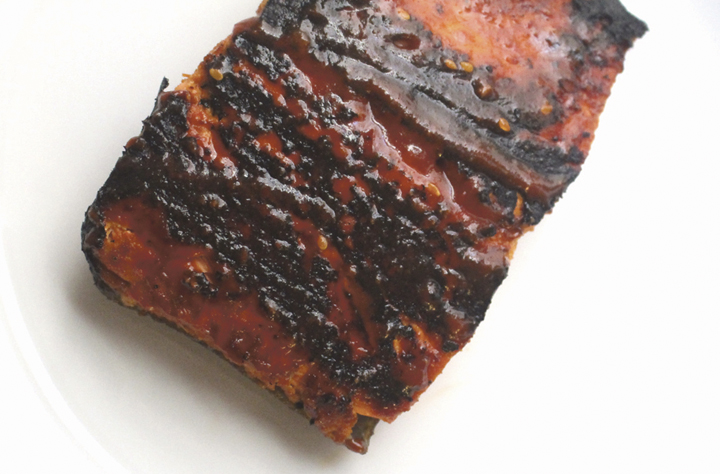 By Megan Wolf, JTA
The holidays are a wonderful time to share meals with friends and family — but must they be heavy and calorie filled?
For Chanukah, this simple and tasty Asian-inspired menu uses oil per the holiday tradition, but it's low in calories and rich in flavors, colors and textures.
My bet is your guests won't even know the difference between regular fried rice and your version of this special cauliflower fried rice.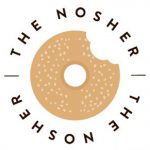 Cauliflower, by the way, is an excellent stand-in for many popular carbohydrates — potatoes (mashed cauliflower), rice (as prepared here) and pizza crust (you'll never believe how delicious cauliflower pizza is).
Gochujang is a thick, Korean sauce, similar to a spicy barbecue sauce. It's wonderful on chicken, vegetables or here with meaty fish.
It's also lovely stirred into rice (or cauliflower rice) dishes to add an extra bite. It's easily purchased at many Korean restaurants, Asian specialty markets or traditional grocery stores.
Your guests will love to celebrate with you without worrying about derailing their healthy eating habits. I mean, why can't we eat healthfully before Jan. 1?
Want a little decadence? A little chocolate gelt never hurt anyone and would be a perfect way to round out this spicy and savory menu.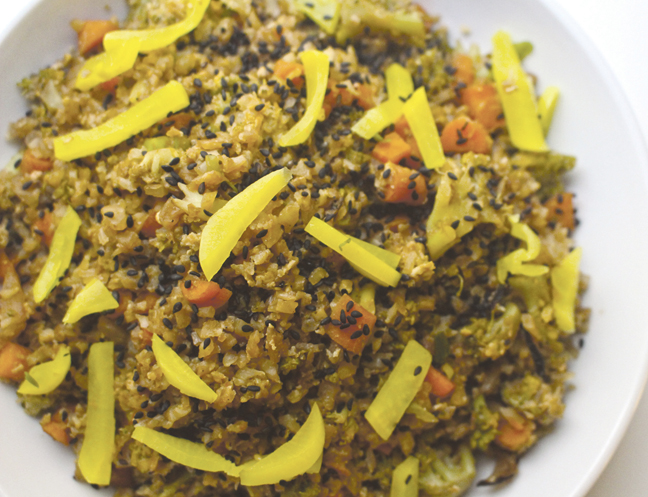 Cauliflower Rice
1 Tbsp. olive oil
2 cloves garlic, peeled and minced
1 tsp. minced ginger
1 onion, sliced
1 head cauliflower, cleaned and stems removed
1 cup chopped broccoli
1 cup shredded carrots
1 cup peas
1 egg
1 Tbsp. sesame oil
2 Tbsp. soy sauce
Sesame seeds
Pickled radish
1. In a food processor or blender, pulse cauliflower florets to resemble rice. Do this in batches and set aside.
2. In a large nonstick skillet, heat olive oil and cook garlic, ginger and onions until soft and fragrant.
3. Add cauliflower, broccoli and carrots, stir and continue to cook until soft. Add water, two tablespoons at a time if needed (this will help to steam the vegetables).
4. Add peas, then stir to combine. Make a well in the center of the vegetable mixture and scramble in the egg.
5. Add sesame oil and soy sauce. Stir to combine and season to taste.
6. Top with sesame seeds and sliced pickled radish.
7. Serve immediately.
Spicy Seared Salmon
2 Tbsp. olive oil
4 salmon filets
4 Tbsp. Gochujang sauce
1. In a large nonstick skillet with a lid, heat olive oil until hot.
2. While the oil heats, prepare the salmon by brushing each filet with Gochujang.
3. Place salmon sauce side down (skin side facing up) in the skillet. Immediately top with the lid.
4. Cook for about two minutes on high heat, then remove the lid and flip skin side down. Immediately top with the lid again. Turn down the heat.
5. Continue to cook until your desired temperature. In this preparation, I like my salmon cooked all the way through, which takes about eight minutes, depending on thickness.
6. Serve immediately.
Note: This sauce is spicy and wafts into the air. Always make this dish with your range's fan on!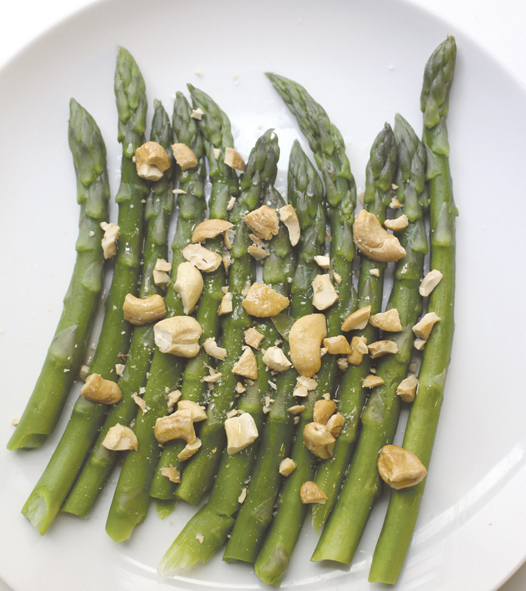 Toasted Cashew Asparagus
1 bunch asparagus
1/4 cup salted cashews
1 Tbsp. toasted sesame oil
Juice of 1 lime
1. Steam asparagus until bright green and tender, about five minutes.
2. While the asparagus steams, toast cashews over medium heat until warm and fragrant, about three minutes.
3. Top asparagus with cashews, sesame oil and fresh lime juice.
4. Serve immediately.
To read the complete December 2017 Dayton Jewish Observer, click here.