Sukkot shortcuts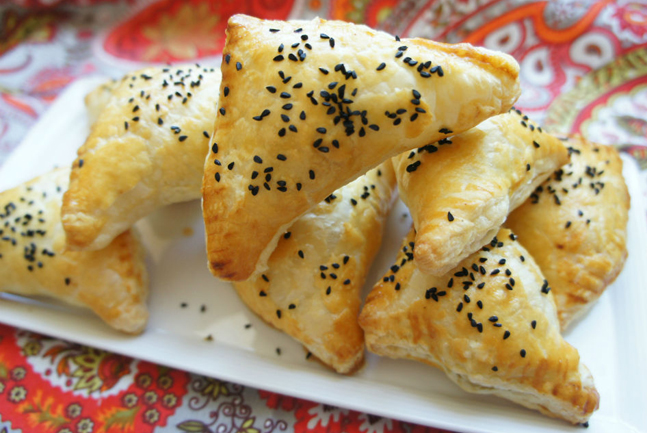 By Shannon Sarna, The Nosher
By the time Sukkot arrives, we are three weeks into nonstop Jewish holiday mode. Some people might be tired of cooking, and I don't blame them one bit.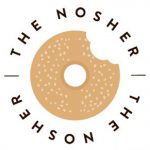 But Sukkot is probably my favorite holiday of the season to cook for. I love sitting outdoors in the brisk autumn air, enjoying harvest-inspired dishes with friends and family.
Even so, I understand how slaving away in the kitchen can get tiresome — especially when there are so many dishes to wash. That's when it's time to employ cooking shortcuts. Tricks like store-bought puff pastry, frozen veggies, and one-pot dishes will save you time on Sukkot without sacrificing flavor.
Spiced Squash and Lamb Bourekas
Bourekas are an easy appetizer to throw together using store-bought puff pastry. If you don't like ground lamb, substitute ground beef. You can also make a vegetarian version by using tofu or feta cheese with the squash.
2 sheets store-bought puff pastry, left to thaw at room temperature for around 30 minutes
1/2 lb. ground lamb
2 cups cooked puréed or mashed butternut squash (can also use sweet potato or frozen butternut squash)
1 Tbsp. olive oil
1 small onion
1/2 tsp. ground cumin
1/2 tsp. ground coriander
1/4 tsp. cinnamon
Pinch red pepper flakes
1/4 tsp. salt
1 egg beaten for glaze
Sesame seeds, nigella seeds or poppy seeds (optional)
Heat olive oil in a sauté pan over medium heat. Sauté onion until translucent. Add spices to pan and cook until toasted, around one minute. Add ground lamb and cook until no longer pink, breaking up into small pieces with a wooden spoon as you cook. Remove from heat and allow to cool slightly.
Combine butternut squash and lamb mixture in a medium bowl.
Preheat oven to 375 degrees.
Roll out each sheet of puff pastry. Cut each sheet into nine even squares. Using a rolling pin, roll out each square slightly.
Scoop one heaping tablespoon of the lamb/squash mixture into the corner of each square. Fold puff pastry over filling, forming a triangle.
Using the tines of a fork, crimp the edges.
Repeat with second sheet of puff pastry.
Brush each boureka with beaten egg. Top with sesame seeds, nigella seeds or poppy seeds, if desired.
Bake 18 to 22 minutes, until golden on top. Yields 10 to 12 servings.
One Pot Chicken and Rice with Sweet Potatoes
This one-pot wonder can be made one to two days ahead of time and reheated for guests. If you don't like sweet potato, you can substitute carrots, butternut squash or even pumpkin. For more spice, add spicy paprika or red pepper flakes. Because the chicken and veggies are all cooked in the same pot, the rice is super flavorful and will feed a crowd.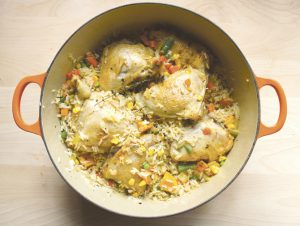 6-8 chicken thighs, skin left on
1 Tbsp. paprika
1 tsp. dried oregano
1 tsp. dried thyme
1/4 tsp. salt
1/4 tsp. pepper
1-2 Tbsp. olive oil
1 sweet potato, peeled and diced
1 large onion
2 celery ribs, diced
3 garlic cloves, minced
3 cups white or brown rice
21/2 cups vegetable or chicken stock
2 cups water
8-10 oz. mixed frozen vegetables
Combine paprika, oregano, thyme, salt and pepper. Rub spice mixture onto the skin and underside of each chicken thigh.
Heat olive oil over medium-high heat in a large pot or Dutch oven. Sear chicken, skin side down, for five minutes, until chicken has browned slightly. Remove chicken from pan.
Add another tablespoon of olive oil. Sauté sweet potato two minutes, stirring continuously. Add onion and celery and cook another five minutes, stirring and scraping brown bits off bottom of pan. Add garlic and cook another two minutes.
Add rice to pan and stir with veggies and oil to coat. Add stock and water and bring to a boil. Add a quarter teaspoon salt.
Place chicken back into pan. Cover pot and reduce heat to low. Cook 25 minutes, then add frozen veggies to pot. Cook another five to seven minutes, until rice is cooked and all liquid has evaporated. Fluff rice and serve. Yields four to six servings.
Apples and Pear Streusel Crumble
This crumble is delicious all year, but it's especially tasty when apples and pears are in season. By adding dried cherries, you get a pop of color and bright tartness. The addictive crumble topping is perfect whether you make it pareve or dairy.
For the fruit:
4 medium apples, peeled and diced
3 pears, peeled and diced
1/3 cup dried cherries (can also substitute dried cranberries or raisins)
2 Tbsp. fresh lemon juice
1/4 cup sugar
1 Tbsp. flour
1 tsp. cinnamon
Pinch salt
For the streusel:
1/4 cup sugar
1/3 cup brown sugar
1 tsp. cinnamon
1/4 tsp. nutmeg
1/4 tsp. salt
1/2 tsp. vanilla
1/2 cup (1 stick) margarine or unsalted butter, melted
11/3 cups all-purpose unbleached flour
Preheat oven to 350 degrees. Grease an 8-by-8-inch square pan.
Place apples and pears in a large bowl. Add cherries, lemon juice, sugar and flour. Mix well and set aside.
In another medium bowl, combine the white sugar, brown sugar, cinnamon, nutmeg, salt and vanilla. Stir in the melted butter and then flour. Mix until resembles coarse crumbs that stick together slightly.
Pour fruit mixture into prepared pan. Crumble streusel topping over the fruit in an even layer.
Bake 45 to 50 minutes, until topping is golden brown. Can be made one or two days ahead of time. Serve warm if desired. Yields six to eight servings.
To read the complete October 2017 Dayton Jewish Observer, click here.