Muslim scholar of the Shoah at Wright State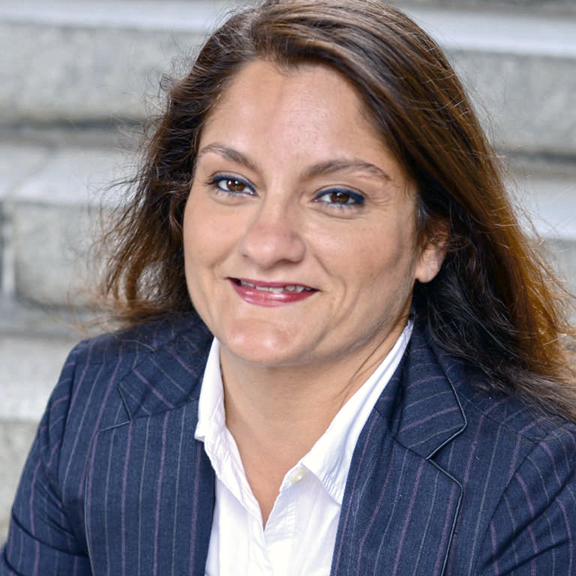 'We don't know enough about each other.' An interview with Dr. Mehnaz Afridi
By Marshall Weiss, The Dayton Jewish Observer
Dr. Mehnaz Afridi, director of the Holocaust, Genocide & Interfaith Education Center of Manhattan College in Riverdale, N.Y., will present Wright State University's lecture for International Holocaust Day, Jan. 25 at 7 p.m. Afridi will talk about her book, The Shoah Through Muslim Eyes. Here is an edited interview with The Observer about her work.
What kind of students are in your classes?
My college is a Catholic institution. They focus on social justice. Most of the students are Catholic, semi-lapsed Catholic, some are Muslims, a few Jews. A lot of the students are first generation (in college). Very sweet kids, but they haven't really explored Judaism or Islam or even sometimes Catholicism. And I think that's an important thing: really teaching to communities that have no context or understanding of Judaism or Islam.
Who is your intended audience for the book?
I'm hoping for Muslims and Jews, because I talk about the journey that I had as a young child growing up in Europe, my challenge being a Muslim, but also challenging my community about deep antisemitic sentiments. I also interviewed (Holocaust) survivors and that was interesting to me as a Muslim. It was the first time they had met a Muslim. And then I also talk about issues of Zionism and how it's misunderstood, also how Muslims were implicated in the Holocaust. I really talk about the colonial past of the Muslims, how Muslims perceived Jews and the problems with that, and how we have to move forward in terms of a historical context.
What misconceptions do Jews have about Muslims? What misconceptions do Muslims have about Jews?
This is a very general statement, but first of all, we don't know enough about each other and each other's historical past. If I go to a synagogue, I tell my Jewish friends you have to understand the colonial past from Muslims. Every country that is Muslim today was colonized by the British, the French, Italians, the Germans, and the Dutch. For the Jewish audiences, I also talk about faith: how Muslim tradition is very similar to Judaism, where it came from, what the majority of Muslims do, their everyday life. They're not thinking of extremism, but they have family — all of us do. And they try to survive.
I understand the history of Judaism. I understand the Holocaust: don't relativize it. I understand the exiles the Jews have been through. I understand that they never had a state. It's not enough to say Judaism and Islam share the same concept of God and let's go home. But I think if you're willing — even a little bit — to understand, I think it could be really beneficial for both the communities.
How have you come to this bridge-building role?
The one thing that I've always been taught as a Muslim is that you have to speak up when you hear false rumors. You have to speak up, even when it's against your own community. So, for example, if I heard Muslims saying anything against Jews or Christians or Buddhists or Hindus, I would always make it my point to say, "Well, what are you talking about? Go and learn about it." As a person of faith and somebody who is coming from Abraham, like Jews and Christians, it's my duty actually, as a faithful person, to speak up for the other.
You took heat from some in the Jewish and Muslim communities when you came to Manhattan College in 2011, didn't you?
When I was first appointed, I think there's just so much mistrust between Jews and Muslims that the Jewish community probably felt fearful that a Muslim was going to come in and do something with the memory of the Holocaust or survivors, and I'm not Jewish, I'm not a direct witness of any kind. But I witness testimony all the time. And I think it was really hard for the Jewish community to understand that. From the Muslim community, it was more like, why are you dealing with the Holocaust? What about the Nakba? (Meaning disaster, the Arab term for the result of Israel's War of Independence, when 700,000 Arabs fled or were expelled from their homes.) And the Nakba did happen, of course. But that's not for me. I think that's something maybe the Jewish community should focus on and think about. And of course within our communities we have extremists. That plays on the fear of each community.
I am so lucky that in the last five years, all of the (Jewish) congregations here have been super supportive. They come out to the events. We have created initiatives with the Hebrew Institute of Riverdale. It's just been amazing with the Conservative, with the Reform, with Reconstructionist. And in terms of the Muslims here in New York, I've always been invited and included in any initiative that's been going on.
Under your auspices, the Holocaust Center was expanded to include genocide?
Genocide and also the interfaith element. It was a title they came up with when they hired me. When I came along, I was Muslim and I was going to teach Islam and Holocaust. I think they wanted to expand it to include other initiatives, which I have been doing. Every genocide has its own uniqueness. However, I do argue that the Shoah (Holocaust) was unprecedented. And I show why it was unprecedented. What I am trying to do is say we are all human. And we've all had experiences of suffering and genocide. And as a matter of fact, if we have a glimmer of hope or we have a glimmer of courage, then we can actually share that courage and hope with someone else. Even if our suffering was seen as worse. But you can't really measure suffering. There's no human element that can actually measure the suffering.
The students who come out of my classes come out saying, "Oh, my God, you changed my mind about Jews," or "You've changed my mind about Muslims."
How do you recommend we in local communities build bridges between Muslims and Jews?
Create encounter. Create intimacy. My own daughter is 9 and she went to a Jewish preschool when we moved here. She learned songs when she was really young, Chanukah and everything. She's a Muslim. And now she's in a Catholic school here. And in her class, she recently said, "People have stereotypes about Muslims but we're not ISIS." And she's 9. And she says things like, "Oh, I went to Shabbat services with my mother and her students and this is what they do on Shabbat." She's in a Catholic school and half of her class have never met a Muslim — they're not very open to Muslims — but they're creating an intimate relationship with her. And at that age it's so essential. Once you have an emotional intimacy or connection with someone, it's really hard to stereotype all of our people.
In the five years that you've been at Manhattan College, is there anything you've learned about Muslim/Jewish relations and interfaith relations that has surprised you?
I have learned more about the diversity of voices within Muslim America. I've also learned how Orthodox Jews can be sincerely open. That's another stereotype we have to break. The biggest lesson for me has been this college, this Catholic college, Lasallian: their inclusivity, their support of my work and standing by me when they had this controversy. I can't tell you how lucky I am. I feel like I'm sitting on a gem and nobody knows it. Of course there's a lot of criticism of the Catholic Church and I teach antisemitism, so we have to revisit that, but the Catholic social movements in this country are really kind of revolutionary in a sense.
Wright State University International Holocaust Remembrance Day Lecture with Dr. Mehnaz Afridi, Wednesday, Jan. 25, 7 p.m. in the Rathskeller Lounge, Room 008, Wright State Student Union. Free and open to the public. For information, call Zusman Prof. Dr. Mark Verman, 775-2461.
To read the complete January 2017 Dayton Jewish Observer, click here.