Commentators from right & left to debate Israeli policy Jan. 17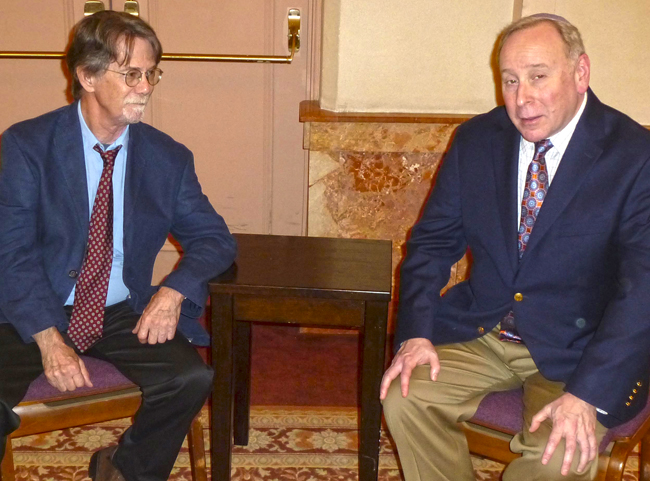 Two leading commentators in American Jewish media from opposite sides of the political spectrum will debate Israeli policy and the United States-Israel alliance, to kick off the Jewish Community Relations Council's new Israelity discussion series.
Forward Editor-At-Large J.J. Goldberg and Commentary Magazine Senior Online Editor/Chief Political Blogger Jonathan S. Tobin will square off on the program, Left vs. Right: The Battle For Israel's Soul, at 7 p.m. on Tuesday, Jan. 17 at the Boonshoft Center for Jewish Culture and Education. The event is free and open to the public.
Goldberg previously served as editor in chief of Forward, as U.S. bureau chief of the Jerusalem Report, and as managing editor of The New York Jewish Week. He is the author of the books Jewish Power: Inside the American Jewish Establishment, Builders and Dreamers, and The Jewish Americans.
Tobin has served as executive editor of The Philadelphia Jewish Exponent, The Connecticut Jewish Ledger, and was contributing editor at the Miami Jewish Tribune.
In the days immediately after the Nov. 8 presidential election, Goldberg and Tobin debated in 12 cities across the United States over a two-week period.
Of that tour — which had been planned months before — Goldberg wrote that he and Tobin "wanted to show our audiences how Jews could debate Israel and its dilemmas with respect, even friendship."
What neither expected was Trump's victory, and "the intense wave of emotion that would sweep the country in its wake, nor the way it would divide the Jewish community," Goldberg added.
After the tour, Tobin wrote, "As the political temperature of the nation continues to simmer, the imperative must be less demonizing and more listening."
Moderating the debate will be Marshall Weiss, editor and publisher of The Dayton Jewish Observer.
The Jewish Community Relations Council operates under the auspices of the Jewish Federation. Its Israelity series, featuring discussions focused on the realities in Israel today, is funded in part by a grant from the World Religion Foundation.
The Boonshoft CJCE is located at 525 Versailles Dr. in Centerville. For more information, call 610-1555.
To read the complete January 2017 Dayton Jewish Observer, click here.