Shulchan Yarok: supporting sustainability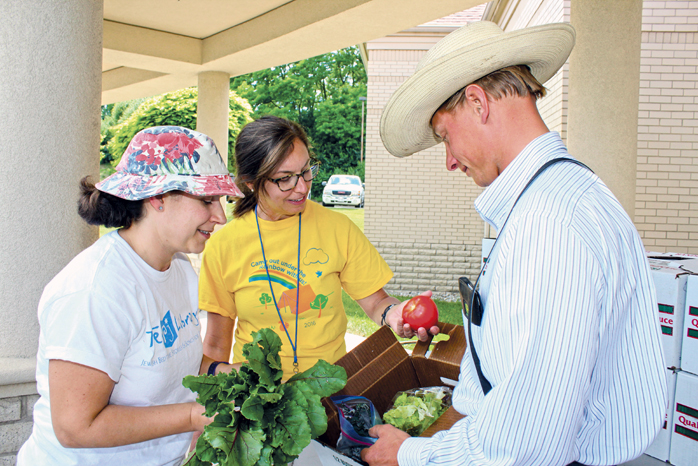 Story and Photos by Marshall Weiss, The Dayton Jewish Observer
When Shulchan Yarok participants pull up to the Boonshoft Center for Jewish Culture and Education in Centerville on a June Thursday afternoon, not only are they greeted by coordinator Juliet Glaser with a box of produce picked and cleaned that day, they are invited to sample her homemade borscht.
The borscht — a traditional Eastern European beet soup often served cold — is Juliet's way to show customers how they might prepare some of that week's produce with a Jewish twist.
Dayton's Jewish Community Center launched Shulchan Yarok (Hebrew for green table) in early June. It's a community supported agriculture (CSA) project between Grim Farms in Arcanum and members of the Jewish community, who purchase shares of the farm's produce over its 16-week growing season.
"I have participated in Jewish community CSAs in other communities that I've been in," says Juliet, whose family arrived here from Buffalo last year. "There wasn't one in Dayton, so I thought it was a great opportunity."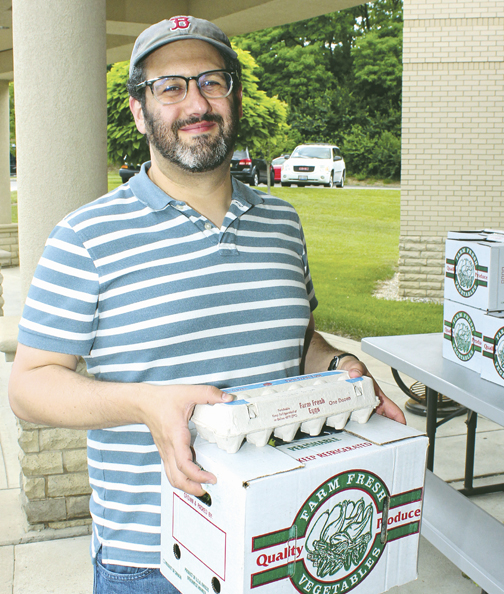 She connected with JCC Camp Director Meryl Hattenbach, who previously ran a business that matched area farmers with local grocery stores and restaurants. "The JCC thought it was a great idea, so we got off and running," Juliet says. The two oversee Shulchan Yarok as volunteers.
Juliet notes that a key component of a Jewish CSA is building in tzedakah, righteous giving.
"Part of membership in Shulchan Yarok is to pay for a full share that goes to the Dayton Foodbank every week," she says. "The other thing that makes it Jewish is that Chabad provides us with fresh-baked challah every week so that CSA members can also purchase the challah for Shabbat when they pick up their boxes each Thursday."
Later in the summer, Juliet says, produce will include herbs that people can use for Havdalah, the ceremony that concludes Shabbat.
"We're creating the space to have Jewish conversations around food and the environment."
She says younger generations in the Jewish community want to see their institutions share their values about the environment.
"When we talk about sustainability in the Jewish community, we talk about l'dor v'dor, the idea of generation to generation," Juliet says. "Our tradition, our values talk about not wasting, taking care of the earth. We have all these Jewish laws around agriculture. I think we are obligated as a community to be addressing environmental and sustainability issues, particularly around food. These issues are just as important as Jewish education and schools, and making sure that synagogues are prospering."
Juliet presents a teachable moment for each weekly pickup.
"We just did a little celebration of Shavuot at our last pickup," she says. "In a couple of weeks, we're having someone come and do a compost demo; they will talk about how to do it at home. They're going to have worms for the kids to play with. It's going to be great."
Co-op members can also meet with the farmers each week if they arrive at 4 p.m., when the pickup begins.
In September, as it gets closer to the High Holy Days, Juliet will have beekeepers talk about "why it's important to support local farming in terms of bringing back pollinators and bees, and to tie in honey for the Jewish New Year."
Co-op member Judi Guggenheimer says she signed up as soon as she heard about Shulchan Yarok.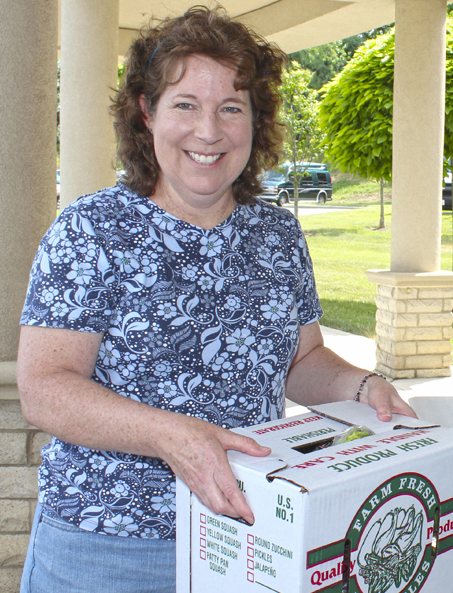 "My daughter is an environmental studies major and she's been big into CSA and organic agriculture," Judi says. "So far, we're very happy with it. I always buy the challah."
Shulchan Yarok relied on a Jewish CSA template developed by Hazon, the national Jewish environmental non-profit, as its starting point.
"What's interesting is the farmers that we're working with here have not had an existing CSA model, so it's brand-new to them," Juliet says. "And because it's brand-new within the Dayton community, yes, we're using their template, but we're making it our own."
Along with distributing a weekly newsletter with recipes and tips for how to prepare the produce, Juliet hopes to build in more recipe sharing and cooking among co-op members via Facebook, especially connected to the Jewish holidays. She'll also reach out to Five Rivers MetroParks for speakers about conservation.
Current Shulchan Yarok members have purchased 20 shares of the CSA at Grim Farms, which has the capacity to accommodate 35 shares.
"For a first time and a first season, we knew we'd be in good shape if we hit 20," Juliet says. "But we have room to grow. If someone wants to sign up, we are happy to prorate through the season, when they sign up. The last deadline to sign up is July 20, basically half the season."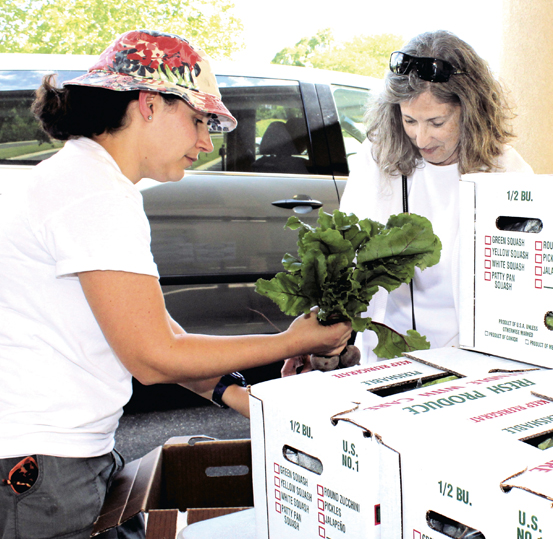 The cost is $30 each week for a full share, $18 each week for a half share, through the final Thursday pickup, Sept. 15.
"Even if you haven't signed up for a membership this year, you're still welcome to come to the CSA pickups on Thursday afternoons (4-6 p.m.) when we're doing little programs," Juliet says. "The baked goods and eggs are for sale for everybody. You don't have to be a CSA member to get those."
To sign up for a share or half share in Shulchan Yarok for the remainder of the season (through Sept. 15), contact Juliet Glaser by July 21 at shulchanyarok@gmail.com.
To read the complete July 2016 Dayton Jewish Observer, click here.