Clergy couple's vegetarian Seder menu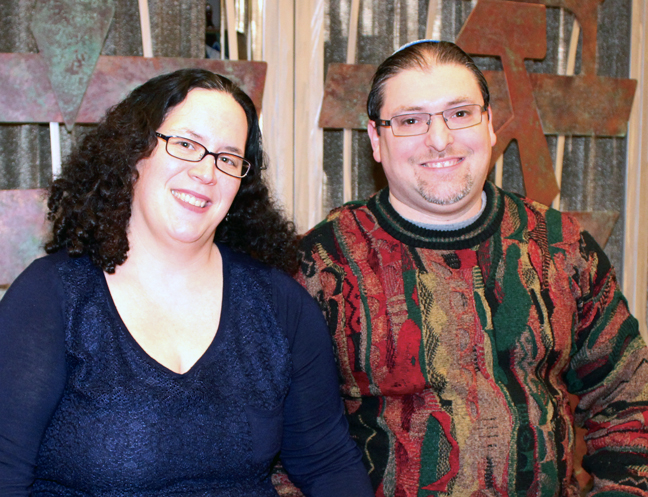 The Dayton Jewish Observer
Vegetarian food brought Cantor Jenna Greenberg and Rabbi Josh Ginsberg together. The two met as students at the Jewish Theological Seminary in New York, when a classmate organized a singles dinner at a kosher vegetarian restaurant in Chinatown.
Greenberg had become a vegetarian in her teens, Ginsberg in his 20s.
Now married, the two settled in Dayton two years ago. Ginsberg is the rabbi at Beth Abraham Synagogue, Dayton's only Conservative congregation, while Greenberg leads the music program at Hillel Academy Jewish day school and teaches high school Judaic classes at the Miami Valley School, a nondenominational private prep school.
Ginsberg says he neither encourages his congregants to become vegetarians nor discourages them from eating meat.
"People know I'm a vegetarian, but I don't engage in proselytizing vegetarianism," he says. "Jewish tradition allows that one can eat meat. I really applaud the trend of some who are trying to create ethical, eco-kashrut and small-scale slaughtering, where animals are fed a better diet and treated better."
A few times a year, Greenberg and Ginsberg have prepared vegetarian entrées alongside meat dishes for Shabbat dinners at the synagogue. They've received rave reviews from congregants, many of whom hadn't tried tofu as a meat substitute before.
At home, they turn out creative vegetarian meals for their sons — ages 7, 5, and eight months. Jenna says their recipes come from experimentation, some guidance from cookbooks and online recipes, along with suggestions from friends and family.
Here, they offer a kosher-for-Passover Seder menu that suits their fast-paced, vegetarian lifestyle — and keeps their boys happy. All recipes yield eight to 10 servings.
— Marshall Weiss
Roman Soup with Passover Dumplings
This tasty spring alternative to the traditional matzah ball soup was created by the couple's friend, Susan K. Finston (author of Dining in the Garden of Eden).
Soup
3-4 Tbsp. of extra-virgin olive oil or other vegetable oil
1 small onion, chopped
1 medium carrot, small dice
1 celery stalk, chopped
6 cups chopped mixed greens: Swiss chard, spinach, kale, butter lettuce, Savoy cabbage or other seasonally available greens
6 cups vegetable broth or water
salt and pepper to taste
Parmesan cheese
Sauté chopped onion in oil until translucent over medium-low heat.
Add carrot and celery and cook until vegetables are softened, stirring occasionally.
Stir in six cups of mixed chopped greens (described above). When vegetables are wilted, add soup stock.
Bring to a boil and then simmer for 45 minutes. Add salt and pepper to taste.
Add one to two tablespoons of Passover dumplings per serving. Serve with fresh grated Parmesan cheese.
Passover Soup Dumplings
2 cups mashed potatoes
2 eggs, lightly beaten
1/4 cup Passover cake meal
Optional: 1 Tbsp. finely chopped parsley or basil
Reserve: 1-2 tsp. of extra-virgin olive oil
Mix all ingredients, adding additional cake meal to form a dough that is pliable and not too sticky.
Bring water to a boil in a two- to three-quart pot.
Form small balls out of the dough and carefully slide them into the water to bring them to a boil.
Use a slotted spoon to remove the dumplings from the pot as they rise to the top and transfer to a container, adding one to two teaspoons of extra-virgin olive oil.
Caprese Salad
This preface to the main course tastes best when the tomatoes are ripe and sweet, and the basil is very fresh.
2 lbs. vine-ripened tomatoes (about 4 large), sliced 1/4 inch thick
1 lb. fresh mozzarella, sliced 1/4 inch thick
1/4 cup packed fresh basil
3 to 4 Tbsp. extra-virgin olive oil
fine sea salt to taste
freshly ground black pepper to taste
On a large platter, arrange tomato and mozzarella slices and basil leaves, alternating and overlapping them. Sprinkle salad with oregano and arugula, and drizzle with oil. Season salad with salt and pepper.
Potato Spinach Gnocchi
This delicious dish, also from Susan K. Finston, is a creative pasta alternative.
Gnocchi
2 lbs. potatoes
1 1/2 cups potato starch
1 egg, lightly beaten
2 tsp. salt
1 lb. cooked, finely chopped spinach (frozen or fresh)
1/2 tsp. nutmeg
Optional: 1 cup ricotta cheese for richer gnocchi
Reserve: 1/4 cup grated Parmesan cheese
Peel, boil and mash potatoes. Add remaining ingredients to create the gnocchi dough, adding additional potato starch in case the dough is too sticky.
Fill a four- to six-quart pot with cold water and bring water to a boil. While the water is heating, form small patties out of the gnocchi and then carefully slide them one at a time into the boiling water.
When the gnocchi rise to the top of the pot, they are ready — use a slotted spoon to remove them from the pot and place them in an oiled baking dish.
Sprinkle with the Parmesan cheese and bake at 375 degrees for 10 to 15 minutes to melt the cheese.
Tomato Sauce for Gnocchi
2-3 Tbsp. extra-virgin olive oil or other cooking oil
1/2 cup chopped onion
1-2 cloves of garlic, finely chopped
1/4 cup of parsley, chopped
1 bay leaf
1 26 oz. jar crushed or stewed tomatoes
1 small can tomato paste
Heat oil in sauté pan, add onion and garlic and cook on low heat until translucent. Add parsley, bay leaf, tomatoes and tomato paste.
Bring to a low boil and then turn heat down and simmer for 20-30 minutes.
Eggplant Parmesan
This is a favorite dish year-round, even with matzah meal as the breading.
2 large eggplants, sliced lengthwise into 1/2-inch-thick pieces
salt, for sweating eggplants
4 eggs, beaten with a fork
3 cups matzah meal
4 Tbsp. extra-virgin olive oil
1 26 oz. jar pasta sauce (any variety)
1 cup shredded mozzarella cheese
1/2 cup shredded Parmesan cheese
Preheat oven to 350. Sweat eggplant slices, sprinkling salt, allowing time for the moisture to come out; rinse and wipe the eggplant slices. Coat eggplant slices with beaten egg, then bread with matzah meal.
Sauté coated eggplant slices in oil until lightly brown on both sides.
In a 9-X-11 ovenproof dish, layer pasta sauce, then eggplant and top with cheeses. Repeat, finishing with cheese. Bake until the cheese melts and turns golden in spots, about 30 minutes.
Mushroom Quinoa Pilaf
A hearty side dish for mushroom lovers that can be served warm or cold.
1 cup red, black, or mixed quinoa
2 cups water
vegetable soup broth or salt to taste
medley of 3 varieties of fresh mushrooms: portabella, cremini, white mushrooms
olive oil for cooking
splash of balsamic vinegar
4 cloves of garlic, minced or pressed
Rinse quinoa. Sauté quinoa in nonstick pan for five minutes, tossing regularly to avoid burning. Combine quinoa with water and broth in a medium saucepan.
Bring to a boil. Cover, reduce heat to low, and simmer until quinoa is tender, about 15 minutes. Set aside.
Heat the olive oil in a medium saucepan, add the garlic. Once the garlic is lightly browned, add the mushrooms and balsamic vinegar. Sauté until the mushrooms are well cooked.
Toss the sautéed mushrooms in with the quinoa and serve.
Melon Salad
This simple tossing of freshly diced ripe melons is inspired by the couple's cantaloupe-and honeydew-loving sons.
1 honeydew
1 cantaloupe
Dice the melons and toss together!
Lora Brody's Bête Noir
Inspired by the taste buds and baking artistry of the couple's mothers, Linda Greenberg and Tina Strauss-Hoder.
1 1/3 cups superfine sugar
1/2 cup water
8 oz. unsweetened chocolate, chopped
4 oz. bittersweet chocolate, chopped
2 sticks unsalted butter at room temperature, cut into 10 chunks
6 large eggs, room temperature
Preheat oven to 350. Grease a 9-inch round cake pan, line with parchment, lightly greased. Have a larger roasting pan available for a Bain-marie (a container holding hot water into which a pan is placed for slow cooking).
In a medium saucepan, place one cup of sugar and four ounces of water in it. Heat to boil stirring to dissolve the sugar. Remove the pan from its heat source, melt the chocolate in the hot syrup, stirring to melt. Add the chunks of butter, stirring each chunk in before adding another.
Beat eggs together with an electric beater until foamy and thickened. Stir eggs into cooled chocolate mixture, stirring until combined.
Pour batter into prepared pan. Place a roasting pan on the middle oven rack, placing the cake in the middle of the roasting pan. Pour hot tap water into the roasting pan to a depth of one inch along the outside of the cake pan. Avoid splashing water on the cake batter.
Gently push pan into the oven. Bake for 30 minutes. Remove the cake pan and cool cake. When ready to serve, run a butter knife along the edge of the cake. Unmold the cake onto serving plate. Chill. May be made one day ahead.
To read the complete April 2015 Dayton Jewish Observer, click here.