Building a singing community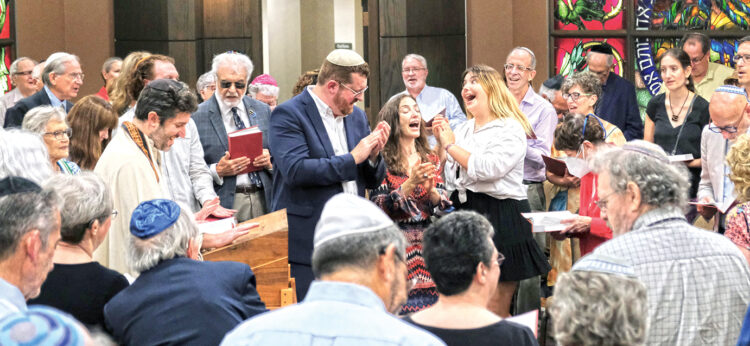 Beth Abraham's Rabbi Glazer introduces niggun circles
By Marshall Weiss, The Dayton Jewish Observer
Rabbi Aubrey L. Glazer isn't sure what will come out of the niggun circles he's introducing to Beth Abraham Synagogue, and that's what makes it exciting.
"Once we get into the rhythm of this, there will be gifts that just emerge from the synergy of the circle," he says. "We're going to discover it together."
A niggun is a wordless, mystical prayer melody, based in the Chasidic traditions of Eastern Europe.
The power of the niggun, the rabbi says, is its ability "to be more inclusive, to reach people, to bring spiritual experiences to anyone and everyone."
Glazer borrows a term from song leader Joey Weisenberg, who led Beth Abraham's first niggun circles over the weekend of the rabbi's installation at the Conservative synagogue in August.
"He speaks about it as building singing communities. There's something about the infrastructure of building vibrant, authentic communities that can happen through sounds and resonances and especially melodies without words that bring us to a deeper place of connection that Chasidism understood at its core. It's something old, and it's something new."
Weisenberg is the founder and director of Hadar's Rising Song Institute, an incubator for musicians and prayer leaders who seek to reinvent Jewish spiritual music.
Beginning Oct. 14 and continuing the second Saturday of each month, Glazer will lead a niggun circle at 12:30 p.m., following kiddush lunch after Shabbat services.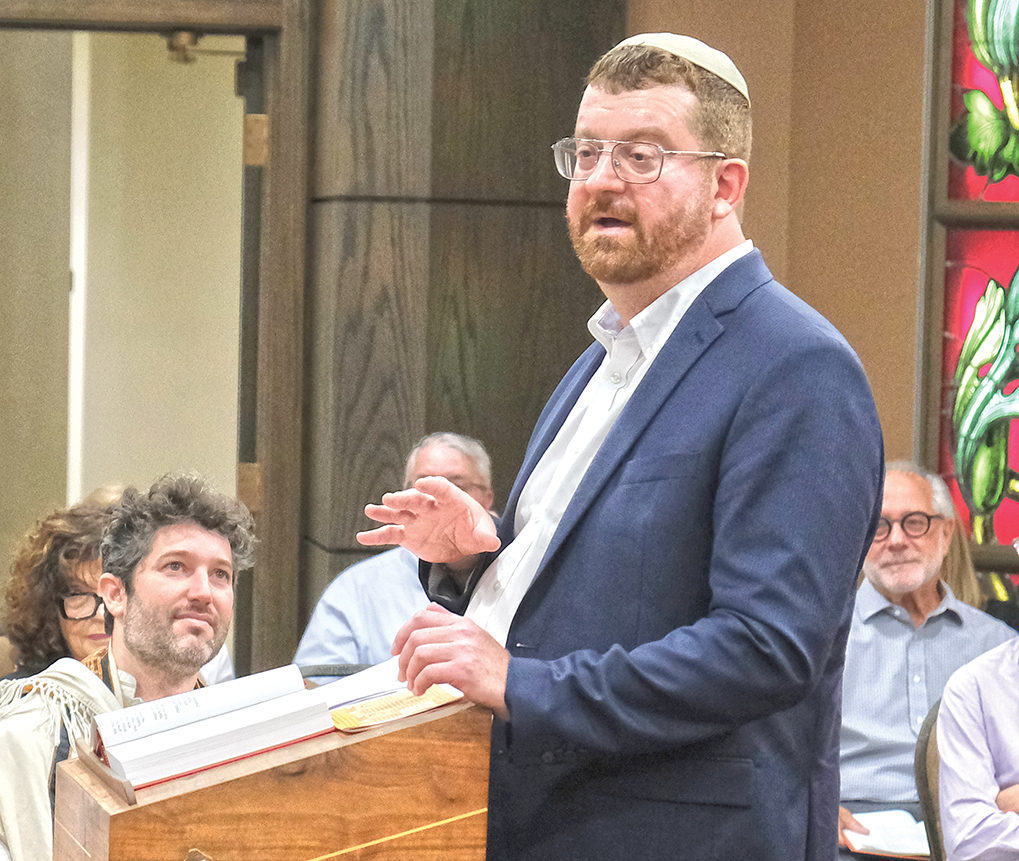 The monthly niggun circle with meditations, he says, is based on another Chasidic tradition.
"We're going to have a niggun for the month and it will also be related to a phrase from the Torah. I see these circles as labs or incubation spaces. We're going to see what emerges from it. And then it's inevitable that there's going to be spillover: people will be singing differently, they'll be sitting differently."
Niggun circles organically lead some participants and facilitators to create their own niggunim in the process. "That's the basis of a lot of what Joey was doing."
Glazer's goal is to expose his congregants and Dayton's Jewish community to a way of building community that isn't prevalent here.
"Joey's been training a lot of prayer leaders to follow this methodology of building singing communities. And that's what I really wanted to bring to Beth Abraham."
Glazer also brings his passion for various kinds of community building through Chasidism's multiple forms. Most Jews, he says, are unaware there are 37 different kinds of Chasidism.
One kind that captures the rabbi's soul forcefully is what he calls "Tiberian Chasidism."
His passion to learn about this little-known community has led him to co-translate and co-edit with scholar Nehemia Polen two volumes of a book series on the subject — From Tiberias, With Love — with four more volumes on the way.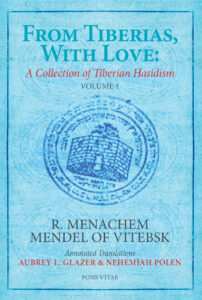 Beginning in the late 1770s, Rabbi Abraham haCohen of Kalisk and Rabbi Menachem Mendel of Vitebsk led a short-lived Chasidic community in Tiberias that had arrived from Eastern Europe.
"It was different from the Chasidism of Eastern Europe," Glazer says. "It was a model that was more horizontal. The Vitebsker and Kalisker Rebbes co-led it together at the same time. They wanted to ensure that the newness, the freshness, the dynamism of what the Baal Shem Tov revealed wasn't becoming ossified and lost in these structures."
The Kalisker Rebbe defined what its adherents strove for as dybbuk chaverim, Glazer says, "to be deeply connected and immersed in this absorbing experience that we can call the infinite God."
He says the group was concerned with "what happens when you don't have those very high moments that get you into a place where you were totally absorbed in the oneness of being. And so they said, when you feel like you've gone down a few steps, when you're off that place of connectivity, you can connect just as deeply by connecting to the group energy. Dybbuk chaverim is the glue to the absorptive quality that happens when you connect with friends around you."
When he learned that teaching 15 years ago from Nehemia Polen, it inspired Glazer to dig deep into research about this lost community of Tiberias and its relevance for today's world.
Tiberian niggun workshop
This month, Glazer hopes to bring the sounds of Tiberian niggunim to life for the first time in centuries — at Beth Abraham Synagogue.
Four rabbis from across the United States who are expert musicians will join him at Beth Abraham in an intensive 72-hour workshop.
For the workshop, Glazer has been granted access to the Meir Shimon Geshuri Archives of Chasidic Song and Dance of Israel's Jewish Music Research Center at Hebrew University of Jerusalem.
An ethnomusicologist, Geshuri musically notated thousands of Chasidic melodies he heard in the mid-20th century, noted who he heard sing them, and where those who sang them said the melodies originated.
Glazer describes the Geshuri archives as like a recipe book of Chasidic melodies.
Only six or seven melodies connected to the Vitebsker and Kalisker Rebbes from the Geshuri Archives have been published.
"But there's more. Much, much more. What I want to do with the group is to go through the archives and workshop some of these melodies that have basically been almost lost to history. We're going to camp out in the chapel, we're going to have a recording studio set up there, and from dusk till dawn, we'll pray together, we'll eat together, we'll study together, and we're going to spend most of our time going through each of these pieces that we find in the archives. 'Gishori says this one comes from Tiberias. Let's try this one. Let's move it around the circle and see what happens.'"
On Monday, Oct. 23 at 7 p.m., the rabbis will share what they've discovered in a public program at Beth Abraham.
"We don't know what it's going to be," Glazer says. "It could be a teaching, it could be a couple of niggunim. It's going to be something experiential. We want people to be drawn in, like we did with Joey. Let's learn this niggun together and see what it feels like. Let's see if there are any future applications we might discover in the process. What does it touch in our soul?"
Their findings, he says, will form volume six of his Tiberian Chasidism book series, "with contributions from contemporary experts in niggunim and musicians from Orthodox America and Israel."
Virtual lunch & learns
Glazer begins a new virtual lunch and learn series Oct. 2 that will continue Mondays from noon to 12:45 p.m. He'll introduce participants to what he calls the "37 different flavors" of Chasidism.
"My goal is to go through all 37 flavors, try to share with people as many of the niggunim as I can find," he says. "I want to celebrate what exists, but I also want to uncover the things that people don't even know. We can complicate and also enhance our spiritual lives by understanding how rich Judaism really is from a spiritual perspective."
And a new book, too
Along with all the rabbi's Chasidic programming he launches in October, he celebrates the release of his new book with Rabbi Martin Cohen, Merest Breath, a contemporary translation of Ecclesiastes with two new commentaries.
Glazer describes Ecclesiastes as the strangest book of the Bible, and one of his favorites.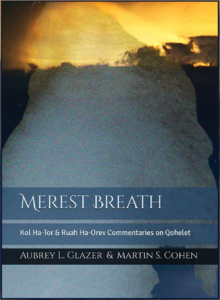 "It's the most interesting, fascinating book that you never would have imagined would be part of the Tanakh (Jewish Bible), and it is."
Beth Abraham will host a book release celebration via Zoom at 7:30 p.m., Monday, Oct. 2. Preregistration is required at bethabrahamdayton.org.
"I've been working on it for a lot of years and it's going to be fun," Glazer says of Merest Breath. "We wanted to give it a contemporary recharge, with a translation making it fresh and accessible, and commentaries that speak to the breadth and depth of where these great works of sacred literature come from."
Chasidic niggunim and study with Beth Abraham Synagogue's Rabbi Aubrey L. Glazer, 305 Sugar Camp Cir., Oakwood. 937-293-9520
Virtual Lunch & Learn, Mondays, noon-12:45 p.m. beginning Oct. 2. Who's Afraid of Chasidism & Why Does it Still Matter? Journeying Through the Foundations of Chasidism Today. Registration required at bethabrahamdayton.org.
Niggun Circle Monthly Meditations, Second Saturdays, 12:30 p.m. (after kiddush lunch), beginning Oct. 14.
Tiberian Niggun Circle, Monday, Oct. 23, 7 p.m. Clergy-musicians share discoveries from their Tiberian Chasidism workshop.
To read the complete October 2023 Dayton Jewish Observer, click here.