Mazel Tov!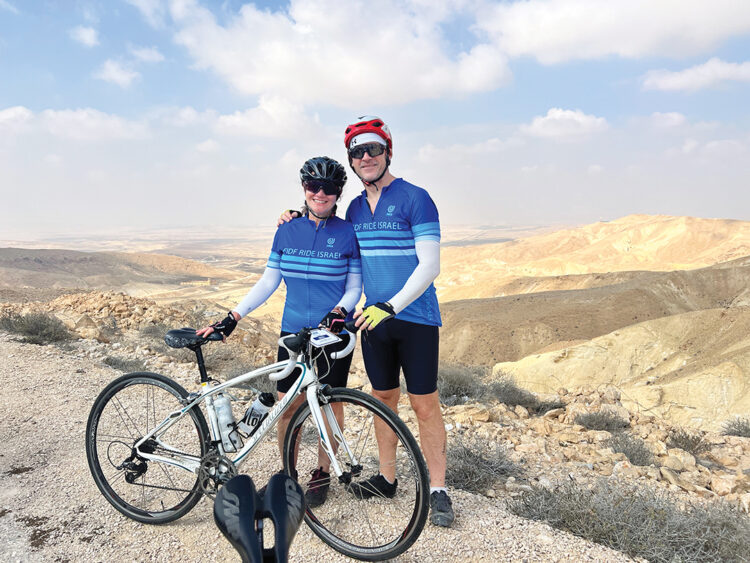 Julie and Dr. Robert Bloom participated in their third Friends of the Israel Defense Forces Annual Israel Bike Mission, an intensive six-day bicycle ride through Israel from Eilat to Jerusalem, Nov. 11 to 17. Along the way, they cycled near the Egyptian border on a private military road and visited an army base there. They rode through the Negev Desert to the Dead Sea and ended in Jerusalem where they visited a border police/soldier training post. Joining FIDF supporters for the ride was a group of wounded Israeli combat veterans who have benefited from rehabilitative programs and prosthetic devices sponsored by FIDF. Julie is also president of Dayton Hadassah.
Wine Enthusiast magazine has named The Barrel House, owned by Sara and Gus Stathes, to its Best Beer Shops in the U.S. According to Pros list. No other beer shop in Ohio made this year's list. "We're honored, humbled, and downright geeked," Sara posted, announcing the honor. "We're gonna ride this high for awhile."
Joe D. Saks has joined Bieser, Greer & Landis as a senior associate attorney. Most recently he was a staff attorney with Montgomery County Common Pleas Court. Joe has joined the law firm's active litigation practice, with a concentration in medical malpractice defense.
Send your Mazel Tov announcements to mweiss@jfgd.net.
To read the complete January 2023 Dayton Jewish Observer, click here.