The Beth Or Brisketeers are back.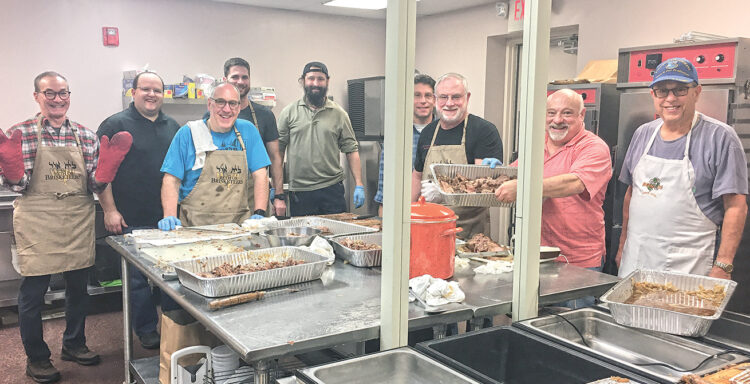 Some insider hacks ahead of their big day, Dec. 4
By Marshall Weiss, The Dayton Jewish Observer
It began with their entry in Chabad's Kosher Brisket Cook-Off in April 2013. Members of Temple Beth Or decided to put together a team.
"Heath Gilbert contacted a couple of us and said, 'Hey, you want to do this?' Scott Segalewitz says. "It was Heath, David Char, and me."
Scott thought their team should have a name. He had custom aprons made up proclaiming themselves the Beth Or Brisketeers. They also won first place in the cook-off.
And since December 2014, their prize-winning recipe has lured carnivorous customers to Temple Beth Or's Chanukah Bazaar — so much so that the annual event was renamed Temple Beth Or's Artisan Fair and Brisket Lunch.
That first year, head Brisketeer Scott says, his team prepared about 60 pounds of brisket.
"Today, we're doing 300 pounds. It always sells out."
Even in the middle of Covid, the Brisketeers offered drive-up takeout.
Scott's pro tip: preorder at templebethor.com. "If you want to be sure that you get it, do that. A lot of people are ordering by the pound. We have one person that gets eight pounds, and they hold it for the family for Chanukah."
This year's Temple Beth Or Artisan Fair and Brisket Lunch will be held Sunday, Dec. 4 from 10 a.m. to 2 p.m.
Scott says they'll sell nearly half of their brisket by the pound. That's in addition to those who will buy brisket sandwiches and combo platters at the event, which will feature more than 30 vendors. The sandwiches and platters may be preordered too.
"We'll close the kitchen about 2 o'clock or when the brisket sells out, whichever comes first. We've had years when we've sold out by 1 o'clock, 12:30."
The Brisketeers' recipe is based on Kansas City Barbecued Brisket, which Jewish food maven Joan Nathan included in her seminal 1998 cookbook, Jewish Cooking in America.
The recipe — along with all recipes in Nathan's cookbooks — is kosher. Temple Beth Or's kitchen and the food available at its Artisan Fair and Brisket Lunch are not.
Nathan gives credit for the recipe to Marsha Pinson of Kansas. Scott says he has adapted and continues to develop the recipe.
As Jews across the Miami Valley start thinking about their Chanukah menus, Scott shares some Brisketeer insider tips:
• "Brisket is such a tough meat that you have to cook it low and slow."
• "Trim off as much of the fat as possible. The fat doesn't add much flavor and it just prevents the seasonings from getting into the meat."
• "When you're trimming the fat, we also separate the point and the flat. (We use whole packers that include the flat and the point.) With the point, you have the grain going in one direction and with the flat, it's going in another direction. If you don't separate it, when you're cutting through it, half you're going with the grain, half you're going against the grain. You always want to cut against the grain."
• "When we pull the briskets out after five hours, we'll get rid of all the liquid that's in there, slice it up, and add the sauce at that point. Then we'll wrap it back up, put it in the trays and in the fridge. It's a cooked brisket, still a little bit on the tough side. It stays overnight in the fridge and the next day, we'll pull it out and put it back in the oven at a low temperature, just to heat it through. And that's when it gets really tender and the sauce is embedded into it."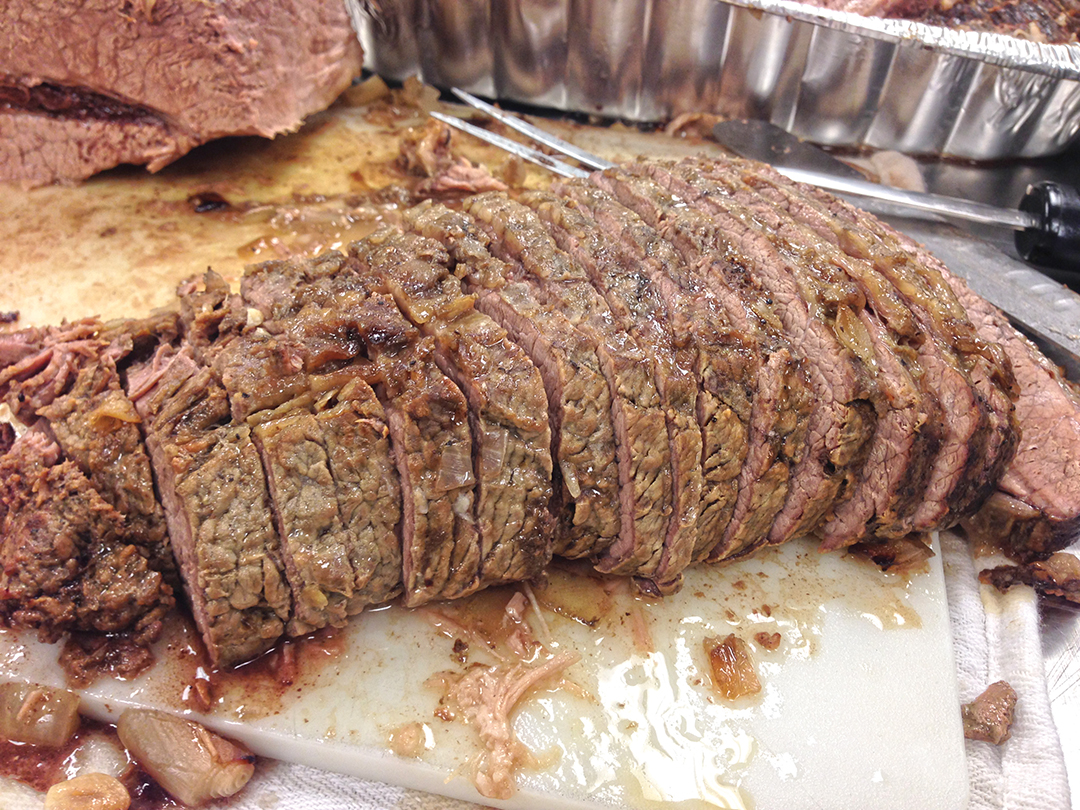 • "You've got to use a really sharp slicing knife, 16-inch, 18-inch knives for slicing meat. Some people try to use an electric slicer, and that just shreds it."
Along with the brisket, Temple Beth Or also sells homemade chopped chicken liver prepared by congregants Ellen Lauber, Helen Markman, and Ellen Holroyd.
Ellen Holroyd says she preps the onions, and Ellen Lauber and Helen Markman prepare the liver and combine the ingredients. The chicken livers are sourced from a local poultry farm.
"We have a lot of fun," she says, though the chopped liver team hasn't come up with a name. Last year, they sold 23 pounds of chopped liver, by the half pound.
In the spirit of Chanukah — but without giving away Brisketeer trade secrets — here is the Kansas City Barbecued Brisket recipe from Joan Nathan's Jewish Cooking in America (Knopf).
1 5-to-6-lb. brisket of beef
¼ cup liquid smoke
3 medium chopped onions
1 garlic clove, peeled and halved
Salt and freshly ground pepper to taste
3 Tbsp. brown sugar
1 16-oz. bottle ketchup
½ cup water
2 Tbsp. Worcestershire sauce
1 Tbsp. dry mustard or 1½ Tbsp. Dijon mustard
2 tsp. celery seasoning (optional)
6 Tbsp. pareve margarine
1. Wash and dry the brisket and sprinkle with two tablespoons of the liquid smoke. Wrap in heavy duty aluminum foil and marinate overnight.
2. The next day, open the foil, sprinkle on the chopped onions, garlic, and pepper. Rewrap everything in the foil and bake in a preheated 325-degree oven for five hours.
3. Meanwhile, combine the remaining two tablespoons liquid smoke, the brown sugar, ketchup, water, Worcestershire sauce, mustard, celery seasoning, margarine, and salt and pepper. Simmer, uncovered, for about 30 minutes.
4. Remove the foil, slice the brisket thinly, and pour the sauce over all. Raise the oven to 350 degrees and reheat, covered, for 30 minutes. Yields 10 servings.
To read the complete December 2022 Dayton Jewish Observer, click here.