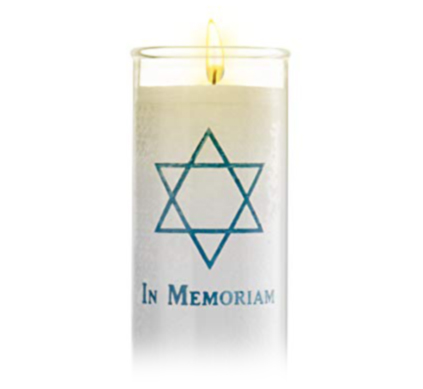 Richard (Dick) A. Moyer, May 17, 1929 – Sept. 16, 2022. Dick Moyer led a full life and was loved and respected by all who knew him. He was a great businessman, community leader, and family man. Dick was known for his kindness, fairness, humility, and clarity of thought, and was still active and involved until the end. Dick lived most of his life in Dayton, was a graduate of Fairview High School and Miami University and moved to Florida upon his retirement. He grew up during the Depression, from which he learned the importance of community support and involvement from his parents who were instrumental in the Dayton Jewish community before him. He also was very involved in the Dayton Jewish community. He cofounded the Dorothy B. Moyer Leadership Award in memory of his mother in order to recognize outstanding young Jewish women in Dayton; he served for many years and in many capacities on the boards of Temple Israel and the Jewish Federation, including making donations of land for building the original Jewish Community Center. In business, Dick grew Moyer Mortgage Company from a one-person operation into the largest mortgage business in southwestern Ohio. He also was involved in the construction business, Terminal Cold Storage, and other ventures. His community involvement was extensive. He was active in the Dayton Jaycees, including serving as their president; he also served as the first president of Big Brothers in Dayton. In 1961, Dick received the award of Dayton's Young Man of the Year. He was one of three Jewish members on the original Dayton board of the National Conference of Christians and Jews, and served on many other boards, including Camp Fire Girls, Ohio Mortgage Bankers, North Riverdale Little League, and Fairview High School PTA. He was also involved in Rotary, both in Dayton and after retiring to Florida. In Florida, he remained active with various boards and charities. He took up golf, and one of his personal highlights was making a hole in one. Even in his last year, while treasurer of the board at his retirement community, he identified a major fiscal error, resulting in significant savings for members of the community. Dick was also a family man who never missed one of his children's activities. He was preceded in death by his first wife, Sheila, after 45 years of marriage, and is survived by their children Diane Moyer (Colorado), Janis and Bill Dodson (Colorado), Rick and Carol Moyer (Dayton), Jim and Robin Moyer (Arizona), and Scott Moyer (Arizona); also eight grandchildren: Andrew, Ross, Jenna, Sara, Abbi, Aaron, Rachel, and Jillian. Dick is also survived by his wife, Marcia (Florida), and their very special nurse caregiver of many years, Michelle Philippe. Donations in Dick's memory may be made to the Jewish Federation of Greater Dayton or the charity of your choice.
Richard Alan "Rick" Pinsky, age 51, of Washington Township, passed away Oct. 12 at The University of Cincinnati Medical Center. Rick was employed at Kettering Medical Center, formerly employed at his family-owned Mendelson Electronics Co. He was a dedicated member of the Star Trek USS Bismarck Club, loved working with Legos, was a devoted lifelong member of Beth Abraham Synagogue, and recording secretary of Beth Abraham Men's Club. He attended Ball State University, Wright State University, and earned an associate degree in pharmacy tech from Sinclair College. Rick is survived by his beloved parents, Terry and Marlene Pinsky of Dayton; brother and sister-in-law, Howard and Michelle Pinsky of Mason; nieces, Dayna and Samantha Pinsky; and many other relatives and many friends. Interment was at Beth Abraham Cemetery. Memorial contributions may be made to Beth Abraham Synagogue in Rick's memory.
Maxine G. Rubin (nee Polasky), 92 years old, died peacefully on Oct. 12. Born Oct. 4, 1930, in Piqua to the late Harry and Rebecca Colp Polasky. Preceded in death by her beloved husband, Dr. Frank Rubin, her brothers-in-law, Dr. Gerald Rubin and Edward Rubin, and her sister, Helen Beatrice Lisman. Maxine is survived by her daughter and son-in-law Renee Rubin Handel and Dr. Franklin Handel of Dayton; son Harlan Jamie Rubin of Fla.; four adored grandchildren, Jonathan Handel (Tova Jacobs), of Vienna, Va.; Dori Handel Herald (Jeffrey Herald) of Atlanta; Joshua Handel (Arielle) of Cincinnati; and Elyse Handel of Indianapolis; great-nephew Jeremy Darhansoff of New York; two great-granddaughters, Estelle Ray Handel and Marlowe Reese Handel; and devoted friend and companion, Mary E. Mitchell. A lifelong member of Temple Anshe Emeth in Piqua and Hadassah, Maxine moved to Dayton in 1952 after meeting and marrying Frank Rubin. She devoted her life to her family and was an active volunteer in "everything" PTA, the Dayton Dental Society Auxiliary, Girl Scouts, TWIGS, Temple Israel Sisterhood, and in later years, the Dayton Art Institute. She worked for many years as the office manager of Frank's dental practice, a role she cherished. The practice was a true partnership, with Maxine as the scheduler-in-chief and the first smile most patients saw as they walked in the door. She filled her life with love, family, positivity, gratitude and a multitude of friends. Not to mention a fondness for winters in Longboat Key, Fla., mah jongg, canasta, and any and all four-legged friends, including her own little goldendoodle, Max. The family would like to thank the staff at Hospice of Ohio for the extraordinary, compassionate care which Maxine received, as well as devoted friends and caregivers, Sherry Smith and Tammy Siva. Interment was at Riverview Cemetery, with a memorial service planned for spring 2023. Donations in Maxine's memory may be made to Temple Anshe Emeth, Piqua; Temple Israel, Dayton; Hospice of Ohio, or the charity of your choice.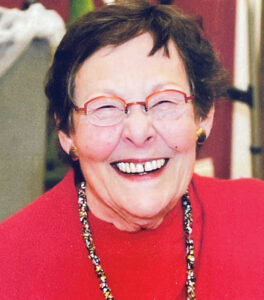 Marilyn Doris Serbin, Feb. 25, 1930 – Sept. 13, 2022. Marilyn Doris Serbin, nee Klarin, passed away peacefully in her adopted town of Cloverdale, Calif. surrounded by loved ones on Sept. 13. Marilyn was 92 years old. Marilyn grew up in Dayton, the oldest daughter of Max and Esther Klarin and big sister to Joyce Maggied. Marilyn went to Roosevelt High School, where she was described in her high school newspaper as "the girl to help you out whenever you feel blue because with her happy smile she will soon have you smiling too." Marilyn attended Miami University for two years but dropped out to marry Richard Alon Serbin, an aspiring physician, and her beloved husband of 53 years. They had three children and lived in their dream home on Sunnyview Avenue for 35 years. Their welcoming home became a refuge for many teenagers, far-flung family members, and many four-legged friends. There was always an open door, a full refrigerator, and most days a pot of homemade soup on the stove waiting to be shared. Marilyn and Dick loved to travel and took trips to Israel, India, Cuba, Russia, and Paris. However, once their grandchildren were born, their favorite trips were to Alabama to visit Pat's children, Scott and Ben Boyer, and to New Jersey to visit Nancy and her husband Bill Silverman's children, Zak, Emmy, and Katie Silverman. Marilyn was an extremely devoted grandmother and didn't miss a tennis match, dance recital, soccer game, or band concert even if she had to travel great distances to get there. There are people that can travel the world but see nothing, and then there are people like Marilyn who can travel around the block and see the world. She had a "child-like" sense of wonder and joy that could turn any outing into an adventure. This love for adventure served her well when she moved across the country to California at age 85 to be closer to her son Ricky and his partner Mitchel Benjamin who treated her like a queen. Marilyn lived in California for seven years and during that time she lived in four different assisted living facilities, had to be evacuated three separate times because of fire danger, and lived through the isolation of the pandemic. She also had many health issues and the last couple years lost most of her mobility but none of those things stopped her from enjoying her life. From her recliner she "saw the world" and loved talking about the different birds that were landing on her bird-feeders, which of the many orchids that lined her window were blooming, or what her latest Sandra Brown mystery was about. She delighted in getting to know every new resident and every aide that worked in the home and could tell you where they were from, if they had children, and what their previous jobs had been. She loved social media and became somewhat of a "Facebook celebrity" as Ricky would post weekly pictures of her with his dogs or in a funny hat ("Serbins in turbans" she said) and she would get 300 comments about her beautiful smile each time. A couple months before she died, she was interviewed for the monthly newspaper her assisted living facility published. At the end of the interview, they asked Marilyn "what is the one thing that she would like everyone to know about her" and Marilyn responded "I want everyone to know that I am just so happy." If happiness is a choice, and she believed it was, she made that choice every day of her life. Marilyn is survived by her sister Joyce Maggied, her children Nancy and Ricky Serbin, her sons-in-law Bill Silverman and Mitchell Benjamin, her grandchildren Scott Boyer, Ben and Dasha Boyer, Zak Silverman, Katie Silverman and Emmy Silverman, and her great-grandchildren Grace and Aleksey Boyer. The family will hold a memorial in Dayton to celebrate Marilyn in the Spring of 2023 when the flowers are in bloom. Friends are encouraged to make donations in her memory to St Jude Children's Hospital or the Cholangiocarcinoma Foundation to help find a cure for the disease that took Marilyn's daughter Patricia Boyer.
Rabbi Sheldon Switkin, 85, passed away peacefully after a brief illness on Oct. 4, surrounded by his loved ones. He was preceded in death by his parents, Esther and Max Switkin, and sister Judyth Talmi. He is survived by his beloved wife of 55 years, Linda Switkin, cherished daughters: Marni (Dan) Nagel, Lisa Switkin (Elijah Saintonge), and Abby (Sarah) Riskin, precious grandchildren: Elia Nagel; Ari, Nava, and Miriam Riskin; Jarah and Zev Saintonge, as well as special extended family and treasured lifelong friends. Interment was at Jewish Oakridge Cemetery, Hillside, Ill. Donations may be made in his memory to Camp Ramah in Wisconsin, Shaaray Torah Synagogue in Canton, or the Ohio State Richard M. Ross Heart Hospital.
To read the complete November 2022 Dayton Jewish Observer, click here.