Remember the time capsule? We opened it for the JCC's centennial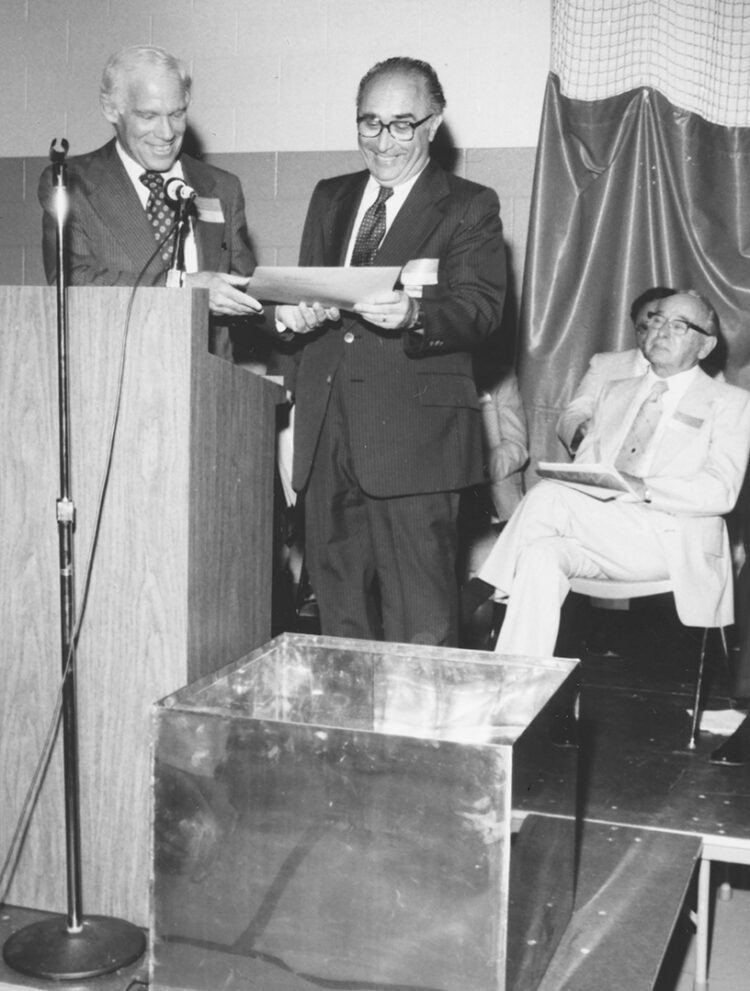 By Marc Katz, Special To The Dayton Jewish Observer
Two small boxes of documents tell some of the story of Dayton's Jewish community on Sept. 10, 1978: dedication day for the Jesse Philips Building and the Jewish Community Complex.
They hold the contents of the Jewish community time capsule, which had been sealed into the brick building on Denlinger Road.
After United Theological Seminary purchased the building, contractors found the capsule during renovations.
The contents are now part of the Jewish Federation's archival materials at Wright State University Special Collections and Archives.
The capsule was to be opened 50 years after the dedication, in September 2028. But with only six years to go, the JCC's centennial seems a good time to take a peek.
"Every Jewish organization put something into the time capsule," said Peter Wells, the Federation's executive director at the time.
Buried at the bottom of one box is a cassette tape, heavily taped shut, left by Hadassah.
There's a white wrinkled toddler's T-shirt with a logo for the DJC (Dayton Jewish Center) Happy Hollow Camp, a paper coin roll for dimes — "Save dimes to help Hadassah" — and that day's edition of the Dayton Daily News (wider and longer than today's version, with the lead headline "Carter, Brezhnev to talk later in '78").
There are also a few black-and-white photos, some of them taken during the ceremonies prior to sealing the capsule up.
Documents from synagogues still with us (Beth Abraham, Beth Jacob, and Temple Israel) are represented, as well as documents from a synagogue – Shomrei Emunah – that has since disbanded.
Temple Beth Or and Chabad had not yet been established in Dayton.
A legal pad listing the typed names of what was believed to be the Jewish community at the time reached 80 pages with 30 names per page.
At first glance, that doesn't seem to establish the entire Jewish community of the time. On closer inspection, only male names were included. Even female names of married couples are not listed.
There is a Jerusalem Post and a history of the weekly Dayton Jewish Chronicle.
Temple Israel Men's Club listed 207 members, and Weprin AZA youth group listed more than 100 members. United Synagogue Youth at Beth Abraham posted a vibrant schedule.
Leonard Spialter left a trove of documents concerning Beth Abraham's history, and Hy Blum wrote a history of Beth Jacob.
Jewish War Veterans Post 587 left a copy of its April 11, 1948 charter certificate.
Eating in 1978 didn't come at a heavy cost, especially if the meal wasn't kosher. Temple Israel Sisterhood offered a "kosher-style" corned beef sandwich with kaiser roll, a half pint of cole slaw, a pickle, and dessert at $5 a box, delivered; $9 for two.
The Sidney Kusworm B'nai B'rith Lodge held a spring steak dinner with local radio host Lou Emm at The Tropics, and later a free steak dinner at the same location to hear an in-depth report on the new JCC building.
Related: Dayton's JCC at 100 – Part One – Becoming Americans
Related: Dayton's JCC at 100 – Part Two – A place to call home.
To read the complete July 2022 Dayton Jewish Observer, click here.