69 years later, DP camp friends reconnect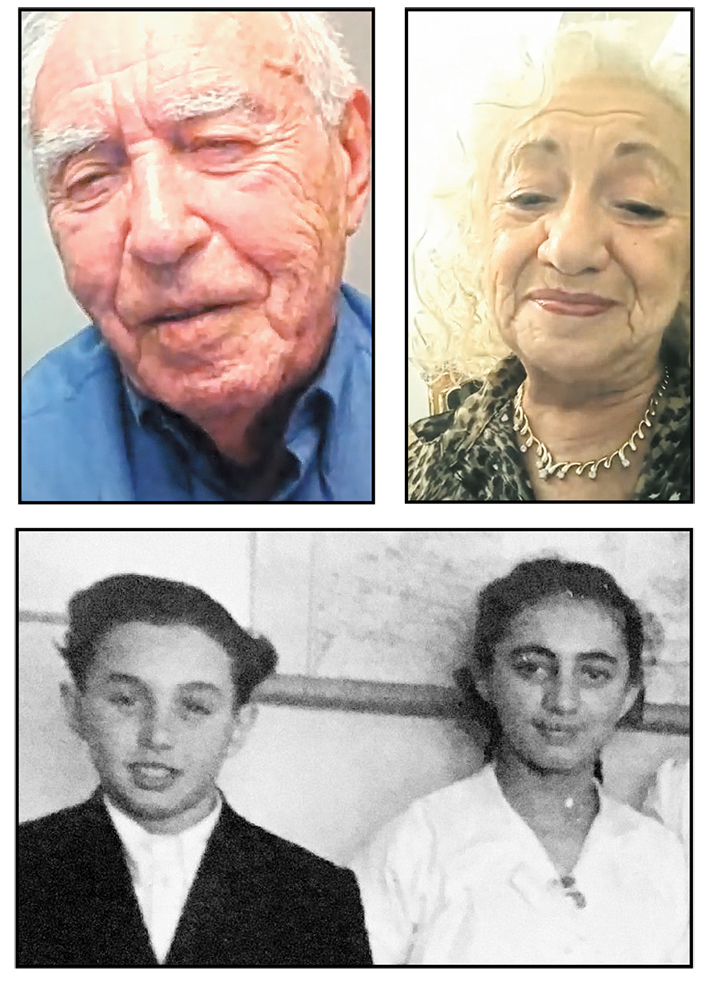 By Marshall Weiss, The Dayton Jewish Observer
"Ruth, I'm going to call you Regina," Ira Segalewitz said from his home in Kettering when he saw his childhood sweetheart for the first time in 69 years, via Zoom on Nov. 8.
"Call me whatever you want, just call me!" Ruth Brandspiegel quipped from her apartment in Philadelphia.
The two 84-year-olds — surrounded by their children and grandchildren across the eastern United States on this Zoom reunion — sounded more like the teenagers they were when last together in 1951 at their displaced persons camp for Jewish refugees in Hallein, Austria.
"I kept thinking about you for a long time," Ira said.
"Really?" Ruth asked with a girlish laugh.
"I had the hots for you," Ira said.
"At least somebody had the hots for me," Ruth replied.
For about 90 minutes, they remembered and shared photos they've kept from their time in the DP camp, which they described as heaven compared with the horrors they and their families had endured because of the Nazis and the Russians.
Their children and grandchildren heard some of these stories for the first time.
"To me, what is so amazing is all the pictures that you brought with you from Europe in such a bad time during our history," Flora Klein, Ruth's older daughter, shared with the families. "And this is what you all brought. It's just incredible to me."
"For us," Ira said, "that's the treasure. That's what we carried with us. The memories. We didn't have much else to carry, but we carried that."
Ira didn't remember who took the photos in the Hallein DP camp.
"We didn't have cameras. Must have been somebody running the school or a teacher."
"Well, he couldn't throw away my picture," Ruth said of Ira.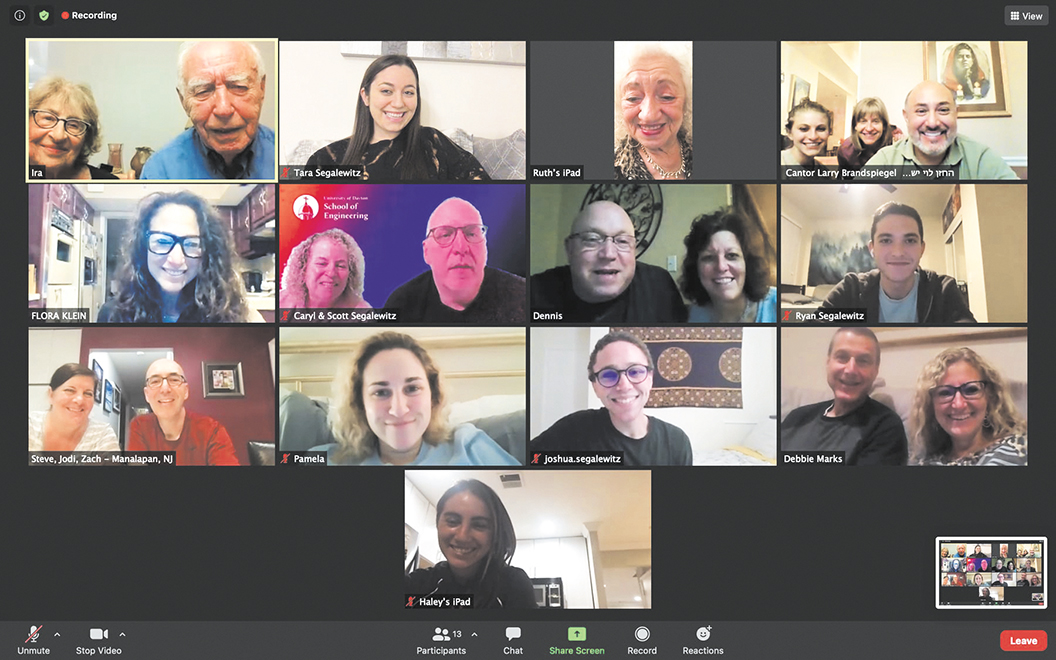 Ruth and Ira's reunion came about because of a reunion Ruth had earlier this fall with another friend from the DP camp, Israel "Sasha" Eisenberg, now 79.
And that reunion came about because of a High Holy Days Zoom service Ruth watched at home from the synagogue where her son, Cantor Larry Brandspiegel, is employed — East Brunswick Jewish Center in New Jersey. Eisenberg and his wife are congregants there.
Ruth heard Eisenberg's name called out during the service, but with his nickname, Sasha. She remembered the name Sasha Eisenberg from seven decades before. It stopped her cold.
Philadelphia's Jewish Exponent wrote a story about that reunion, followed by Associated Press.
Ira happened to read the Exponent story on the internet. The article included Ruth's childhood name, Regina Puter.
"Finally, I got to the third page and it had your picture," Ira told Ruth.
"And did you recognize me?" Ruth asked.
"I recognized you right away," he said. "I came out and Eva (Ira's partner) said, 'What are you so excited about?' I said, 'That's my first girlfriend!'"
Since Larry's congregation is only 20 minutes from Ira's youngest son, Steve, Ira asked Steve to contact Larry.
"My mother is so beautifully overwhelmed with it," Larry told The Observer. "I'm hearing from people throughout the country. And this turn of events is just even more exciting."
Larry said calls have been coming in from people who believe they have connections to his mother.
"These calls come in and I don't jump to call back right away until I call my mother and find out, is it recognizable (to her). So when Steven called me, I called my mother: 'Do you know Segalewitz?' And she said, 'I don't know. I had a boyfriend with the last name Segalovitch.'"
Ira, whose given name was Israel, also went by the nickname Srulik as a boy.
Steve and Larry pieced it together with Ruth and Ira. Larry called Ruth to tell her, "Mom, your boyfriend is still alive."
"As soon as I said that," Larry said, "she was like, 'My heart is beating fast again, I'm shaking again. Oh my God, I can't believe it, this can't be happening. Not again,' she kept on saying over and over again. You could hear the smiles on her face from ear to ear."
Ira's oldest son, Scott Segalewitz, who lives in Washington Township, told The Observer that after his father spoke with Ruth by phone Nov. 3, "the enthusiasm in his voice makes him sound like a teenager."
Ira and Ruth share similar stories. Both were born in Poland in 1936: he in Sarny, she in Ciechanów.
The area Ira lived in came under Russian occupation at the start of World War II. When the Nazis began their attack on Russia in 1941, Ira's father put him and his wife on a train headed east. Ira never saw his father again and believes he was killed in the Battle of Stalingrad. Ira and his mother wound up in the Ural Mountains. She worked in a Russian labor camp.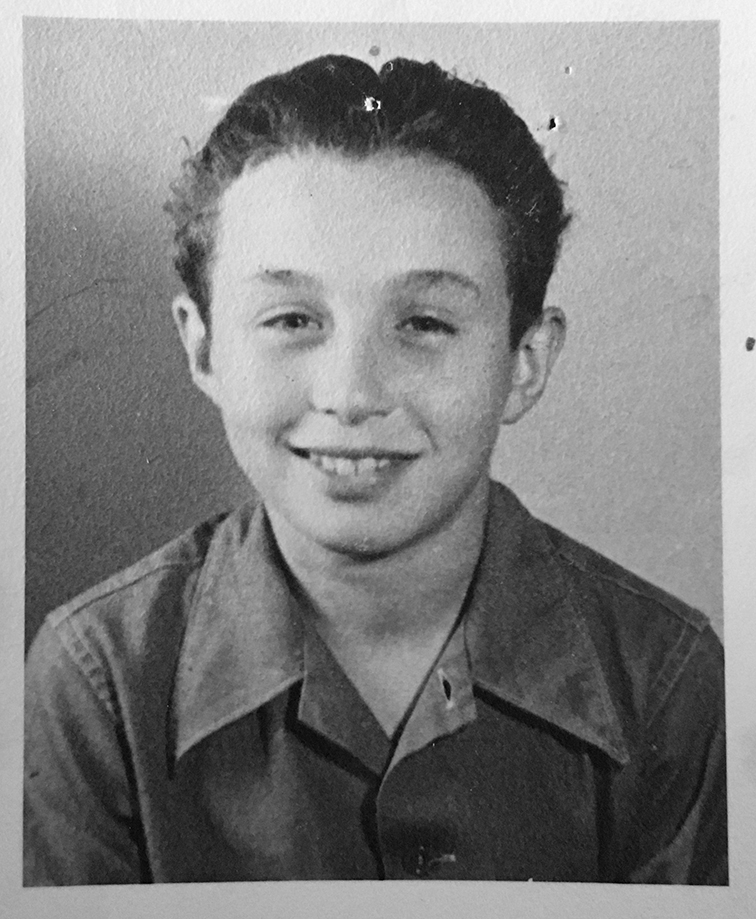 His mother was paid in scraps of food. In an interview with The Observer, he remembered his mother would return from labor with icicles on her eyelashes. A piece of cheese or a rat was a feast.
"My mother kept saying in the Ural Mountains, 'It's a good thing you're my only child, because had I had two, we probably all would have died,'" Ira shared on the Zoom reunion.
After the war, they left the Urals and returned to Sarny after four months of walking and trying to catch rides.
"We finally got to Sarny and Sarny was totally demolished. The house we had was gone. Everything was just ruins."
From there, Ira and his mother crossed four borders as they walked to Austria. They arrived six months later, in 1946. In the DP camp, Ira's mother remarried a man who had fought with the Russian partisans; he had lost his wife and two children.
Ruth's family fled when the Nazis arrived in their hometown in 1939. She was 2 1/2.
"My uncle had a big truck," she said. "He came to my Mom and he says, 'Take the child and take whatever you need and whatever you want and get on the truck because the Germans are right behind us.'"
During the day, Ruth said, they hid in forests. By night, the uncle drove until they arrived in Ukraine.
"Over there we didn't stay too long (until 1941), and they sent us to Siberia," Ruth said. "My parents they sent out to dig ditches and I stayed home, almost 3 years old by myself."
After the war, Ruth's family also returned to Poland at first.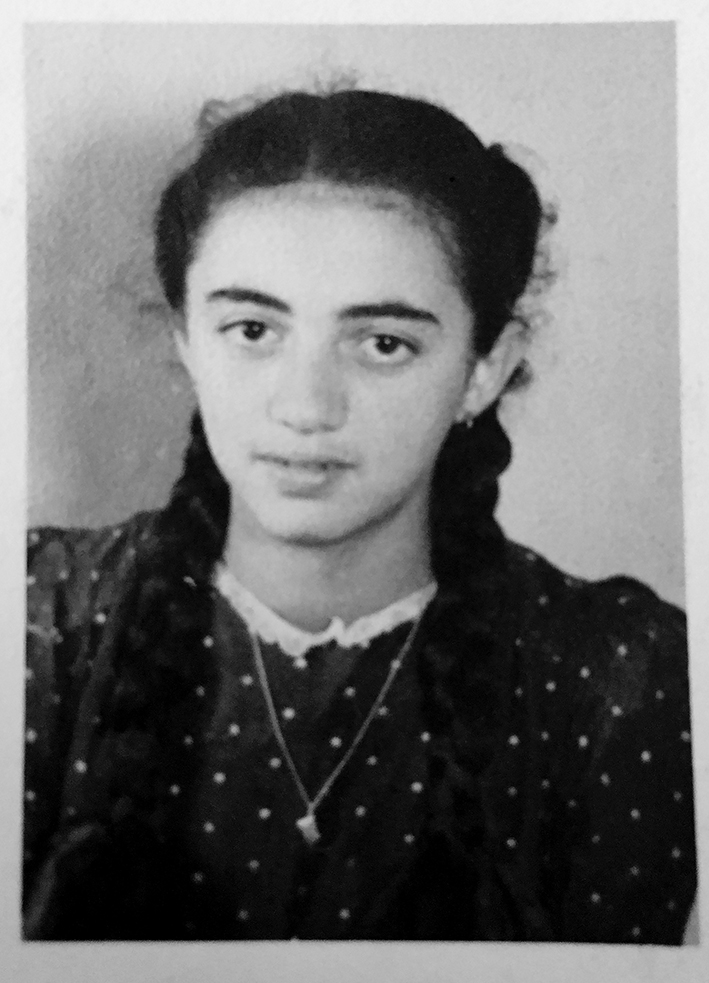 "My father found a job, and every night we were looking out the window to see if he was coming home because a lot of people were shot," Ruth said. "The antisemitism was bad at that time. Little by little, the Joint (American Jewish Joint Distribution Committee) took all these people out, and they took us to places where the other zone was."
The Puters also arrived at the Hallein DP camp in 1946.
On the Zoom reunion, Ruth and Ira shared pictures from their years together at Hallein.
"That was Purim," Ira said of a photo marked 1950, with arrows pointing to them. "You were Esther, and I was the king, Ahashverus."
"When we got to camp, to Hallein, that was already a good life compared to what we went through before," Ruth said. "We didn't know any better and we were happy."
Ira agreed.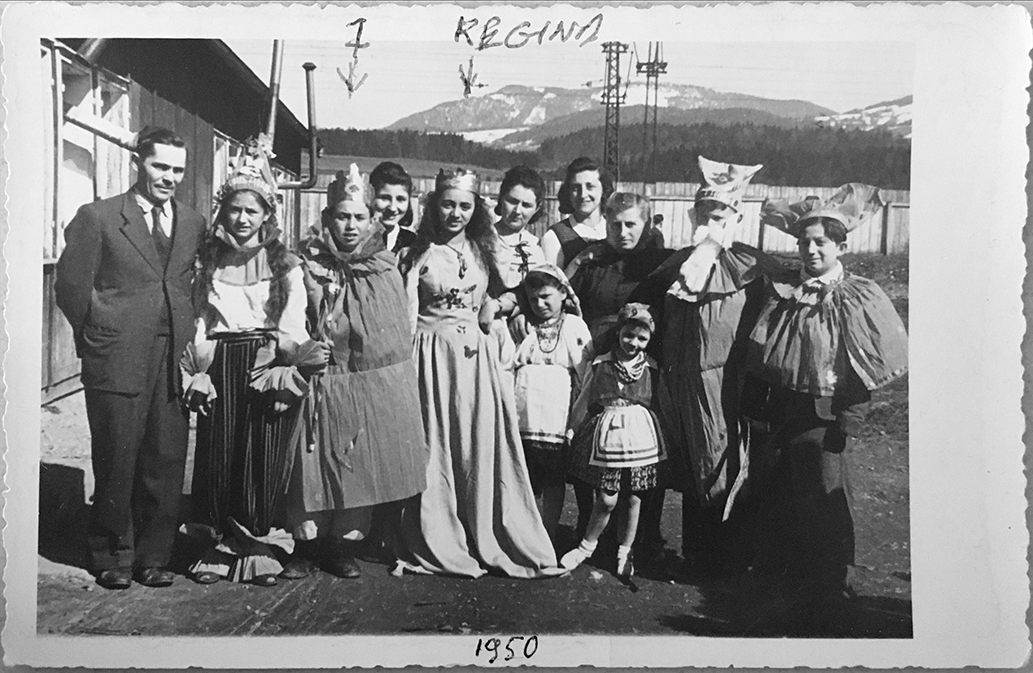 "This was healing, and the people there really tried to heal us," he said. "They tried to do as much as they could. We were all attending school. Originally Hallein was to be a camp for Israel, so because of that, the language that we learned was Hebrew of course, and we spoke primarily Hebrew and Yiddish, and the parents, if they didn't have a profession, they had to learn a trade.
"Like my mother — she went to ORT (Association for the Promotion of Skilled Trades) and learned how to be a seamstress. People were healing. A lot of babies were born in the camps. A lot of people doing a lot of coming back to life."
Along with the photos, Ira shared a memento he's kept in his school memory book from the DP camp all these years: a handkerchief with the initial R.
"You embroidered that," Ira told Ruth.
"I must have given it to him," Ruth said, laughing.
"You must have," Ira said, "or I stole it! We were pretty tight there for those times: running around, doing all kinds of things together."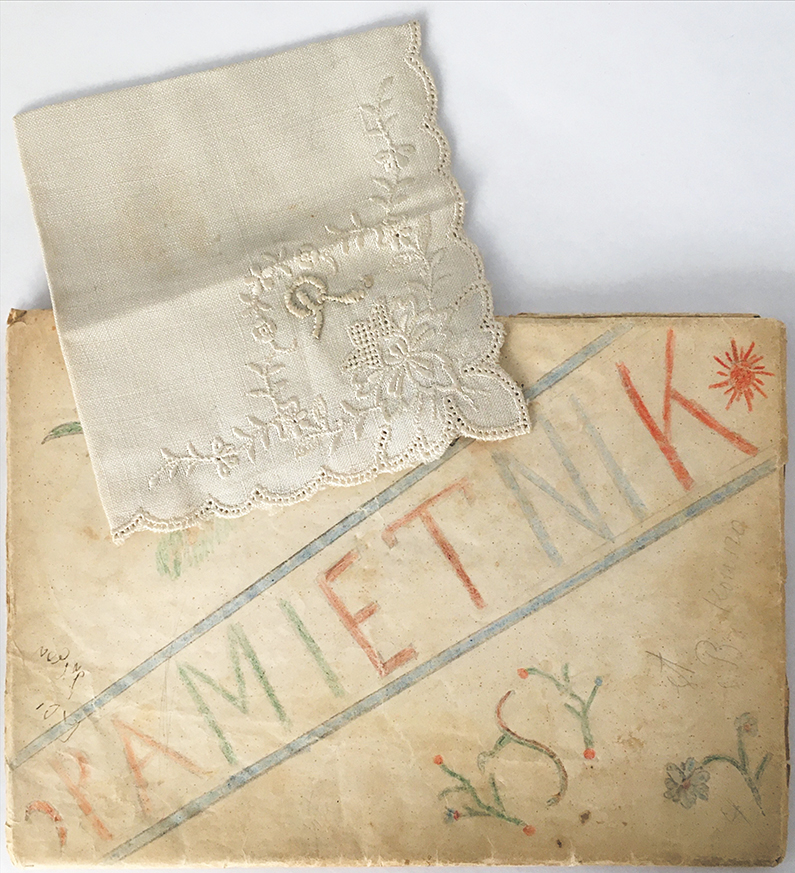 "What did we do?" she asked with a smile.
"Well, we did a lot of running," Ira said. "As a matter of fact, I remember climbing in the attic of the barracks, and you girls were hiding in the bottom. And we were hiding in the attic. We would go to the movies every time the army provided movies."
Ira shared that he could figure out where Ruth was seated at the movies in the barracks from her scent.
After the High Holy Days this year, Ruth was reunited with Israel "Sasha" Eisenberg, whom she also knew from the Hallein DP camp.
"They lived in the same barracks," Ruth said of his family. "Plus, their parents were from our hometown. And when Sasha's father died in a car accident (when they lived in the DP camp), my father took over Sasha, and used to take him to shul (synagogue) to say Kaddish (the mourner's prayer)."
Ira had his Bar Mitzvah at the camp synagogue, which he described as a shtibel (a small prayer room).
"It was pretty much Orthodox," he recalled to The Observer. "Most of the kids (in the DP camp) were not religious and not Orthodox anyway. And the girls couldn't attend. What I remember most is my mother scraped some money together and bought me my gift, a bag of 250 canceled stamps. I was overjoyed by the pack of those stamps. That's when I started stamp collecting. And I still have the stamps."
Ira's and Ruth's families were in the Hallein camp after the war because the Hebrew Immigrant Aid Society at first had difficulty locating their families in the United States. Émigrés could only enter the U.S. with a sponsor.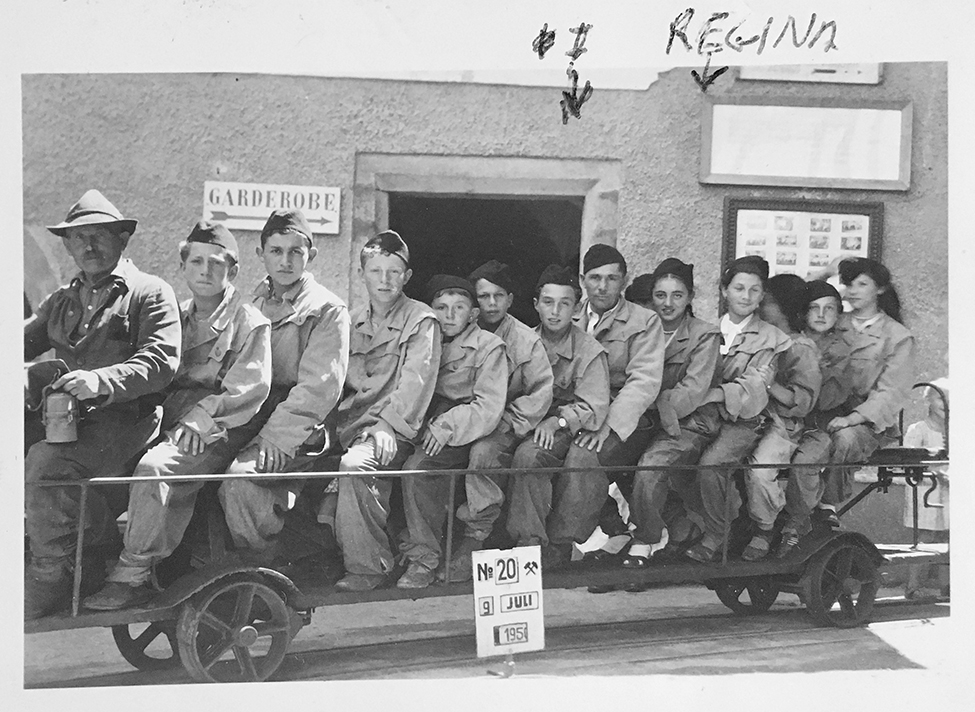 "The camps were basically set up by where your destination would be," Ira told The Observer. "The only place that would take us without any questions because we were Jews, you could come to Israel. HIAS did find my mother's two sisters. My mother always knew she had two sisters in the United States. She just didn't know where they were, didn't have an address. As soon as they found us, they soon after sent us a visa.
"And we thought we were going to the United States the next week or next month. We didn't realize there was a waiting line, that the United States was not admitting too many people. And so, we waited five years."
He and his mother and stepfather arrived in New York in 1951, where his aunts lived. There, his name took on a more "American" flavor, first as Ike, then as Izzy, until he finally settled on Ira.
"When I first came here, family said, 'You can't have Srulik, you can't have Israel, that's not the name,'" he said.
Ruth's family made it to Philadelphia in 1952, where her mother's sisters and maternal grandmother had immigrated in 1929-30.
She said her uncle changed her name to Ruth when he enrolled her at Girls' High.
"I wanted to keep Regina," she said.
Ruth worked as a bookkeeper, married Shloma "Sol" Brandspiegel in 1957 — a Holocaust survivor who lived in the neighborhood — and they raised their three children in Northeast Philadelphia while working in the retail businesses they owned. Her husband died two years ago.
After high school, Ira entered the army and served in Korea, married Zelda — whose parents had émigrated from Poland in the 1920s — worked in electronics and communication, with Zelda raised four boys, and made his career with ITT, from which he retired in New Jersey as president of its job training services division.
Ira and Zelda moved to Dayton in 2000. Zelda died in 2010 after 51 years of marriage.
"I really don't believe I'm talking to you," Ruth told Ira on the Zoom reunion. "Hopefully, after this virus, you can take a ride and come and see us."
"Or maybe you're going to take a ride there, Mom," Larry said.
"My future daughter-in-law is from Columbus, Ohio," Ruth's younger daughter, Debbie Marks, added.
"I've had tears in my eyes since we started," Ira said.
"When he called me, I almost fainted," Ruth said.
Ira told Ruth that when he comes to see her, he'll bring her handkerchief.
To read the complete December 2020 Dayton Jewish Observer, click here.