Meringue-topped Apple Pie Bars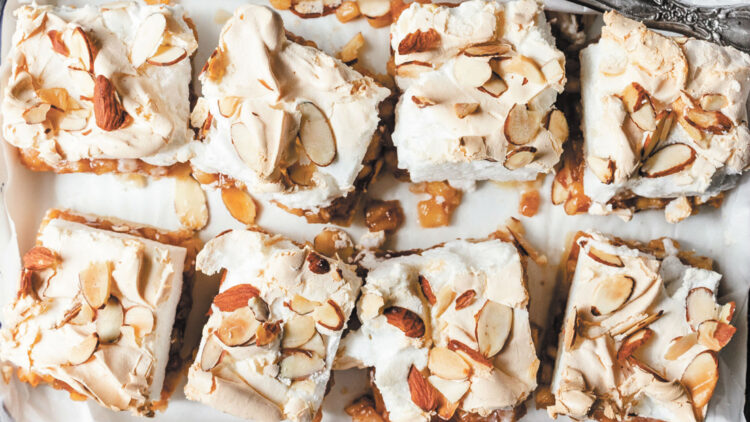 An innovative Rosh Hashanah dessert
By Dikla Frances, The Nosher
Looking for an innovative way to incorporate apples into your Rosh Hashanah menu? Look no further than these meringue-topped apple pie bars. With layers of buttery pastry, cinnamon-scented apples and fluffy meringue, they're sweet, toasty and sure to be a hit. The following recipe has been reprinted from One Sarcastic Baker.
For the short-crust dough: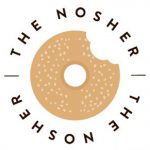 1 cup unsalted butter, softened
1/2 tsp. salt
1 Tbsp. light corn syrup
1/2 cup sugar
1 large egg, beaten
1 tsp. vanilla extract
2 3/4 cups all-purpose flour
For the apple filling:
3 large apples
1 Tbsp. lemon juice
1/2 cup sugar
1 tsp. cinnamon
2 Tbsp. potato starch
1/4 cup water
For the meringue and toppings:
1/4 tsp. salt
4 large egg whites, room temperature
3/4 cup sugar
3/4 cup sliced toasted almonds
For the short-crust dough:
1. In the bowl of a standing mixer, beat butter, salt, corn syrup, and sugar for four to five minutes until light and smooth.
2. Scrape the sides and bottom of the bowl. On low speed, add the beaten egg. Mix until fully incorporated. Add vanilla, then flour a half cup at a time. Mix until you have a soft, smooth dough. Do not over-mix.
3. Wrap the dough in plastic wrap and refrigerate overnight. Remove from the refrigerator 10 to 15 minutes before baking.
For the apple filling:
1. Peel and slice apples into eighth-inch cubes. Coat with lemon juice, then place into a pan over medium heat. Once apples start to boil, reduce to a simmer and cook for three to four minutes.
2. Strain apples into a bowl, leaving the liquid in the pan. Add sugar and cinnamon to the liquid and stir until the sugar dissolves.
3. Mix potato starch with quarter cup water and add to the pan. Once thickened, re-add apples, remove from heat and blend. Allow to cool until room temperature.
For the meringue:
1. Place egg whites and salt into the bowl of a standing mixer fitted with the whisk attachment. Gradually increase speed to high and beat until frothy.
2. Reduce speed to low-medium and slowly sprinkle in sugar.
3. Return speed to high and beat for four to five minutes until you have a shiny, strong meringue.
To assemble:
1. Preheat oven to 350 degrees.
2. Line a 13-by-9 baking pan with parchment paper and grease the sides. Flatten short-crust dough evenly inside baking pan. Using a fork, prick it thoroughly. Bake for 12 to 14 minutes until the sides of the pastry are starting to lightly brown.
3. Remove from oven and let cool in the pan for 15 to 20 minutes. Note: Make the meringue at this point.
4. Evenly spread apple filling on top of baked dough and top it with meringue. Sprinkle with almonds.
5. Bake for 15 to 20 minutes or until the meringue is evenly golden on top. Let cool completely before slicing. Serves six to eight.
To read the complete September 2020 Dayton Jewish Observer, click here.