In Dayton's Oregon District, woman punches rifle-toting 'white supremacist' in face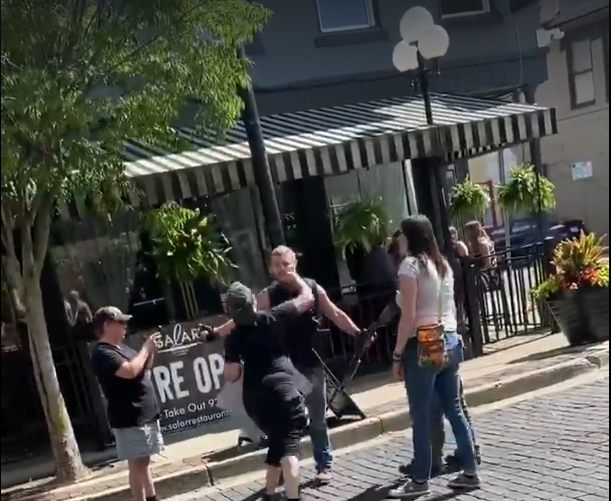 Tells The Observer she feared another massacre on Fifth Street or that nearby protesters would be shot
By Marshall Weiss, The Dayton Jewish Observer
Fairborn, Ohio resident Katie Mae Marshall, as she goes by on Facebook, came to Downtown Dayton by herself around noon on Saturday, May 30 to join hundreds protesting the murder of George Floyd at the hands of Minneapolis police five days before.
She never expected to punch a rifle-carrying man in the face in Dayton's Oregon District whom she described as a "white supremacist," or that a passerby's video of the incident in front of 400 E. Fifth St. would garner more than 65,000 views on Facebook.
"I only wanted to protect and help. I don't condone violence," the 28-year-old told The Observer. "Dayton just had a massacre in the Oregon District less than a year ago."
It was the night of Aug. 4, 2019 when gunman Connor Stephen Betts fatally shot nine people and injured 17 in front of Ned Peppers Bar in the Oregon District. Dayton Police officers shot and killed Betts within 32 seconds of his first shot.
From the initial shock of seeing two men — at least one of them armed — walking west on Fifth Street May 30, all Marshall could think was, "this could turn out bad."
In the video of the incident, one of the two men held a rifle, although Marshall recalled seeing each one holding a rifle.
"I mean it was the Oregon District. I feel protective," Marshall said. "These are my friends in the Oregon District, but I also felt protective of the other demonstrators."
The two men were walking toward downtown, where demonstrators were.
"They were just one block away from the march," Marshall said of the men.
Marshall had first headed to the Oregon District between 4 and 5 p.m. after she protested for hours.
"I was walking with everybody and I needed a bit of a break," she said. "Some of my friends were in the Oregon District, so I sat with them while they were waiting for a ride. I had to take the mask off so I could breathe a little bit."
Marshall and the two friends she met sat in a parking lot near Lily's Bistro.
"It was calm," Marshall said. "There were people on the patios having beer, dinner, and such."
She and her friends were shocked when they saw the two men walking on Fifth Street, she said.
"Everybody seemed pretty visibly uncomfortable," she said. "There were people kind of calling out to them, like, 'Why do you have these guns?' and such, and it was very alarming."
The beginning of the bystander's video shows the scene on Fifth Street in front of Salar Restaurant and Lounge: one of Marshall's friends is shown recording the man without the rifle up close with her smartphone. Marshall and he then argued in the street while the man with a rifle remained on the sidewalk in front of Salar.
"I called him a Nazi," Marshall said of the one in the street without the rifle. "I said, 'You have nothing to do with anything down there.' He said he was just there to cause trouble. He said I'm lucky he's not his grandfather because his grandfather would have killed me. He called me a dyke, possibly a dozen times at least. That was enough to get me a little heated, I guess. I am part of the gay community and I have dealt with quite a bit of it (prejudice) throughout my life, in high school, and all that. And sometimes still. We asked, 'Why are you carrying guns? Where are you going?'"
She said the man with the rifle said they were there "to protect his country."
She asked him, "From what, from black people?"
"And he said yes," she said.
Marshall's friend who was recording the man in the street then made crybaby taunts to the one with the rifle. Then he entered the street.
Marshall began yelling at the one holding the rifle. He dared her to hit him. She knocked off his glasses and hat, and then punched him in the nose.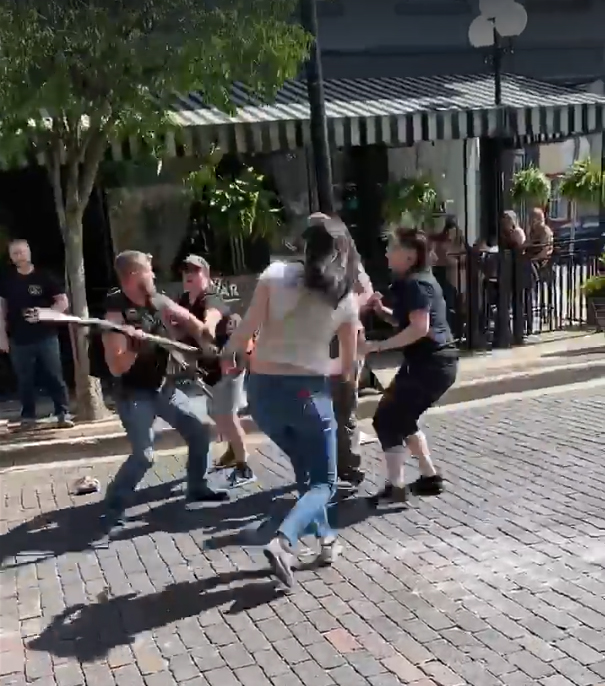 A scuffle in the street followed. Another friend of Marshall punched the man with the rifle from behind. He then swung his rifle by the barrel like a baseball bat, gesturing with the butt of his gun to keep people away.
"I never planned on hitting anybody," Marshall said. "Violence is really not in my nature. I felt like I didn't have any other choice. He was there for violence. You can't let armed men full of hate walk into a crowd. Who knows what would have happened?"
She said both of her friends were hit with the butt of the rifle, leaving one with a fractured hand.
"My fist has a small bruise on it, and I'm not sure at what point I got hit in the face, but my nose was a little bit sore. And that's it."
Marshall — who was laid off from her work at a local country club because of Covid-19 — said she's never been trained in boxing. She had some martial arts classes when she was a child.
"I'm the youngest out of all the kids, so I got beat up a little when I was younger."
She said she doesn't belong to any social justice or activist organizations in the Dayton area.
"There's a lot that I support, but I'm not part of a particular organization."
When asked if she or any of her friends are involved with Antifa, she said, "Antifa is not really an organization, it's just kind of a belief. In my close friends, I would say yes, there are several of us that…I just think that being antifascist is kind of an American ideal. I don't know what everybody's issue is with it."
But she added that she didn't go downtown with an Antifa mind-set: she wasn't planning on any kind of action. She went in solidarity with the African American community.
"I believe that being Caucasian and living in this place of privilege, it's my moral obligation to be there for the black community. My position now is not to lead anything. It's to follow their lead and to lift up their voices. They've been silenced for so long and I just don't think that we can go back to that anymore, and I don't think that we ever should."
Toward the end of the two minute, 38 second video, Marshall approached the man without the rifle, who had taken her ball cap in the scuffle. She put her arm around his neck as if she intended to put him in a headlock. Instead, she turned to face him, blocked him by the chest, and demanded her hat back, which he then threw in the street. She shoved him back and retrieved it.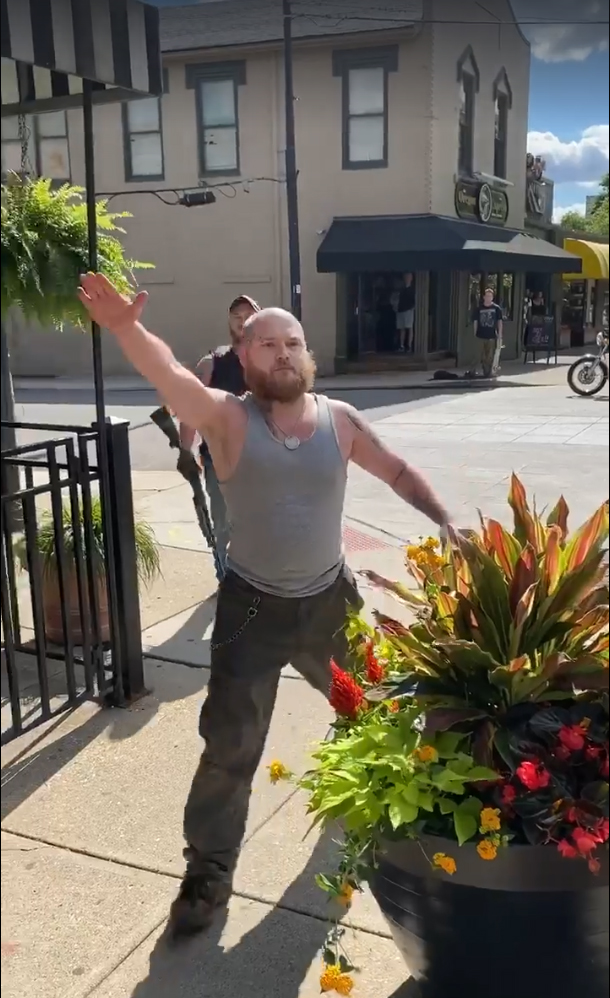 The two men then turned down Brown Street to leave, but as bystanders hollered curses at them, the one without the gun returned to the corner, gave the Nazi salute, and chanted "white power."
"It is abhorrent for anybody to show up at these rallies and protest with guns, with the goal of intimidating and scaring protesters who are there to march for racial equality and freedom," said James Pasch, regional director of the Anti-Defamation League's office in Cleveland, after he reviewed the video. "And to do so in a district and in a city that is still reeling from their own mass shooting is reprehensible."
Over the week that followed, Marshall struggled with what she did but ultimately had no regrets.
"I have upset my Mom a lot, something I try to never do," Marshall said. "She was disappointed that I was violent and she was upset that I put myself in danger. But the more I go through it, the more I realize that I really just don't feel like I had an option. It was sort of a last resort-type situation."
Marshall said the police showed up and went down an alley in pursuit of the two men.
"I stood there on the sidewalk for a little bit just to see if anybody was coming back."
After a few minutes, when nobody did, her friends left with their ride. Marshall headed to the Trolley Stop for a salad, went back out, and stood with the protesters again.
To read the complete July 2020 Dayton Jewish Observer, click here.