Naomi Nachman dishes up Perfect Flavors for Chanukah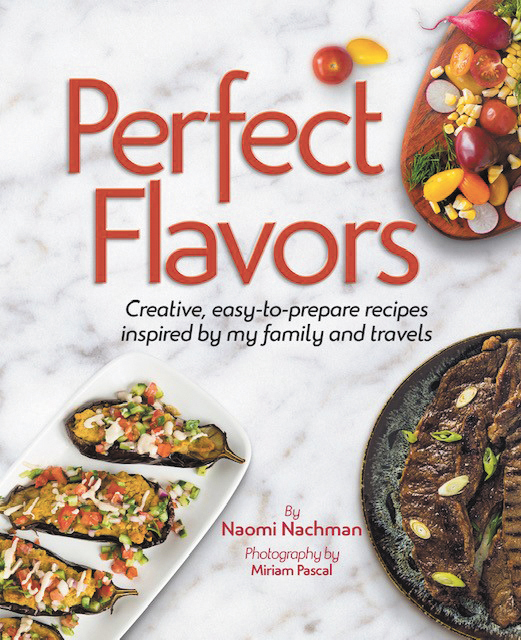 By Norene Gilletz, Canadian Jewish News
Kosher cookbook author Naomi Nachman will visit Dayton with her newest cookbook, Perfect Flavors: Creative, Easy-To-Prepare Recipes Inspired by My Family and Travels, on Dec. 17, just in time for Chanukah gift giving.
Nachman is a cooking teacher, food columnist, recipe developer, and personal chef. She is the author of the bestselling cookbook, Perfect for Pesach.
In Perfect Flavors, Nachman shares her passion and enthusiasm for cooking, serving, eating, and sharing amazing food every single day. For Nachman, it's all about cooking the food that we love for the people we love.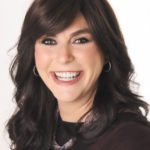 In Perfect Flavors, she shares many of her favorite recipes collected over the years from her global travels, as well as old favorites with a new twist.
Perfect Flavors contains more than 130 creative kosher recipes with tips and variations.
Nachman also provides information on kitchen essentials, and herbs and spices. Whether you're looking for elegant and sophisticated cuisine or a quick and wholesome meal, you'll find what you need among these delicious, doable recipes.
You can meet the vivacious Nachman in person Dec. 17 when she presents a cooking demonstration at the Boonshoft CJCE as part of the JCC's Cultural Arts & Book Series; Rochel Simon will provide a kosher dinner for participants.
Nachman developed her love of innovative cooking growing up in Australia, watching her mother and grandmother prepare amazing meals.
In 2004, she started her own kosher personal chef business, The Aussie Gourmet (TheAussieGourmet.com).
She hosts a weekly show, Table for Two with Naomi Nachman, on the Nachum Segal Network (nachumsegal.com).
She also covers food and travel trends in a monthly magazine column for Mishpacha Magazine. As a contributing editor for The Jewish Home newspaper, her articles and recipes are published weekly across the country. Nachman is also a recipe developer and brand ambassador for several major food companies, representing them across several media platforms.
Nachman lives in Woodmere, N.Y. with her husband and children.
The recipes here, perfect for your Chanukah table, are reprinted with permission from Perfect Flavors by Naomi Nachman. Photos by Miriam Pascal (Mesorah Publications/November 2018).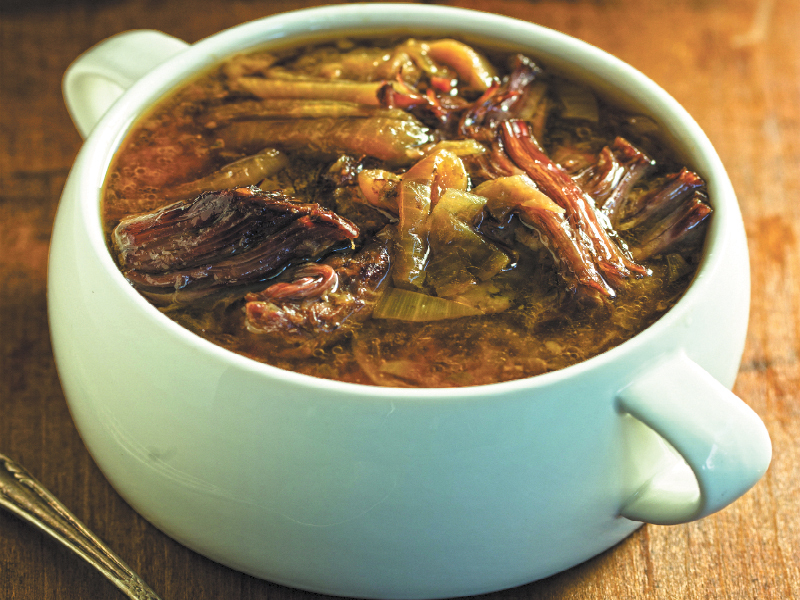 Crockpot Onion and Flanken Soup
Meat — Yields eight servings — Freezer friendly
Naomi shares: "Who doesn't love a big bowl of onion soup? However, making it can be time-consuming, as you have to sauté the onions for a long time while stirring them. This recipe allows you to skip the sautéing, as your crockpot does all the work for you."
12 onions sliced into half-moons
1 Tbsp. kosher salt
1/2 tsp. freshly ground black pepper
1/4 cup canola oil
2 lbs. bone-in flanken
4 cups beef, chicken, or vegetable broth
3/4 cup red wine
1/4 cup red miso paste
Combine onions, salt, pepper, and oil in a crockpot; stir to combine.
Add flanken to the crockpot; cover with onion mixture. Cover; cook on high for four to five hours, until onions are golden brown.
Add broth, wine, and miso paste; stir to combine. Cook on high for an additional hour.
Cook's Tip: Miso paste is a paste made from fermented bean curd. Used primarily in Japanese cooking, it adds umami, depth of flavor, to the dishes. Miso paste is available in a variety of colors; the darker the color, the stronger the flavor. I use them interchangeably.
Turducken Capons
Meat — Yields eight servings — Freezer friendly
Naomi writes: "Thanksgiving has always had a special meaning to me. I came to America on Thanksgiving and met my husband exactly a year later on Thanksgiving. This recipe is a twist on a turducken, which is a deboned chicken stuffed into a deboned duck, stuffed into a deboned turkey, with layers of stuffing between each bird.
This is a dark meat chicken capon stuffed with turkey and wrapped in duck fry. It's a whole new take on turkey."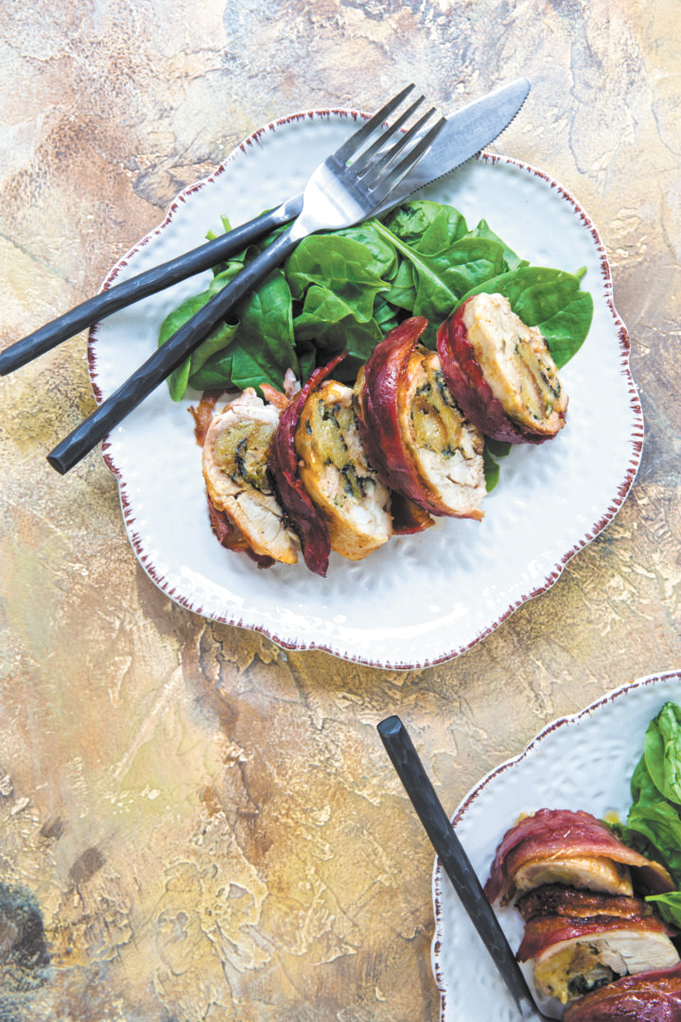 Stuffing
2 Tbsp. canola oil
1 small onion, diced
2 cloves garlic, minced
1 cup frozen spinach, thawed and squeezed dry
1 cup (tightly packed) cubes day-old challah or bread
1-lb. ground turkey
1 tsp kosher salt
1/2 tsp. dried thyme
1 tsp. chili powder
1 Tbsp. pure maple syrup
8 chicken capons (dark meat chicken cutlets)
1 tsp. kosher salt
1 tsp. paprika
1 tsp. onion powder
3 (3-oz.) packages duck fry or pastrami
2 Tbsp. pure maple syrup
1 Tbsp. balsamic vinegar
Prepare the stuffing: Heat oil over medium heat in a large frying pan. Add onion; sauté, stirring occasionally, until translucent, five to seven minutes.
Add garlic and spinach; cook for an additional five minutes. Add bread cubes; cook for one to two minutes. Remove from heat.
Add turkey, salt, thyme, chili powder, and maple syrup to the spinach mixture. Stir until combined.
Assemble the capons: Preheat oven to 350 degrees.
Place about 1/4 cup turkey stuffing onto the center of each capon; then roll up. Place capons, seam-side down, in a large baking pan. (Do not overcrowd the pan; use two pans if necessary.)
Sprinkle salt, paprika, and onion powder over the tops of the capons, then drape duck fry or pastrami over each one.
Combine maple syrup and balsamic vinegar; brush mixture over the top of each capon, set aside some of the mixture.
Cover tightly; bake for one hour. Uncover, brush again with maple syrup mixture, and bake for an additional 10 minutes, uncovered. Slice and serve.
Cook's Tip: For a unique side dish, bake any remaining stuffing in muffin tins at 350 degrees for 30 minutes.
The JCC Cultural Arts & Book Series presents a cooking demonstration with Naomi Nachman and kosher dinner prepared by Rochel Simon at 6 p.m., Tuesday, Dec. 17 at the Boonshoft CJCE, 525 Versailles Dr., Centerville. Tickets are $36 in advance (no walk-ins). R.S.V.P. by Dec. 10 at jewishdayton.org or 610-1555.
To read the complete December 2019 Dayton Jewish Observer, click here.