1,300 memorialize Pittsburgh victims
By Marshall Weiss, The Dayton Jewish Observer
More than 1,300 people from a mosaic of religious, cultural, and ethnic communities across the Miami Valley came together at Temple Israel on the evening of Oct. 30 to remember the 11 Jews murdered in a Pittsburgh synagogue by an antisemitic gunman three days before.
The Anti-Defamation League has called the massacre the deadliest attack on Jews in United States history.
Jewish community organizations that organized the Stronger Than Hate memorial were Beth Abraham Synagogue, Beth Jacob Congregation, Temple Beth Or, Temple Israel, Chabad of Greater Dayton, and the Jewish Federation of Greater Dayton and its agencies.
Standing-room crowds packed Temple Israel's Great Hall, while two sanctuaries in the building were also filled to standing-room; overflow attendees watched the service via video feed.
According to Temple Israel Music and Program Director Courtney Cummings, this was the largest gathering in the temple since the building opened in 1994.
"All of us, without exception, can no longer retreat to our own corners, insofar as personal relationships are concerned," said U.S. District Court Judge Walter H. Rice in his keynote address. "We must all go outside our comfort zone, in order to learn, not what a person believes, but why he or she believes it. In doing so, interacting with people in an attempt to really get to know them, one soon learns the experiences of those people that have led to the convictions they share, the actions they take, and their views on so many matters."
Clergy and members of various Christian and Islamic groups participated in the service. Within the Jewish community, Orthodox, Conservative, and Reform clergy joined together for parts of the program.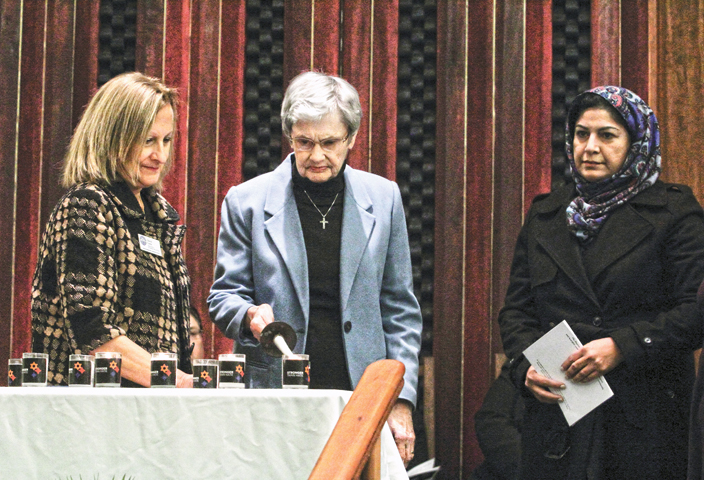 Jewish Family Services offered attendees the opportunity to write letters of encouragement to families of the victims slaughtered at the Tree of Life synagogue in Pittsburgh's Squirrel Hill neighborhood.
Several in Dayton's Jewish community have direct connections to the Jewish community of Pittsburgh, including Rice.
"The Tree of Life was not my home synagogue, yet many of my friends and their families were congregants," he told the audience. "I remember watching it being built more than 70 years ago, not long after World War II. The last names of every victim were familiar to me, perhaps the son or daughter or family member of someone I knew well, so many long years ago."
Cantor Jenna Greenberg, conductor of the Dayton Jewish Chorale, lived in Squirrel Hill — Pittsburgh's longtime Jewish neighborhood — when she moved there with her family as a teenager.
"If America is a melting pot, Squirrel Hill is the stew," Greenberg said at the memorial about the tight-knit, diverse neighborhood, quoting a high school friend.
Devorah and Rabbi Nochum Mangel, co-directors of Chabad of Greater Dayton, have immediate family in Pittsburgh. Their Bar Mitzvah-age son, Schneur, attends the Chabad Lubavitch Yeshiva Schools of Pittsburgh. Schneur lives with his sister, Sarah Rosenfeld, her husband, Rabbi Henoch Rosenfeld, and their children.
"How do we explain this senseless hate?" Rabbi Nochum Mangel wrote in an email to Dayton's Jewish community a day after the killings. "What do I tell our son, Schneur, living in Pittsburgh and who is now afraid to walk the streets?"
Bonnie Parish, executive director of Dayton's Family Services, lost a longtime friend, Daniel Stein, 71. In March, Stein became a grandfather. Parish attended his graveside funeral on Oct. 30.
"He and my husband were best friends since Hebrew school. They grew up together," Parish said. "When I married, David, my husband, and Danny were best friends. He was the best man at our wedding. We spent Thanksgivings together and Bar Mitzvahs and weddings. We knew Tree of Life was his synagogue, and we know he goes every Saturday. Sharyn (his wife) was home. They live close to the synagogue. She was home waiting for Danny for lunch."
Increased security measures
Dayton area Jewish community organizations came out of the weekend of the murders with increased security measures and reevaluating already high levels of coordinated security precautions. Law enforcement at all levels have increased their patrols of local Jewish community buildings.
"The Jewish Federation is now, as always, committed to working with all in Dayton's Jewish community to ensure that every Jew in the area feels safe and is secure," was the message in an Oct. 28 statement from the Jewish Federation. "We continue to collaborate with local and national law enforcement professionals to identify the best possible security protocols for all local Jewish gathering places."
The Jewish Federation is scheduled to host local Jewish congregations for a full day Ohio Crime Prevention Association workshop, Security Training for Places of Worship.
On a Facebook thread the evening after the massacre, one Dayton-area Jewish parent asked how she can answer her son's questions about the antisemitic shooting spree.
Temple Beth Or's Rabbi Judy Chessin responded: "Please tell him that Jews have always remained strong because we have each other. We will gather together tomorrow as a community and pray in minyan and name new babies and affirm life — even if we are scared. Tell him about the outpouring of love and support we've received from our local churches, ministers, neighbors and friends. It truly has been astounding. 'Look for the helpers!' There are so many! And the Dayton Jewish community has been blessed with a lion's share!"
Related : Complete text of Judge Rice's speech
To read the complete December 2018 Dayton Jewish Observer, click here.