Poli sci & psych professors meld disciplines for Wittenberg field study in Poland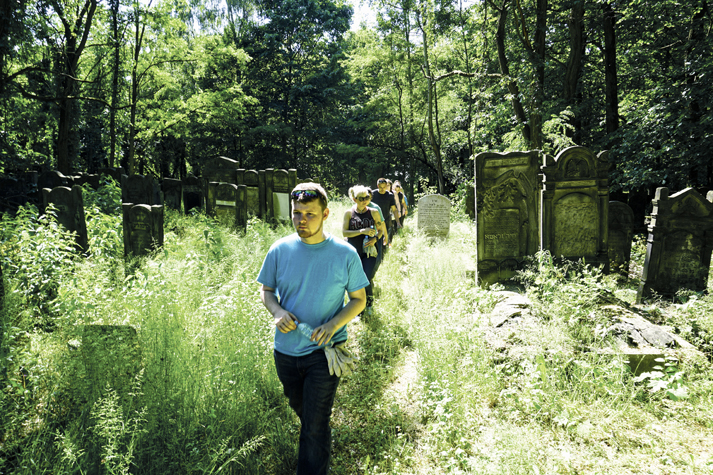 Spouses teach Psychology of the Holocaust, Ideology & Identity in Polish Culture
By Marshall Weiss, The Dayton Jewish Observer
"Our trip is very, very different than many trips to Poland (that is, among those which have any sort of Holocaust theme), as we really try to understand the Catholic majority and the multi-religious past," Dr. Michael Anes explained in a text message from Poland during a nearly four-week field study trip for Springfield's Wittenberg University.
Anes, associate professor of psychology, and his wife, Dr. Heather Wright, associate professor of political theory, led nine students on the trip to Poland, May 15 to June 10.
Their journey included extensive readings and study for two courses, even more extensive visits to Holocaust- and Jewish-related sites, and sites related to Poland's thousand-year-old history. The students also immersed themselves in contemporary Polish politics and culture.
Over the trip, Anes taught Psychology of the Holocaust, and Wright taught Ideology and Identity in Polish Culture. Both professors are Jewish.
This was the second time they've led the trip; the first was in 2013.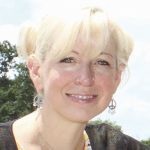 "One of the things that's important to understand is what is the real role of Catholicism in Poland's history, and how does that relate to national identity now," Wright said. "Because the narrative about what it means to be Polish has changed over time periods."
Wright explained that her class was in large part "about the fact that the Holocaust has happened on Polish identity, and its self-concept on nationalism. What has the absence of Jews meant? What does it mean for there to be antisemitism in the absence of actual Jews?"
"The notion of Poland being the 'Christ of the Nations' is really extremely important to Dr. Wright's class for understanding contemporary Poland because of their history of subjugation throughout their whole history since the founding of the country in 966, when King Mieszko became a Catholic," Anes said.
Wright said Poland's narrative today is about how Poland has always been Catholic since the beginning.
"And of course, that's an erasure of the multiple histories of Poland, which has been amplified," Wright said. "It started to pick up speed during the two World Wars, so it's not just the result of Axis powers."
According to Yad Vashem, 3.3 million Jews lived in Poland on the eve of the German occupation in 1939. At the end of the war, approximately 380,000 Polish Jews remained alive; the rest were murdered, mostly in the ghettos and the six death camps.
Today, Poland is home to only 20,000 Jews.
Anes said he provided the students with some basic theories of social psychology.
"In my course, what we really try to understand," Anes said, "is what were some of the dispositional traits of Poles? Well, in many cases Poles, from a long time ago — but particularly in the interwar period when nationalism of this type began — they were inculcated with a certain amount of antisemitism from the Catholic clergy. And that creates a certain dispositional view towards Jews and others among their midst."
With Nazi Germany's invasion of Poland in 1939, Anes teaches the students of the situation most Poles found themselves in: subject to death if they helped the Jews.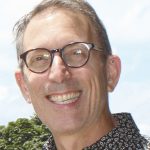 "Meanwhile, their (Jewish) neighbors, who they had extensive contact with through trade, were being discriminated against, slowly but surely getting worse and worse, and then killed outright in front of them," he said. "So like any psychological idea, you're looking at the conflict between two major movers of attitudes and behavior."
"Hannah Arendt argued that really the Holocaust wasn't a German problem," Wright added, "and I think that's really an idea that we are trying to communicate to the students too: that antisemitism is not a Polish problem, it's not a result of Polish culture. Antisemitism was rampant not just in Poland. And of course, that's true today too."
Wright and Anes approach their academic discussions around the role of individual Poles in the Holocaust, even in large-scale Holocaust actions.
"For me," Anes said, "complicity means large-scale actions organized in a way that the Poles never were by themselves. Did Poles participate in the Holocaust? Absolutely. There's no question in the historical record."
While the group toured Poland, the Polish parliament adjusted a law it had passed in February which made it illegal to blame the Polish nation for crimes that were committed by the Nazis. In June, under pressure from the United States and following protests in Israel, the parliament shifted it from a criminal offense to a civil one.
"All the discussion of the Holocaust law," Wright said, "has resulted in a higher level of (Polish) antisemitic discourse."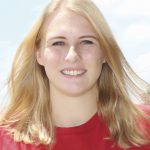 Lydia Newton, an education and special education major from Springfield who is now a senior, said what struck her the most on the trip was the group's visit to the Jewish cemetery at Lodz.
"It was just overgrown," Newton said. "And barely anyone goes there to help clean it up."
As they left the Lodz cemetery, Anes told the students about the pits they encountered there.
"There were several of these pits that were dug by the very last people, because Lodz Ghetto was the last ghetto to be cleared," Anes said. "So the few people that were still in Lodz were forced to dig pits for their own mass graves. The students were all looking down into them."
"I didn't expect them to be that big," Newton said.
Rachel Oliver, a political science and psychology major from Columbus who is also now a senior, said she appreciated how easy it was to build on both class experiences.
"Whenever we would go on an excursion, you would always be able to pull one of them (Wright and Anes) aside and just talk about what you were thinking, always relating it back to the class material," Oliver said.
She was impressed by how seriously Poles take their freedom.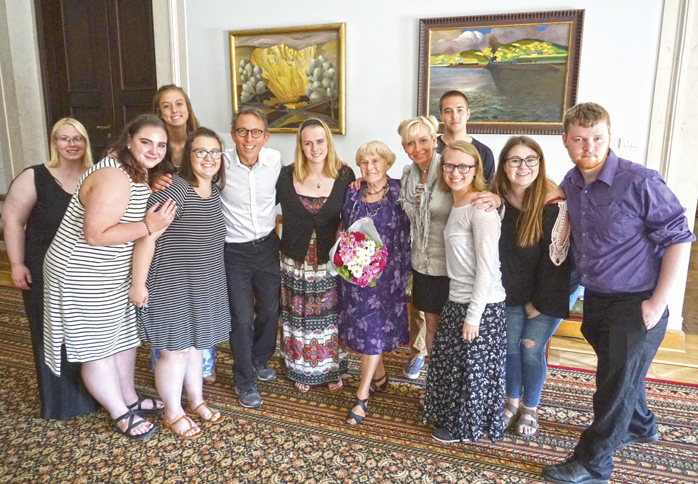 "The day we were in Warsaw, we had the opportunity to tour the Presidential Palace, and it was by far my favorite day," Oliver said.
She was excited to see the site in the palace of the 1989 Polish Round Table Agreement between the government, the banned Solidarity trade union, and other opposition groups. The agreement led to the legalization of independent trade unions, the introduction of the office of president, the annulment of the Communist party general secretary, and the formation of a senate.
What Oliver learned about the rise of fascism in her readings and on exhibit at Auschwitz also stood out for her.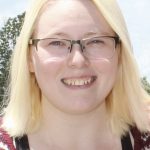 "Auschwitz was interesting because the Soviets were the ones to form the museum originally, so for a long while it was dedicated mostly to the victory of communism," Oliver said. "And then when the Soviets collapsed in Poland, it changed narratives and it's been changing ever since then. The one entirely in Polish is more one for Poles."
"For us as teachers," Anes said, "it's so complex, and we get a chance to try to teach that to students. We hope that you embrace all of this multiple stuff going on in one time, and then bring it to your loved ones and to your students in the future. That's what we want as teachers."
Wright hopes more Jews will visit Poland, spend more time there, and bring an open mind.
"For me, trying to understand Poland is like trying to understand the human condition or trying to understand ourselves," Wright said. "And it makes me really sad to think of Jews not visiting Poland because 'that's where all the bad stuff happened, Poles are antisemitic.' As a political theorist, it's a really unhelpful narrative. We need to embrace one another, spend time together.
"I think the continuing absence of Jews in Poland only serves to inadvertently foster continuing susceptibility to antisemitic attitudes."
Their two student trips to Poland grew out of Fulbright scholarships Wright and Anes held in Poland for the 2010-11 academic year: Wright taught at the University of Lodz and learned about Polish family values, while Anes taught at the University of Finance and Management in Warsaw and conducted research in cognitive neuroscience.
They hope to bring even more students on Wittenberg's next trip to Poland.
To see more photos from Wittenberg's field study trip to Poland, along with blog posts from faculty and students, go to wittinpoland2018.org.
To read the complete September 2018 Dayton Jewish Observer, click here.