Sinai Scholars program introduces scholarships to Hillel Academy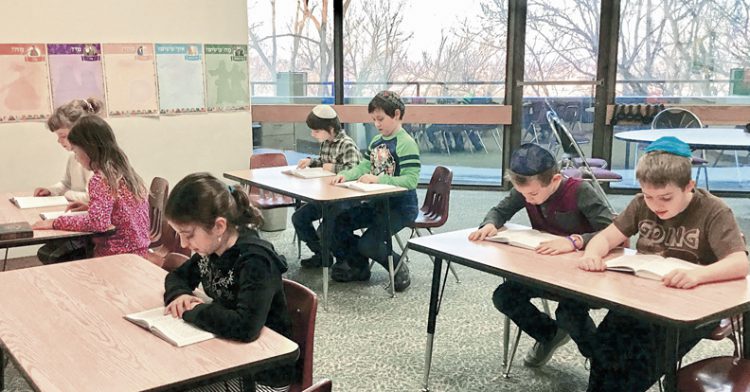 Transitions away from Miami Valley School scholarships
By Marshall Weiss, The Dayton Jewish Observer
For the 2018-19 school year, the Sinai Scholars program will offer scholarships of $6,500 each to three new students at Hillel Academy, as well as three current students at the Jewish day school.
The Sinai Scholars program, a non-profit initiative of Lee and Patti Schear, will continue to fund each of these scholarships for Hillel students through sixth grade, with a commitment from parents to keep their children at Hillel Academy through sixth grade, the highest grade at the school. Hillel will require families of Sinai scholarship recipients to maintain membership at a local synagogue or to participate at Chabad.
The Schears have also committed to offer scholarships for three new students at Hillel for the 2019-20 school year that will follow them through sixth grade; depending on the program's success, the Schears may continue the Hillel scholarships for additional years.
Full tuition at Hillel Academy for the 2018-19 school year will be approximately $8,000 according to the school's president, Andrew Schwartz.
Financial need will not be a consideration unless there are more than three new students per year," Schwartz explained.
"Hillel is grateful for the support of the Schear family and the Sinai Scholars program," Schwartz added, "and is very excited about their new commitment to support Hillel as a strong and vibrant Jewish day school that provides outstanding secular education and gives children a strong Jewish identity."
Currently, 29 students are enrolled at Hillel, from kindergarten through fifth grade. Hillel is located at Sugar Camp in Oakwood.
The introduction of Sinai scholarships at Hillel marks the Schears' transition away from providing scholarships to Jewish students in the high school and middle school programs at the Miami Valley School, a private, non-sectarian school in Washington Township.
Since 2010, the Sinai Scholars program has provided scholarships to 52 students at the Miami Valley School, funding for the Judaics electives in the middle and high schools, and has sponsored a Sunday program for any Jewish middle and high school students in the Dayton area, which continues at the high school level.
"The last of those kids at Miami Valley are freshman this year and we're seeing them through until they graduate with the scholarships," Lee Schear said. "The Miami Valley program was always supposed to involve Hillel, so that Hillel could handle the first six grades and those kids would go on to MVS. And we thought it would encourage kids to not only go to Hillel, which it needed, but to stay at Hillel. The fourth, fifth, and sixth grades dwindle fast at Hillel because these kids have to find some place to go."
Schear said that ending the Sinai program with MVS was not his choice.
"With a new board chair at MVS, their board determined that our existing Sinai Scholars program no longer fit their future vision of Miami Valley School," Schear said. "That forced me to forego my own vision of continuing Sinai Scholars there as well as our new idea of integrating Hillel into the MVS program. It was a loss for the kids, of course, but Miami Valley just wasn't supportive."
In a statement to The Observer, Miami Valley School President Douglas Jenks said: "It would be difficult to overstate the contributions of time, talent, and treasure that Patti and Lee Schear have made to the Miami Valley School. We are extraordinarily grateful to count them among our most committed and generous donors and volunteers. These sentiments of gratitude are not mine alone as they have also been spoken repeatedly by the board and staff of MVS. One need only speak to a Sinai Scholar or view our new entrance and library to appreciate just some of the impact the Schears have had on MVS. MVS and the entire MVS community have been significantly enriched by each and every Sinai Scholar and the Sinai Scholar Program. We welcome the continuation of that creative and amazing innovation."
Schear said he hopes the new program will encourage parents to send their children to Hillel who may have thought tuition was out of their range.
"Those are the kids we want at Hillel and we want to keep them there through the sixth grade, so that the numbers can build over time," he said. "If the kids in third grade now stay through sixth, so we can keep on filling four or five kids a year, the school would blossom again in terms of attendance and tuition."
For information about Hillel's Sinai Scholarship program and to schedule a tour, call Kathy Mecoli at 277-8977.
To read the complete February 2018 Dayton Jewish Observer, click here.