Life-changing ZOA Purim mission to Israel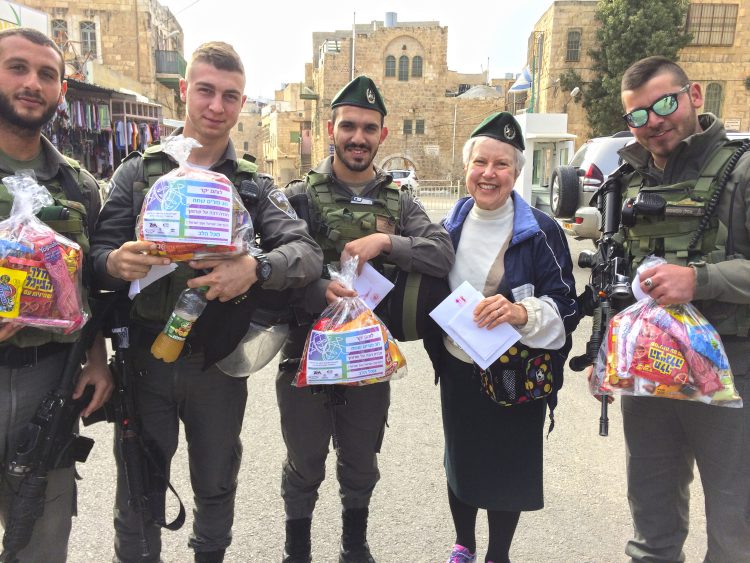 Opinion
By Goldye Kopmar
I have been to Israel many times, but I have never had my life changed in the way it was by the 10-day Zionist Of America Purim Mission to Israel. Our main goal was to bring the joy of Purim to the Magav, Israeli soldiers on the borders between Israel and Samaria (the West Bank). They serve in very tense places and aren't allowed to leave their posts to go home for the holiday.
We loaded our bulletproof bus with big plastic bags of shelach manot (all kinds of candy and goodies for Purim) and personal letters written by school children from Dayton's Hillel Academy and Beth Abraham Synagogue. I was so delighted and proud when Dr. Kathy Mecoli, principal of Hillel Academy, and Cantor Andrea Raizen of Beth Abraham Synagogue Religious School readily agreed to have their students write letters.
Our first stop was at Tzomet Pituach in Samaria. Each day, Israeli soldiers face four to five incidents: shootings, stabbings, and car rammings. One soldier was stabbed four days before we arrived. They were so thrilled to see us; even the commander of the unit came over to talk with us. We sang with them, we danced with them. We found out it was the birthday of a soldier up in the watch tower; we formed a semicircle and sang Happy Birthday to him in English and Hebrew.
When one of our group ran up the stairs to hand him a letter and a bag of goodies, the soldier put his hand on his heart, read the letter, and then wiped tears from his eyes. You see, no one comes to these brave border police to show how much we care about them, how much we appreciate them protecting our people with their lives, how we much we pray for them even in the United States.
We learned that the commander of this elite Israel border patrol is an Arab Muslim. At border bases in Tulkarm and Kalkiya, I was talking to an Israeli soldier and noticed his first name on his tag was Christian. He told me his elite unit is made up of Christians, Druze, Jews, and Muslims — all fluent in Arabic and Hebrew.
Noting my surprise, he continued, "Do you think we want to live under the oppressive PLO or Hamas or Sharia law? In Israel, we are a free people!"
On Shabbos afternoon, Khaled Abu Toameh, an Israeli-Arab journalist, talked with us about the facts on the ground without holding back.
"There will never be a two-state solution," Toameh said. "There will never be political peace between Israel and the PLO. Even if you gave them 99 percent of all they want, they will not take it. Why? Because their goal is the complete destruction of Israel and the complete dominance of the entire Mideast."
Toameh also told us the Palestinians teach the children in their schools to hate anyone different from them and that martyrdom gives greatness.
Another life-changing experience was seeing the so-called "settlement" of Efrat, 20 minutes outside Jerusalem, and Sderot, on the Gaza border. These are beautiful bustling cities of 10,000 and 20,000 people respectively, of big modern buildings, and of homes with bomb shelters. Sderot has two bomb shelters on every street because they get only a 15-second warning when the Gaza missiles start coming.
We were so impressed by them, not just because of their bravery, but because of their faith in God and their joy in Torah. When our bus drove into Sderot, the rabbi of the city and of the Hesder Yeshiva (students spend half the year learning Torah, and half the year serving in the military), Rabbi David Fendel, greeted us with dancing and singing in front of the bus. We followed him as he led the yeshiva boys in a parade of dancing and singing in the streets with a truck decorated for Purim blaring its horn.
A very holy moment for me came from our visit to the sacred 3,000-year-old Jewish cemetery on Mount of Olives. Among the 200,000 Jewish graves, including those of prophets and revered rabbis, it has been very dangerous for Jews to bury or visit a loved one's grave there. It has been unsafe to travel even the streets leading to the cemetery without an armed guard.
Due to the challenging work and difficult negotiations of Jeff Daube, the co-chairman of the Israel Steering Committee for the Preservation of Mount of Olives, visitor safety is now ensured. There are now 147 monitored surveillance cameras plus extra Israeli police presence on the roads and in the cemetery. Because of the importance of showing past and present Jewish ownership of this now heavily Arab populated area, Jeff has dedicated his efforts to supporting the brave Jewish families living there, and to building a Jewish visitor center as well as an educational facility.
It was moving to stand among these graves and have Jewish history come alive in front of my eyes. Standing at the burial site of the former great prime minister of Israel, Menachem Begin, and his wife, and looking over the countless white burial monuments of the holy lives of our past Jewish people covering the mountain, I realized even more strongly how connected we Jews are to each other, to Torah, and to the land of Israel.
This was made more poignant when I saw the burial site of my great-grandmother Sima, who immigrated around 1904 to Israel to escape the pogroms in Poland. She was buried on this holy mount in 1914. For a brief moment, time ceased to exist for me. My soul was part of hers and of every soul buried there. We are an eternal people, bound to each other through our Torah covenant with God, responsible to those who came before us to continue the holy work of ensuring this sacred gift of the Land of Israel will be here for those who come after us.
The most lasting impression for me occurred at Kibbutz Nahal Oz, a five-minute drive from Sderot. It is only a half mile from the Gaza border, about three fields away. These are the fields under which Hamas is digging its tunnels to attack Israel. I could easily hear and see a truck moving on the Gaza Road as I stood at the wire fence separating the kibbutz from the fields.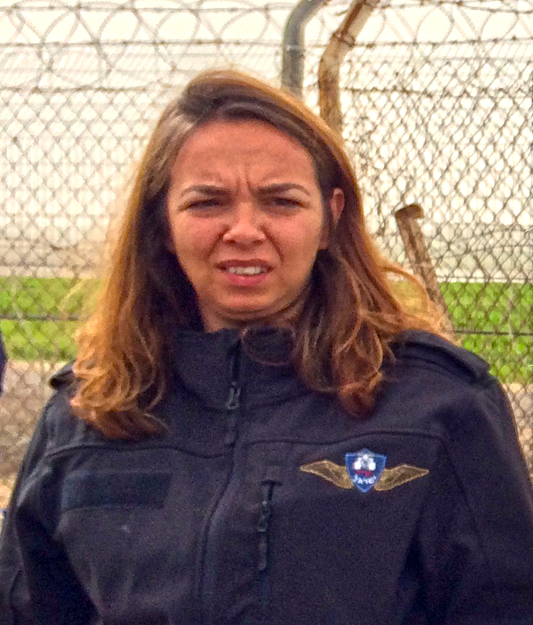 Who protects these brave kibbutz families? A group of commando-trained volunteers called Yatar Israel, a counterterror Mobile ATV unit, who patrol and act quickly to capture terrorists in areas where security vehicles cannot reach: narrow alleyways of the Old City of Jerusalem or rough dirt roads in the hills and fields.
Many of them work their day jobs from 8 to 5, and then patrol and protect during the night — the time when most of the terror activity occurs — until the morning. Maybe these men and women get two hours of sleep. When we asked one of the commandos why he does it, he answered, "My wife and children live here; of course, I am going to be a Yatar volunteer to protect them. Why do we live here? Because this is our home and Israel needs us."
There is a misconception about the fence built to protect Israel citizens from terrorists. We spoke to Colonel Danny Tirza, the architect of the 440-mile fence. Only five percent of the fence is a wall. The rest comprises wires with 24-hour monitored cameras and touch sensors. The slightest movement or touch is sensed, without causing electrocution. Within five minutes, Yatar and Magav soldiers respond.
How did he decide where to put the fence? He said it was one of the hardest responsibilities he ever had. He went out of his way to keep Arab homes and their vineyards unified, causing him to zig-zag the fence around hills and valleys to accommodate their needs. When I asked him if the Arabs appreciated his efforts, he said no.
We spoke with Mieria Pons, a Yatar volunteer with a 3-year-old, now pregnant with another child. When we asked if there is anything we can do to help Yatar, she answered right away: they need special bullet/stab-proof vests.
Because they are funded solely through donations, they must pay for everything on their own. They can't afford the $600 vests, even though it would save their lives. Her words rang in my mind the next day, when we learned that two of the border police soldiers we had just been with were stabbed at the Lion's Gate in Jerusalem. Both were injured, one very badly. If they had been wearing these special vests, they would not have been hurt.
After seeing the facts on the ground, I realize the deep bias of the media, and the naiveté of Western thinking. After witnessing the unbelievable bravery of our people living in Israel — risking their lives and their children's lives to keep Israel safe and strong — I realize that those of us who don't live in Israel must do more to help, support, and show them we care.
I will raise money for those bullet/stab proof vests. Our Magav soldiers and Yatar volunteers are saving us; now we need to save them.
Goldye Kopmar lives in Dayton.