Sweet project to save bees, crops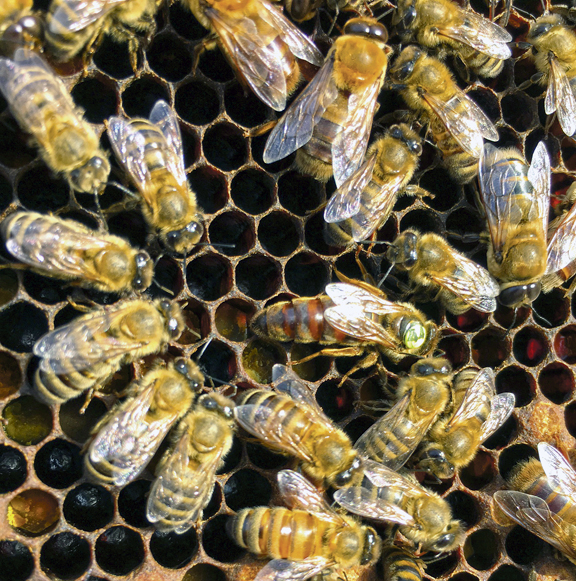 By Michelle Tedford, Special To The Dayton Jewish Observer
Karen Levin stood beside a field of yellow wingstem with flower heads stretching shoulder high, her outstretched arm motioning to the blooming prairie around her. "This is a paradise for bees," she said.
Levin is the "queen bee" — as her son, Ryan, describes her — of the Propolis Project. Founded in 2013, the local nonprofit not only protects pollinators such as the honey bee; the project's collaborators want to ensure our source of healthy, fresh food, including the honey that symbolizes the sweetness of Rosh Hashanah, the new Jewish year.
The honey bees that pollinate crops and gardens followed a long path to the United States. They are an imported variety, descendants of an Asian stock brought over from Europe in 1622 after the Pilgrims couldn't get America's native bees to pollinate their imported apple trees, said Dwight Wells, a regional director of the Ohio Beekeepers Association.
Wells, who started keeping bees in 1954, knows his bee history — and the current threats to a species responsible for pollinating a third of our food crops. Pests, diseases, insecticide spraying, habitat destruction and too few food sources all contribute to something known as colony collapse disorder and the death of bees.
A retired auto industry project engineer, Wells also knows the power of problem solving through collaboration; when he received an invitation two years ago from Levin to attend a meeting of the Propolis Project, he accepted.
"I had no idea what I was walking into," he said. "Karen knows how to get things done, so I decided to join the force."
Levin, executive director of the Levin Family Foundation, has attracted beekeepers, scientists and educators into a hive of bee advocates.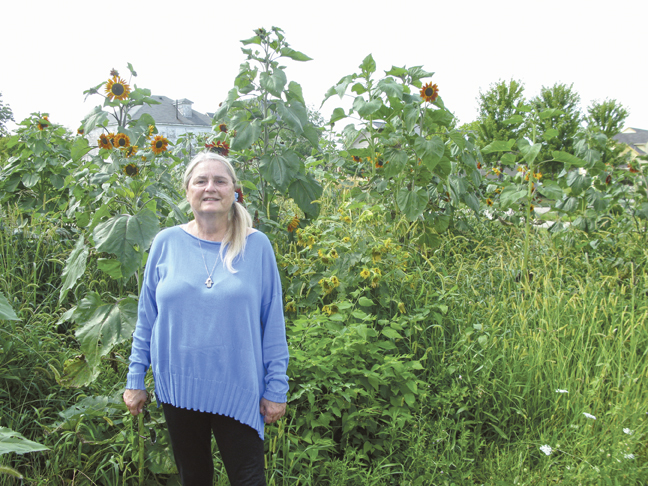 Among her initiatives is working with researchers who are breeding better bees, ones that survive cold winters, pests, and disease.
Wells and Purdue University geneticist Greg Hunt have teamed up to field test different breeds, including one described as Indiana Leg Chewers.
As the name implies, these bees chew the legs off an invasive pest — the Varroa mite — which can literally suck the energy and life out of a hive.
These better bees are part of the Propolis Project and can be found flying around Huffman Prairie, where the Wright brothers perfected powered flight more than a century ago. Behind a chain link fence to protect the hives stand green and orange bee boxes stacked near flowering purple Joe Pye weed and brilliant orange coreopsis. There's fresh water nearby to help the bees keep cool on hot days.
The three colonies, with 40,000 bees each, sit on land managed by the National Park Service and owned by Wright-Patterson Air Force Base.
"We call them the Wright Bee Flyers," Levin said of the breed. The Wright B Flyer was the Wright brothers' first mass-produced airplane.
In 2014, President Barack Obama issued an order that the Department of Defense support habitat restoration for pollinators. Levin reached out and secured the site for the hives, a mutually beneficial arrangement: the prairie provides forage, the bees provide pollination, and the wildflowers produce more seeds for further restoration of the prairie.
There's also a natural connection between the Wrights and the bees. Craig Campbell, National Park Service guide, said the first journalist to provide an eyewitness report of the Wrights' flights was Amos Root in Gleanings in Bee Culture in 1905. Campbell shares this fact when he takes visitors on tours of Huffman Prairie Flying Field.
"As I talk about the bees, I get to share Wright brothers' stories and Dayton history in that modern beekeeping was born in Dayton," he said.
The partnership with the Park Service touches on three areas where the Propolis Project is making strides: bee habitat and forage, research to reduce hive threats, and education.
Education will be a big part of what Levin calls the "Taj Mahal of bee hives," to be set up at the Fifth & Williams Food Forest. Another National Park Service collaboration with the Propolis Project, this hive of an estimated 15,000 bees will be buzzing in the coming year at a National Park Service yard in West Dayton. It will be two blocks from a Propolis Project food forest sprouting on formerly vacant lots near Williams Street, three blocks from the National Park Service Wright-Dunbar Interpretive Center, which has planted its own pollinator garden.
The hive will include an infrared camera and Internet connection so researchers and novices alike can learn from the activity of the hive.
"If we're lucky, we'll see leg-chewing activity," Levin said, "and the kids love watching it, ripping off the mite legs. You have to get kids in the mindset that if they want to save the earth, they have to save the bees. If they've just saved the earth and the pollinators, they've just saved themselves."
Education partnerships include a grant to second-graders in Piqua to put in a pollinator habitat. Propolis runs the observation hive at the Boonshoft Museum of Discovery, and it partnered to put on a summer bee festival at Aullwood Audubon Farm.
Hillel Academy Jewish day school and the Jewish Community Center's Camp Shalom also participate in the Propolis Project.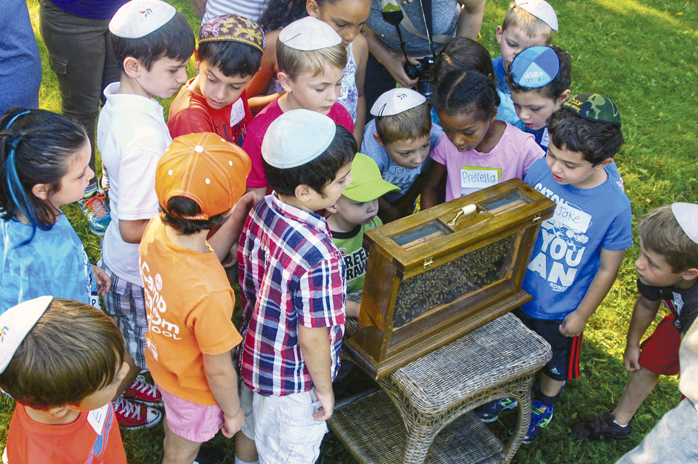 As executive director of the Levin Family Foundation, Levin collaborates with agencies, researchers, educators and volunteers, and awards grants to ensure access to health care and healthy food for Dayton's underserved populations.
What she calls her "second full-time job" started after her son, Ryan, heard a news report and alerted his mother to the decline of Ohio's honey bee population.
He said he had the idea of increasing the bee population through more backyard hives. She took a considered look and saw in the honeybees a synergy with her foundation work for healthy communities.
"We do a lot of work with public health, and the bee problem is a public health issue," Levin said of the foundation. "If we do not have bees pollinating our fruits and vegetables, we're going to have fewer of them, and they will become more expensive. Even though you want to eat healthy and have a healthy diet, you may not be able to have it if you don't have the bees."
The Levin Family Foundation funded the Propolis Project's first endeavors, and since then Levin has worked with other organizations to match funds to expand the project's impact.
The Fifth & Williams Food Forest is located in a "food desert," which the USDA identifies as neighborhoods where citizens lack access to affordable, healthy food. In addition to feeding the bees, the produce grown there is harvested and sold at Wright Stop Plaza bus stop by formerly homeless Daytonians through the nonprofit Homefull.
The food forest and another urban farm project run by the Foodbank will be in the flight radius of those "Taj Mahal" bees.
And more requests are coming in all the time, Levin said, for education, garden and hive projects. This year, Propolis is looking to add hives in East Dayton to the urban farms of the Mission of Mary Cooperative.
The bees do more than pollinate gardens — they make honey. Honey itself is an important food, packed with energy, vitamins and minerals. While a hive needs honey to maintain a colony, a healthy hive with good forage can produce an excess, which Wells is taking off to be sold to support Propolis.
Honey is also a food full of story and ritual, said Rabbi Judy Chessin of Temple Beth Or.
"It's all over the place in Jewish lore," Chessin said.
Honey represents sweetness and goodness, Chessin said. At Rosh Hashanah, apples are dipped in honey to celebrate the sweetness of the new year.
For Levin, supporting the pollinators means allowing what is sweet and good in life to thrive.
As she's come to understand the plight of the bee, she's also discovered how much bees are misunderstood and confused with their aggressive cousins, the hornets and wasps.
Propolis is also about repairing the image of the honey bee and educating others to protect rather than harm them, she said.
And repairing — the bees' reputation, habitat and rightful place as queen of food pollinators — is an apt metaphor for the collaboration's continuing work.
Levin said she named the project "propolis" after the resin made by the bees to seal and protect the hive.
"We're trying to repair what has happened," she said. "And you cannot do this by yourself if you want to make an impact. This is why I started Propolis."
To read the complete October 2016 Dayton Jewish Observer, click here.